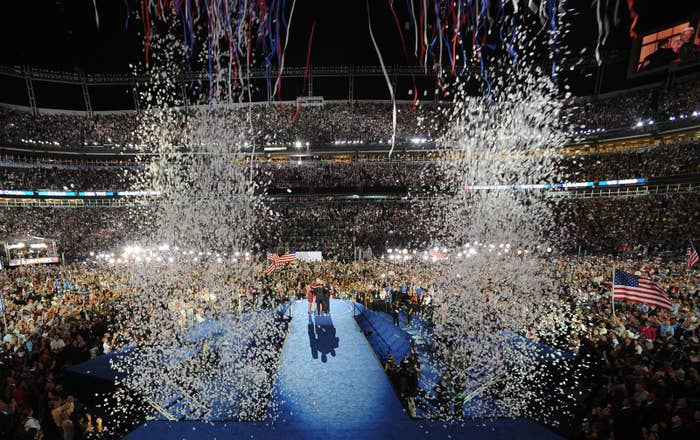 Atlanta plans to bid to host the 2020 Democratic National Convention when the DNC's request for proposal goes out this spring, the chair of the Georgia Democratic Party told BuzzFeed News.

"We're actively looking forward to making a bid for the 2020 Democratic National Convention," said DuBose Porter, the chair of the Georgia Democratic Party.
Porter said that he, along with Nikema Williams, the first vice chair of the party, and Dan Halpern, the DNC's deputy national finance chair, met in Atlanta with Mayor Keisha Lance Bottoms just before the DNC's spring meeting to discuss the topic of bringing the convention to Atlanta. Bottoms, he said, was 100% behind the effort and wants to partner in the effort.
"We have the facilities, we have the infrastructure, and we feel like we can get the resources," Porter said. When the request for proposals goes out, he said, Atlanta will meet logistical requirements, such as airport capacity and adequate hotel accommodations.
Privately, national Democrats who spoke with BuzzFeed News this week expressed excitement that Atlanta — in a state that Democrats eventually hope to turn blue — would be in the running with other cities. (Milwaukee, for instance, has announced that it will bid; Wisconsin is one of the key Midwestern states that Democrats hope to win again after Hillary Clinton's loss there in 2016.)
"Atlanta tells a better story," said Porter, explaining the city's advantage over other cities. He noted Atlanta's status as the cradle of the civil rights movement, and it is home to Rep. John Lewis, an icon in the fight for access to equal justice. "The history of Atlanta tells a story about the Democratic Party" that would make the convention meaningful, he said.
Porter said the timing of the convention could coincide with Georgia turning blue, a point of concern for Democrats focused on shifting demographics around the country. He said statewide races are winnable, but asked about Georgia's heated Democratic governor's primary — between Stacey Evans and Stacey Abrams — Porter said the party had a pair of great candidates, but that his job "is to bring everybody together after it's over."
CORRECTION
Nikema Williams' name was misspelled in an earlier version of this post.