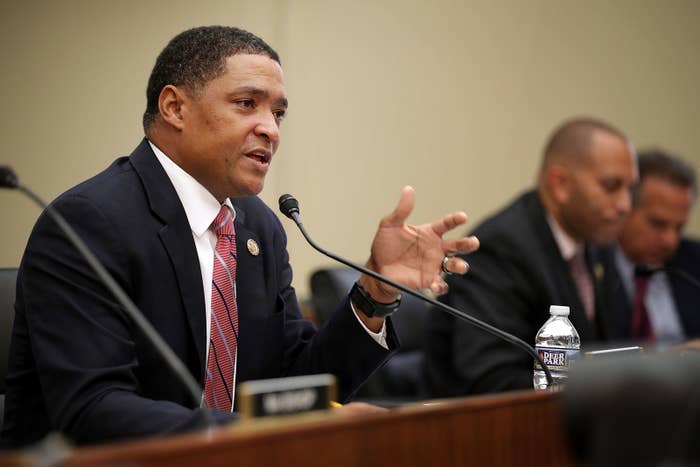 The chair of the Congressional Black Caucus has urged New York Sen. Chuck Schumer to appoint either Sens. Kamala Harris or Cory Booker to the Senate Judiciary Committee.
In a letter dated Dec. 7, a copy of which was obtained by BuzzFeed News, Louisiana Rep. Cedric Richmond laid out an argument for either senator, both black attorneys, to take the spot on the committee soon to be vacated by Sen. Al Franken, who said last week that he would resign after Senate Democratic colleagues called on him to do so following multiple allegations of groping.
"In the current political and legal environment," Richmond wrote, "Black America faces the greatest threats to its rights and safety since the post-Reconstruction era. Given this pivotal moment in American history, the CBC urges you and the Senate Democratic Caucus to appoint a CBC Member to join Ranking Member Feinstein and others in defense of our democracy, our values and our constitutional rights."
In January, Booker broke with Senate tradition by declaring that then-senator Jeff Sessions was not the right person to be attorney general, marking the first time a sitting senator testified against a colleague for a cabinet post. Richmond — along with Rep. John Lewis — was also a part of those proceedings. Alluding to his remarks in his letter to Schumer, Richmond said, "I am sad to say that our concerns were correct."
He continued, "This administration immediately started endangering a framework of rights and protections that have been secured and defended for over a century. It has undermined criminal justice reform, litigated in defense of voter suppression and attacked affirmative action. At a moment when we have witnessed a significant spike in hate crimes, it has sympathized with white supremacists. It has taken deliberate steps to undermine the restorations of trust between law enforcement and communities. Lastly its judicial nominees are the least diverse, most underqualified, and morally problematic candidates in recent memory."
The request comes on the heels of the CBC losing one of its most prominent members, former Rep. John Conyers, who was the ranking member the powerful House Judiciary Committee. He retired following several allegations that he engaged in sexual misconduct with women who worked for him, including a harassment claim he settled for $27,000. Conyers has repeatedly denied the allegations, which were first reported by BuzzFeed News, though he confirmed the settlement.

But seeing one of its own rise to Franken's spot on the Judiciary would be a coup for the CBC; some members have lamented the period of time during which there were calls for Conyers to resign and none for Franken to do so. Senate Democrats began calling for Franken to resign on Dec. 6. Franken, for his part, announced on Dec. 7 that he would resign in the coming weeks. Richmond penned his letter to Schumer the same day.
Both Booker and Harris are frequently mentioned as 2020 Democratic primary candidates. Harris currently sits on the Budget Committee, Intelligence Committee, Homeland Security and Government Affairs, and Environment and Public Works. Booker currently sits on Foreign Relations, Commerce, Science and Transportation, Small Business and Entrepreneurship, and Environment and Public Works.
"Either of these highly accomplished attorneys would be effective assets to the oversight and legislative efforts of Senate Judiciary Democrats," Richmond wrote. "They would also bring personal experience to bear on the important debates taking place in the Committee that directly impact millions of African-Americans in this country. Their perspective is sorely needed in conversations and initiatives already underway."