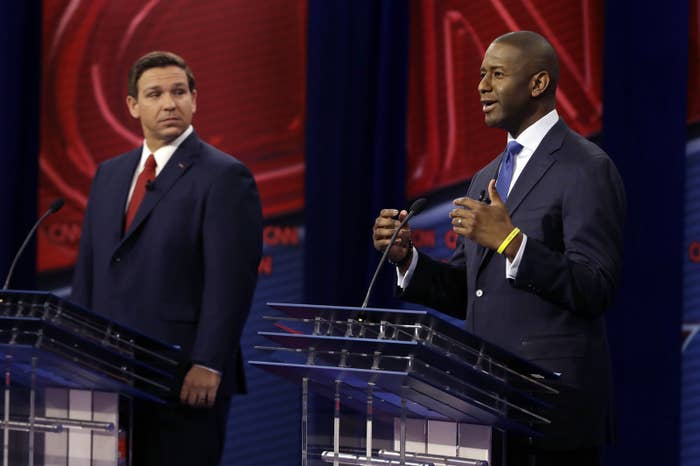 Tallahassee Mayor Andrew Gillum was forced Sunday night to confront how he would navigate a relationship with Donald Trump if elected governor of Florida, in a testy debate exchange that set the stage for the final two weeks of the midterm campaign.

The debate — the first time Gillum has met face-to-face with his Republican opponent Ron DeSantis — was the latest example of how the president has loomed large over the 2018 elections, particularly a Florida gubernatorial race that has become a proxy for the national political debate.
The exchange over Trump began when moderator Jake Tapper of CNN, which hosted the debate, asked DeSantis if he thought Trump was a good role model for Florida's children.
DeSantis deflected, opening with a bit about his primary ad praising Trump before segueing into his support for the president's decision to move the United States Embassy in Israel from Tel Aviv to Jerusalem.
"Andrew opposed that. A couple of months ago he said it was a mistake and said we shouldn't recognize Jerusalem as Israel's capital," DeSantis said. "Every president for the past 25 years has promised that on the campaign trail. Once in office, they didn't do it. Donald Trump promised it and he followed through with it. And so to me, when you give your word and you follow through with it as an elected official that is the model that we're supposed to do. He was right to move the embassy to Jerusalem. I was there for a historic event. I know Andrew didn't support that and doesn't think that's right, but to me, that was true leadership."
Gillum, acting confused at DeSantis's failure to answer Tapper's question, took the opportunity to restate his criticism of the Republican president.
"Donald Trump is weak," Gillum said. "And he performs as all weak people do: They become bullies, and Mr. DeSantis is his acolyte. He's trying out to be the Trump apprentice at every turn. He's tweeting at him and he's talking to him. He's showing up. He's complimenting him."
The confrontation might have ended there. But Gillum continued by noting that his "disgust for the president and his behavior" would not keep him from accepting federal resources, citing Florida Gov. Rick Scott's decision to decline federal funding for high-speed rail in the state.
DeSantis flashed a smile.
"The problem with that is our needs in Florida intertwine with the federal government," the Republican candidate said, clearly back on offense. "You need to be able to work with the administration to be able to get the dollars that we deserve. Andrew can't do that. He wants to impeach Trump. He's always saying bad things about him."
DeSantis — who just moments earlier outright declined to answer the question about whether or not he thought the president was a good role model for children — was back with Trump. He accused Gillum of "running away from saying he wanted to impeach Trump."
Tapper then asked Gillum how he expected to work with Trump as governor when the Tallahassee mayor has gone as far as calling for impeachment. Gillum responded saying that while governors "shouldn't have to kiss the ring of the president," his ability to work with his political opponents has been demonstrated, specifically during Hurricane Michael, when he worked with Scott to ensure disaster preparations were in place in Tallahassee.
Gillum, who is slightly ahead in most public polling, looked relaxed. Trump could have a big effect on the outcome Nov. 6. Floridians are well-acquainted with the federal response to natural disaster and just recently have begun the rebuilding process in many areas in the aftermath of Hurricane Michael.
Gillum added that Trump needed to be held accountable, "not worshipped."

"In Trump's America we've been led to believe that we've got to step on our neighbor's shoulder and their face and their backs in order to get ahead," he concluded. "Well, I reject that."

Trump himself weighed in shortly after, tweeting that Gillum "presides over one of the worst run, and most corrupt, cities in Florida," and would turn the state into "the next Venezuela!"
But though DeSantis, who resigned his seat in Congress this year to focus on the gubernatorial campaign, has consistently expressed support for the president, he concluded Sunday's debate by aligning himself more closely with Scott, saying that his relationship with Trump would allow Florida to maintain its exception to the administration's expansion of offshore drilling, and promising to continue fiscal policies aimed at cutting taxes and regulation.
Casting the distinction between himself and Gillum as a choice between "productive leadership and destructive leadership," DeSantis added: "We've got to keep our economy going, people are getting opportunities. We can't destroy it with stiff tax increases that are gonna cost jobs and prevent more businesses from coming into our state."