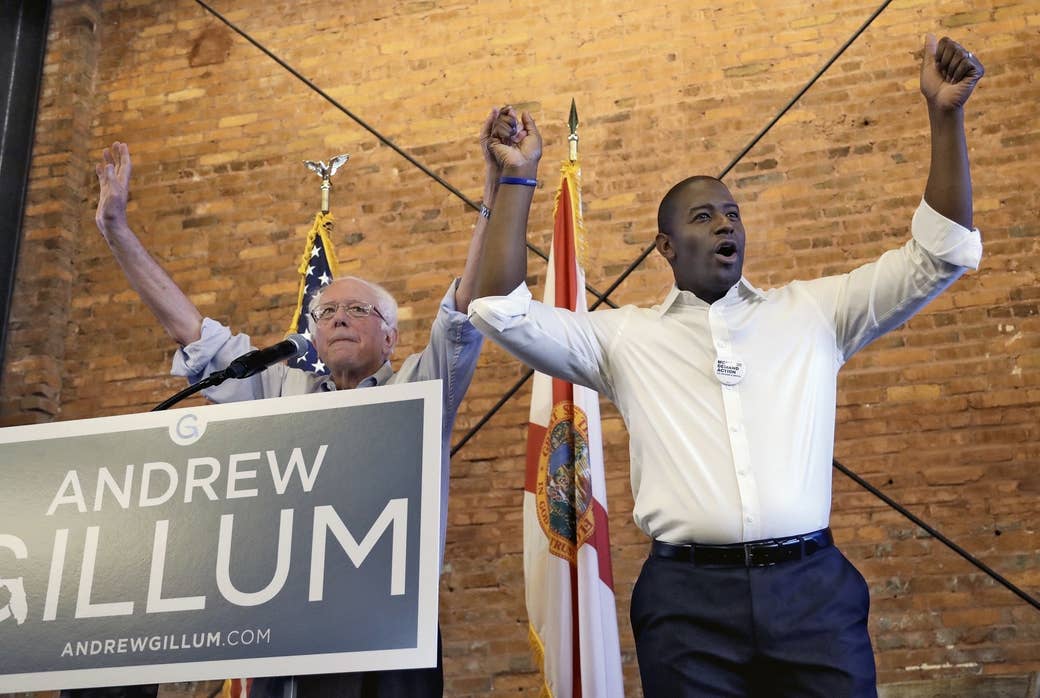 Andrew Gillum is trying to run the biggest intersectional campaign in the country this year, uniting the message of the Bernie Sanders left with a message squarely about lifting up black Floridians to clinch his state's Democratic nomination for governor tomorrow.

There's no real roadmap for how a young black man should run to win as a progressive in a purple state, though. Gillum's campaign, then, is a blend of strategies, designed to satisfy the political and cultural demands of black voters, to balance an image-conscious progressivism to peel off enough white progressives, overcome a series of financial and logistical disadvantages, and surge at the right time. One day before the election, he's right where he wants to be, which is in second place and within striking distance, according to a new poll out Monday by Florida Politics.
A few weeks ahead of Tuesday's primary in Florida, Sanders endorsed the Tallahassee mayor — and in the final stretch before the primary, the campaign added a slate of events catering to young professional voters in places like Orlando, Jacksonville, Miami, and Tampa, the kind who maybe liked Bernie quite a bit in 2016.
Inevitably, though, there are always older voters in the room, most of them black, whose entry into politics was an old Bernie ally: Jesse Jackson. One was Phyllis Redmond, of Ocoee. She said Gillum's charisma and his message that we have to do something to make all of the communities better, remind her of the candidate on whose presidential campaigns she once volunteered. "Andrew speaks our language."
"When we said 'keep hope alive' — our hope was that Jesse could win," she said. "The motivation now is that hope is about this younger generation and the tools and education they have at their fingertips. They're more open, they don't have the old hang-ups."
Gillum is young at a moment when Democrats seem to be looking for something new; he is backed by a famous progressive champion and two liberal billionaires, and running on the ideas of the new left at a time when the weight of the party has rapidly shifted toward populist economics and a renewed embrace of big government; he is black at a moment when Democrats are taking seriously candidates of color. That's all in his favor.
And yet — for one or a hundred reasons — if Andrew Gillum wins the nomination on Tuesday, it will be a late-innings, come-from-behind, walkoff win.
To hear his advisers tell it, he is surging late and, with four other candidates in the race, he could emerge the nominee. But even if he loses, Gillum is young and the campaign's attempt to rally young lefty and black voters to the same candidate could prove the starting point for something more candidates do in the years to come, as progressives and economic-populists try to reshape the Democratic Party.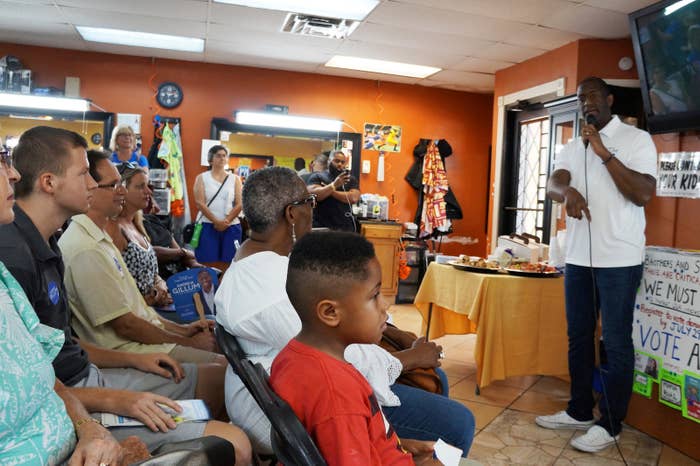 This doesn't mean it's necessarily been easy for Gillum's campaign to bridge the old divide.

Last week, on a balcony above the student union on the campus of historically black Edward Waters College in Jacksonville, students were waiting for the dining hall to open. Gillum's bus rolled slowly within their eyesight, and out came the candidate, who was greeted by a few white progressive women with Moms Demand Action for Gun Sense in America. (A common quote: "You're so much more handsome than your photo!") Gillum disappeared into a building, then walked from the union back to his bus. Abruptly, the school's administrators asked the campaign to leave. (As a private institution, an administrator, Mandrake Miller, said, the college couldn't support any one candidate and said while "we" may support Gillum personally, they could not have Gillum's bus on campus causing a stir. Explaining all of this, he peered nervously over at the bus and said, "They need to make it a little more swift.")
Meanwhile, a white woman volunteering for Gillum's campaign struck up an awkward conversation with a group of young voters. She said Gillum was the only nonmillionaire in the race and asked them to relate to being broke, and said something about how he would institute policies to end discrimination and increase the minimum wage to $15 an hour. That was all before she leaned into stemwinder about how he's not taking corporate money. "He is a beeeaaautiful man, too, just to top it off. Pretty to look at."
"You could tell she was trying to act like she was trying to relate to us. My daddy or my uncle could have been Obama, you don't know me."
One student, Keke Washington, was annoyed. "You could tell she was trying to act like she was trying to relate to us," she said afterward. "My daddy or my uncle could have been Obama, you don't know me."
Another student said she was turned off by the organizer having said he looked like a snack. "What's that got to do with his campaign?"
Even for the campaign of a black candidate, progressives' efforts to build a multiracial coalition at the grassroots level remains fraught — but also can be as simple as, or at least alleviated by, just finding the right messenger for a particular group, and in this case, the candidate.
Currently, groups like Our Revolution are trying to sharpen an argument that race and class need not be in opposition in politics, and to build consensus, you have to discuss the connections between racism and discrimination and how those difficulties cause economic struggles. New York's Alexandria Ocasio-Cortez may, so far, be the most successful avatar for the more intersectional approach, with Rashida Tlaib, the Palestinian American activist who will likely be elected to former Rep. John Conyers' Detroit seat later this year, as a more recent example. But both those candidates won in very blue areas; Gillum is running at the state level in a place that voted for Donald Trump, much like another Sanders-backed candidate, Abdul El-Sayed, who recently lost the Michigan gubernatorial primary.
The other candidates are not running this kind of campaign. With a net worth in the nine figures, Philip Levine is running on his record as the former mayor of Miami Beach, framing himself as the kind of competent leader to solve Florida's biggest problems. Gwen Graham's campaign is about taking the fight to Trump in a year full of successful women in politics. The daughter of political legend Bob Graham, she needs to carry white suburban women and appeal to disaffected Republican moderate voters and has an array of national groups behind her, as well as, notably, the Florida Education Association, the state's largest teachers union. She's being attacked from the left by Gillum, a former ally, for being too moderate and the kind of centrist candidate that bores Florida Democrats. Privately this summer, spokespeople from Graham's campaign told BuzzFeed News that the campaign wasn't worried about Gillum's candidacy as a threat, that he had no shot to win in November. Gillum's campaigned on the idea that she is untrustworthy, as he was at historically black Bethune-Cookman University in Daytona Beach recently, talking about how she'd voted half of the time against Barack Obama while in Congress, and emphasizing she only served one two-year term in Congress. When Collective super PAC, which backs black candidates, funded an ad that accused her of voting "against Obama" and grouped her with Ted Cruz, Mitch McConnell, and Paul Ryan, Graham told a Florida newspaper, "I do know — I believe — that Andrew's better than this."

Then there's Jeff Greene, who previously ran in Florida's 2010 Senate primary against the eventual winner, Kendrick Meek (Rubio won), and Chris King, a wealthy Orlando businessperson, who has done well to position himself for future office.
The Florida primary has received less national attention this year, but by virtue of his blackness and his age, Gillum has always stood out as Someone to Watch. Hillary Clinton's campaign selected Gillum as a surrogate; he then packaged that into a sweet speaking slot at the Democratic National Convention in Philadelphia. "On Inauguration Day," he said, "I look forward to holding my babies tightly, I look forward to watching history unfold before their eyes and before mine."
History unfolded, and it changed Gillum's trajectory. (He's a diplomacy geek, and there's an alternate Clintonian universe in which he would have been interested in talking to her about the Middle East.) There is one side to him — the affability, the confidence, the perfectionism — in which it's apparent to see why he's gotten where he has; his friends laugh if you ask them about the things that got him on the Clinton radar, and say, "That's just Andrew."
If that makes him a slightly odd fit for the role of Bernie candidate — first off, Gillum doesn't see it that way. He thinks working-class Floridians aren't doing well, and it's time for big promises (single-payer health care and a much higher minimum wage) on which more center-left Democrats won't campaign.
And his own story is up from modest beginnings: He was raised in Dade County, Miami, in a neighborhood called Richmond Heights, a small area in Miami-Dade County. (Black audiences usually mutter sympathies when he says he's from "Richmond Heights" on the campaign trail.) He's the fifth of seven children. Charles was a construction worker; Frances a bus driver who worked at a dry cleaner after school. When there wasn't enough construction work, Charles sold produce and sold flowers to grieving families at a cemetery. Andrew was expected to pull his own weight, so he swept hair in a barbershop on the weekends and did odd jobs. The Gillums eventually left for Gainesville.
At Gainesville High School, Gillum was vice president. Drawn to black schools based on A Different World's fictional Hillman College, Gillum settled on Florida A&M, joined the student government, and took on then-governor Jeb Bush's program, One Florida, which banned affirmative action in the state. Initially, he said in an interview, the campus intimidated him. "Everybody you met ... was student body president. Everybody was the exception. And I was intimidated that maybe I wasn't, like, the best at it and that there were other people that were more outspoken, more polished, more centered, or could relate better with black people than I could because they were valedictorians of schools that were all black, and I came from mixed schools."
But while in college, Gillum ran for a seat on the Tallahassee City Commission; though he raised just $6,000, he organized a ground game with a simple concept: Bring five people with you to vote. At 23, he became the youngest person ever elected to the commission. By 2014, at age 35, Gillum coasted to victory in the mayor's office, getting 76% of the vote in a three-way race.
And now he's on campuses again, trying to rally young black voters — like Keke and her friend, who, unsatisfied with the woman's pitch went to find Gillum himself. As a candidate, he isn't much for pep talks, but told them elections are choices, and they have five. He said he's led on the issues that matter in the campaign, like pushing for an economy so strong that when they graduate or want to start their own business, they can pursue that dream without leaving. He went on for another minute or two, before saying he was pulling for them to succeed and to study hard.
"Andrew, your son, needs you, and only you can do this. So right now…we give him to you. And as we give him to you, give him back to us."
Asked for her impression of him after the exchange, Keke held her hands over her the bridge of her nose as if she was trying to stop herself from crying.
When Gillum is there, it can make all the difference.
His associates expected a group of black ministers in the northern part of the state to make the candidate grovel for support. Instead, on the campus of Bethune-Cookman University in Daytona, the group prayed over him and took part in the ritual of laying on of hands. Victor Gooden, the president of the Daytona Beach Black Clergy Alliance, said that the spirit had moved him to call the pastors up after Gillum spoke. "Andrew, your son, needs you," prayed Gooden to God, "and only you can do this. So right now…we give him to you. And as we give him to you, give him back to us."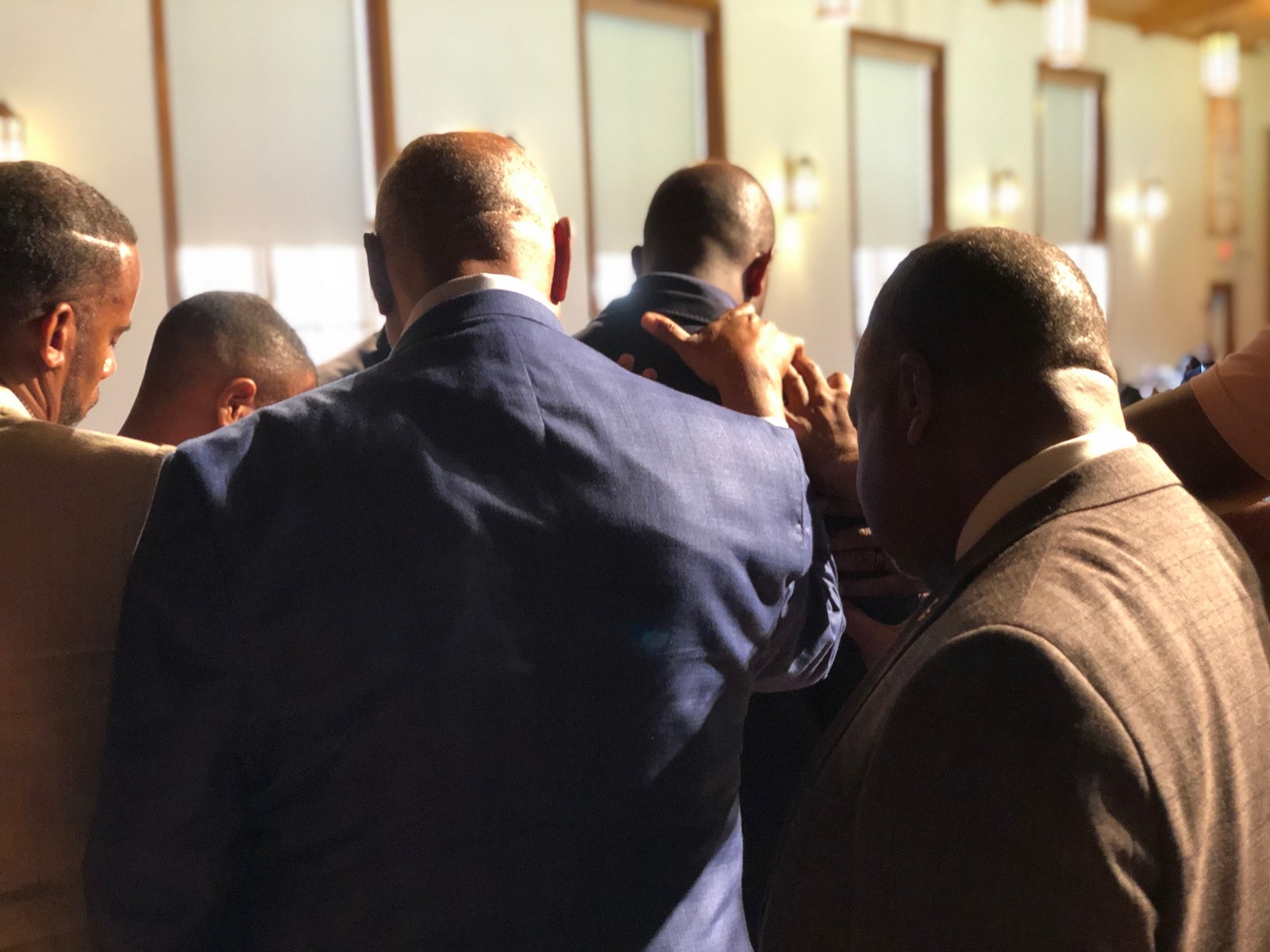 A few weeks before, his very presence — at the place where Markeis McGlockton shoved a white man during a dispute over a parking spot and received a fatal bullet in return — was more complicated. In Florida, the video of the shooting has become a startling tableau for hard issues in the state: race, gun violence, a controversial law, and the state's fall campaigns.

Gillum stepped out of an SUV and introduced himself as the mayor of Tallahassee. It was all there. The ill-fated parking spot. The path McGlockton took to the fateful encounter. Gillum met Lorenzo Jenkins, who led with a line about how he'd served time for a murder charge at 16. It was Jenkins who first posted a video that went viral expressing his outrage, and in the weeks since has organized protests, posting the details to his Facebook page.
"This is where everything happened at. Right here."
Jenkins did the talking, drawing a crowd. The pain people feel in Clearwater, he said, is about being forgotten, and it's bitter relief that it took this to get people to pay attention. "Come on, bruh, you black just like me. You wake up in the morning and you look in the mirror and you see the same thing I see, a black man." Gillum nodded. "So why in the fuck did it take me to do this to bring everybody to Clearwater when this shit been goin' on here, man? Every fuckin' day we gettin' killed." His message was that it shouldn't take something like what happened to McGlockton to get someone like Gillum to come to a place like this.
It was his second tense moment of the day. Gillum, along with the other candidates in the Florida governor's primary, was invited to address a rally at St. John Primitive Baptist in support of McGlockton's family and repealing stand your ground, the notorious Florida self-defense law that has played a central role in the cases of black men killed in shootings.
Outside, protesters cheered for Gillum when he arrived. Later, he said he had thought about stopping to rally them, but he hadn't been comfortable with the spectacle. "I didn't want to speculate, but I felt like they may have been my people," he said.
They were. And they were annoyed with their candidate. He was approached by Donna Davis, a political organizer and Black Lives Matter activist who is working to register thousands of new voters roughly around the ideas of Gillum's candidacy. "When we're out here in the street fighting for the issues that are important to the people whose vote is being brokered, we'd like to hear from you before," she told Gillum. "Our job is to help you get elected, so what I'm asking you for is to come and talk to us."
At the event itself, the candidates got up one by one. Some of King's presentation recalled Joel Osteen. "I'm Chris King and I'm the warm-up act for Al Sharpton," he quipped, then actually started to preach. "We serve an almighty God," he started, "and what I've said is my belief, my firm belief, that if Chris King, a white man, had been walking out of that convenience store that day, if my wife Kristen had been there, if my son Charlie had been there…if my youngest Luke and Mary Grace had been in that car, and someone had come up to my wife and said what they said, and I had defended her, and I had been shot and killed, this state would be on fire. So why isn't it?"
There were gasps when, just after Graham began speaking and expressed her personal sorry, someone pierced the quiet, saying "not really." Levine and Jeff Greene offered fiery diatribes, saying the fact that McGlockton's killer was allowed to go free essentially means … that we have to go and defeat Donald Trump. The Rev. Al Sharpton preached a eulogy, giving McGlockton credit for standing up for his family. He added that he wasn't afraid of Trump and, ordering the collection plate be passed for the family, dramatically held up his own gift of $1,000. He called out the candidates to do the same (Graham fumbled around for her checkbook and wrote the family a check for $2,000 on the spot) and announced each gift to applause.
But people walked away talking about King, not Gillum.
Gillum's goal up there, he said later in the car on the way to visit the McGlockton memorial, had been to mute his political style "as much as I could." He said that he had found some of the political grandstanding disorienting. He felt as though the family wasn't present, and found it hard to watch the sadness on their faces. "It has to be an out of body experience to be sitting there hearing people talk about your child that you just lost." So, he said, he declined to take a full swing.
But people walked away talking about King, not Gillum, and though he went to the memorial later that day, he is in the difficult position of trying to both persuade skeptics that this is the big progressive moment and be present.
"It's not just because he's black," said Davis, the organizer. "He's saying, 'Look, I made it, I am an example of what's possible, I am the American Dream, and I bring your experiences with me every day.' So I haven't thought about if it's fair that maybe he bears an unfair burden. I'm not setting that standard for him, he's setting it. He asked for this."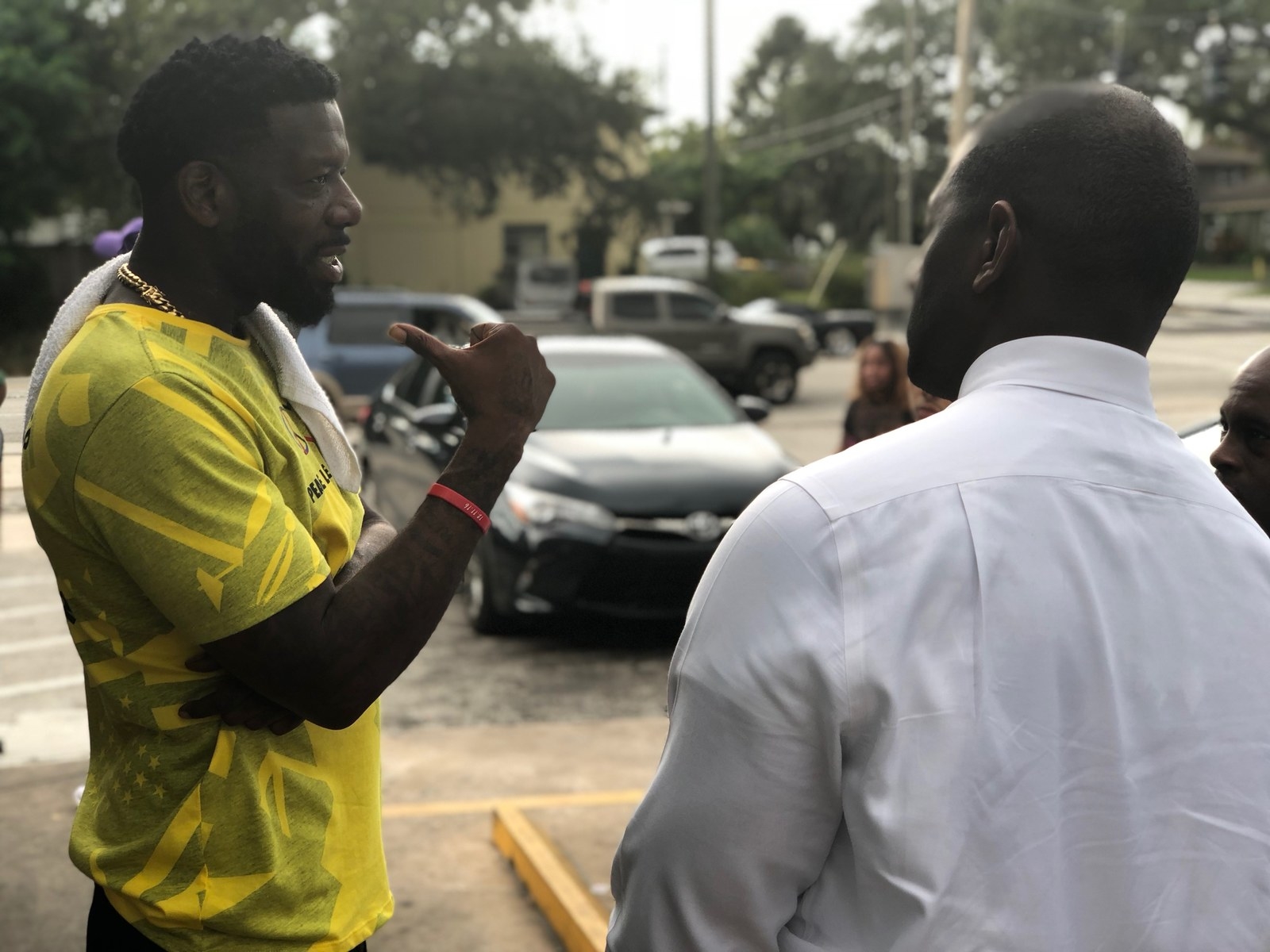 Some Democrats believe if the gubernatorial nominee isn't someone like Gillum, Sen. Bill Nelson — and possibly Democrats' slim chance to take back the Senate — is doomed.

Nelson is in a battle against current Gov. Rick Scott who has money, name recognition, and a record of getting black Floridians to vote for him in double digits in the past, "which is terrifying as someone who hopes to beat him every day, especially on Election Day," said Ben Wessel, the political director of NextGen America, the group backed by Tom Steyer, who has been a steadfast Gillum supporter. Nelson outperformed Barack Obama in Florida in his last Senate election, but some Democrats believe Trump, the shifting demographics of the state, and Nelson's long tenure, have changed the kind of candidate who can win as a Democrat in Florida.
To Wessel, Gillum's focus on issues on important to people of color complements Nelson's work and record in the Senate, "and I think he would tell you that, too."
Gillum seems to ascribe to this theory as well. In New York earlier this year, toward the end of a fundraiser at the home of the liberal philanthropist Eva Haller and her husband, Dr. Yoel Haller, a middle-aged woman lounging on a crowded couch raised her hand to ask a question of the candidate: "Is Sen. Nelson going to win?" The question hung in the air enough that the actor Alec Baldwin, a friend of Gillum's seated on the ledge of a floor-to-ceiling window, perked up. "Senator Nelson's going to need help," Gillum said, not answering the question, but adding that regardless of whether you think he, Gillum, can win the race, his candidacy is unique because it attracts a winning Democratic coalition of progressives, young voters, and people of color — especially black people. "My only point is none of my opponents will be able to bring a single vote to Bill Nelson that Bill Nelson cannot get for himself."
But to test that theory, Gillum will have to win the primary on Tuesday. And so he's been up and down Florida the last few weeks, trying to be there and convince people in person that his is the right candidacy, and even though he is a candidate who looked like whatever comes after "running on fumes" is by the middle of last week, he is the best one to make his case. If only Gillum could be a few places at once.
Voters want authenticity they can feel, and Gillum's given people he's come into contact with plenty of it. In front of the convenience store where McGlockton was shot, Gillum's presence did make a difference.
"If that vibe wasn't right when he got out that truck, I would have been, like, 'Aye, man, I don't care who you are, get from around me, man.'"

After the mayor left, Jenkins, the man who's organized in the aftermath of the shooting, still wanted to talk about Gillum, for whom he vowed to knock on doors. "It's hard to describe this to you," he said, "but when he got out the truck, and we just met right then...he's real. I felt that. He's real, man, and if I didn't think that I would have snapped on him. If that vibe wasn't right when he got out that truck, I would have been, like, 'Aye, man, I don't care who you are, get from around me, man.' I would have told him that and I would have meant that."
He continued, "Whatever he did to get where he is I'm glad he did it because that dude felt that when I said we know what it's like to wake up every day. I saw that," said Jenkins, before giving a warning that he was about to modulate his tone, "That nigga held my hand and that nigga said, 'I feel where you coming from.' We need people like him, people who are genuine and want to know who you are."
It's the connection like the one he made with Wanda Bonney, too, that, should Gillum win, he'll likely have to thank. Bonney recognized him immediately when she parked her SUV next to his. "I'm voting for you!" She began clapping her hands telling Gillum that she saw his ad on television. Gillum was tired, but the fatigue looked like relief.
"I love it. I love it. I'm loving that he came here," she said afterward. "I'm gonna vote for him — I can't wait to vote for him. "I see him all the time. He's real. You can see the realness in him." Bonney was surprised the guy on TV was suddenly right before her eyes and said she was going to carpool her family to go vote. His election "would make a difference," she said. "It would make a difference for white people, too, because I saw that he has a white man on his side that was strong. It's like Obama. It was a big difference for him to be president. But you know, a governor? For us? And black? It would be love for all nations, but I think he will focus on us. We will matter." ●