After Chicago, Black Lives Matter Minneapolis Activists Renew Fight For Video
The release of Chicago Police Department video depicting the shooting death of Laquan McDonald brought Minneapolis protesters' most immediate demand into sharper focus Wednesday.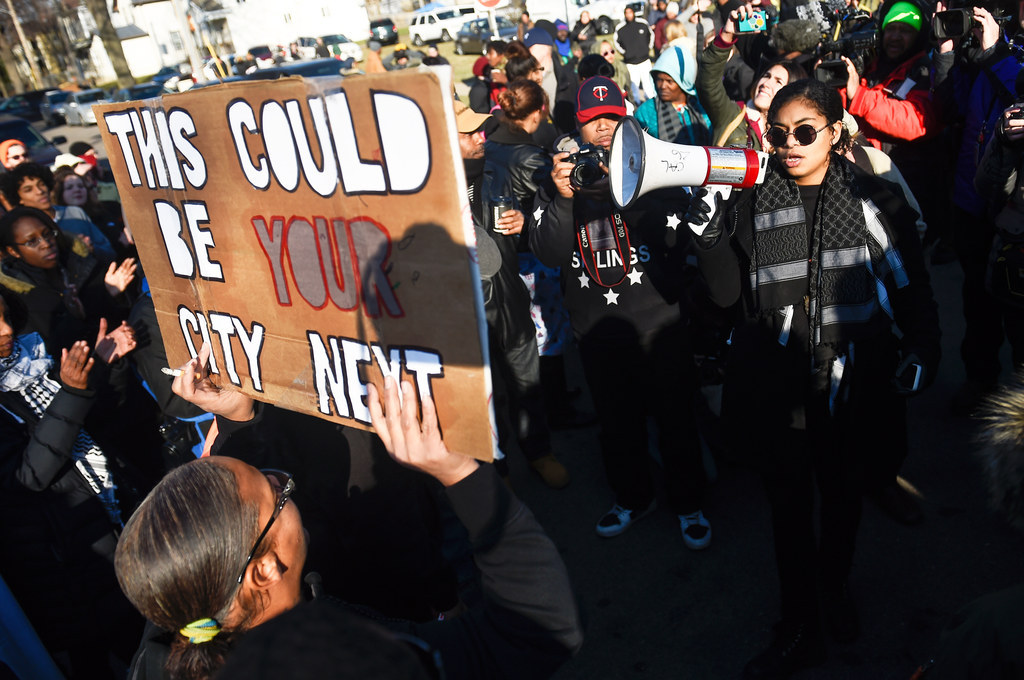 MINNEAPOLIS — On Tuesday night, not many protesting Jamar Clark's death had actually seen the video of a Chicago police officer fatally shooting a teenager that had just been released. But the video — and the long, tortured effort to get it released — were still a top concern.
Activists in recent days have pushed Minneapolis officials to release videos captured of the shooting that left Clark, 24, dead. Some bystanders say Clark had been handcuffed by police responding to a domestic call; the police say he wasn't. But videos from bystanders, local surveillance, and an ambulance camera have not been released.
Activists believe releasing the video to the public is of dire importance.
Black Lives Matter and others have pressed the county attorney, Michael O. Freeman, to bring charges against the police officer who shot Clark. But Freeman has said that decision will instead rest with a grand jury, and the activists believe there is little hope of a grand jury indicting a police officer — especially if the video remains closed to the public.
This week, with the impending release of the video of Laquan McDonald's death that Chicago officials withheld for more than a year, Cook County prosecutors brought charges against the officer who allegedly shot him 16 times.
"Ultimately, that is what we want here in Minneapolis in the Jamar Clark case," said Adja Gildersleve, a Black Lives Matter Minneapolis organizer. "We've seen too many horrific tapes of police violence without prosecution and conviction. We are inspired by what is happening in Chicago and we hope that officers in both cases face the same scrutiny murderers face in due process."
Gildersleve and others said the most important aspect of the release of the video of McDonald's killing is that the officer, Jason Van Dyke, is facing criminal charges for murder — and the video will likely play a significant role if he is ultimately convicted.
Releasing all video of the Clark shooting is the primary demand in the #4thPrecinctShutDown demonstrations and the source of frustration as the case appears more and more headed to a grand jury, "where murder charges against police go to die," activists say.
(Two other demands have been met: There will be a federal civil rights investigation into Clark's death and the names of the officers involved, Mark Ringgenberg and Dustin Schwarze, were released.)
Protesters are annoyed at Minnesota Gov. Mark Dayton's assertion on Monday that the video is inconclusive about what happened one way or the other; witnesses said Clark was handcuffed and unarmed, while the head of the police union said Clark took control of an officer's weapon. Many activists said they are incredulous at the gulf between the two narratives, and even more so at the idea that the police narrative is to be most trusted.
Karen Monahan, a Minneapolis-based activist, said regardless of the questions surrounding what happened, the public's relative ignorance about what happened on Nov. 15 exacerbates the distrust that recommendations from the president's 21st Century Task Force, and other efforts are supposed to be correcting.
The McDonald video put on display more police violence, but the year-plus of wrangling over the video's content is what makes it difficult to trust subsequent investigations and processes, activists say. "Basically you're asking us to put faith, trust and patience in a system that we know in the past has been designed to carry out laws that basically says that black and brown folks are dispensable," she said. "It is a lot to ask."
"You don't need to watch another video of another black person getting killed to understand the rage and grief that comes along with not only that event occurring, but also with the widespread circulation of a teenager's murder," said Ashley Yates , a protester linked to the Black Lives Matter Minneapolis chapter and who was instrumental in White House meetings last year after Ferguson. "And anyone who claims to not see the state of emergency that America's insistence on systemic racism has caused has chosen to turn a blind eye."
A rally at the precinct was expected to continue Wednesday afternoon. Right now, the protesters are talking mostly about the grand jury: about the stakes, the timing and, if a grand jury is indeed inevitable, what, exactly, to do next.
Yates said whatever the next step for organizers is, it's best done for them to decide as a community. On Wednesday, Black Lives Matter Minneapolis called for supporters to contact Hennepin County Attorney and demand #nograndjury in the case against the officer who shot Clark.
A CrowdRise fundraiser for Clark's family reached its $10,000 goal. He was to be laid to rest Wednesday.