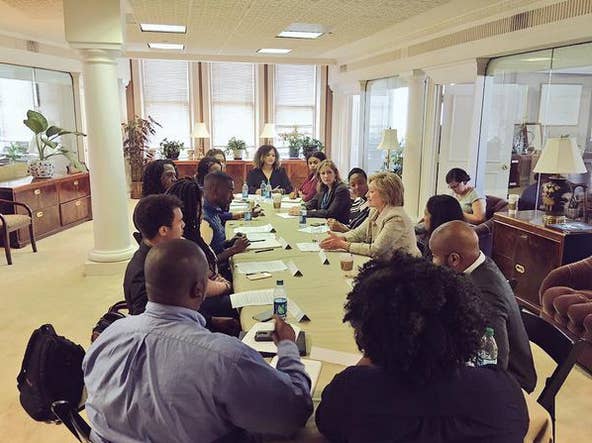 WASHINGTON — Hillary Clinton said in a private meeting with Black Lives Matter activists that the current plight of violence against trans women of color is a "national crisis" she hopes to help end should she become president, according to activists who attended the meeting.
Following the meeting, activists said they were impressed with Clinton's command of the issue. Just this week, Keisha Jenkins, a 22-year-old transgender woman from Philadelphia, was brutally beaten and shot. A recent report published by the Human Rights Campaign Foundation, in concert with Trans People of Color Coalition, said Jenkins was the 20th transgender person killed this year alone.
"I think it's really important to have her voice as a part of this conversation," Cherno Biko, a trans activist who was at the meeting told BuzzFeed News. "We need all hands on deck."
"She acknowledged that it's not her lived reality," said Ferguson Commission's Brittany Packnett, who is on the national planning team for Campaign Zero. "I don't think she offered yet a lot of specifics about how to protect the most vulnerable among us, especially trans women of color. But it seemed like she wanted to do more listening on the topic which was encouraging."
Packnett said Biko spoke passionately about what it means, as a trans woman of color to "have that be your lived reality and to feel unprotected at every turn." Biko has assisted the families of trans women of color who are killed, and was instrumental in helping to coordinate an effort to raise funds for Jenkins's burial in Philadelphia.
"I think [Clinton] appreciated the amount of vulnerability and honesty with which she approached the conversation," Packnett told BuzzFeed News.
The activists said that Clinton said she primarily wanted to listen to them, but that the lack of safety they feel, especially at the hands of police, is a crisis in and of itself.
How she plans to adjust the problem is another matter. The activists met with members of Clinton's team for about 25 minutes after the meeting with Clinton. Senior policy adviser Maya Harris, national political director Amanda Renteria, and LaDavia Drane, Clinton's black outreach director, all attended.