Some Republicans Think Donald Trump Can Win The Black Vote
Polling doesn't back it up and black Trump fans can be hard to find, but some Republicans think Trump could win over more black voters than others.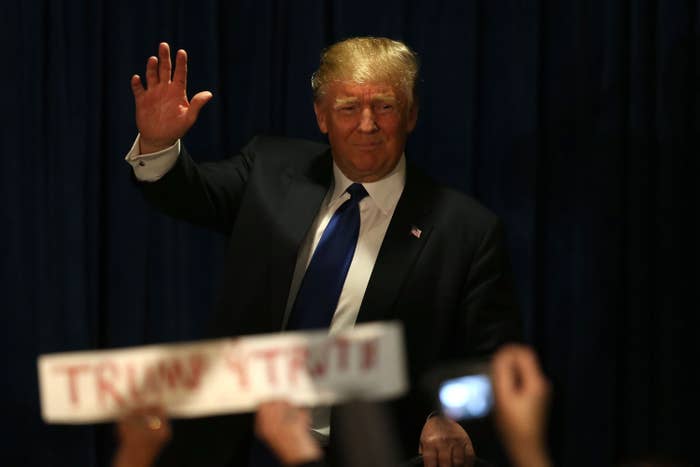 GILBERT, S.C. — "Whether it's ISIS or the shootings in San Bernardino, I like that he's not afraid to stand up and say, 'Enough,'" explained Nyjel Jackson at a recent Donald Trump rally.

Jackson had driven three hours, up from Georgia Southern University, where he's a freshman, to attend the rally. He's a Ben Carson supporter, but would vote for Trump if he won the nomination (he wishes Trump were a little more professorial at times). Like nearly all black attendees at the rally, this will be his first time voting.
Others, like Shaun Cook, of Gilbert — who came to the Trump rally with his friends Bree, Jeremiah, and Jan — say they're voting for Trump in the primary because "I like what he's saying about illegal immigration and the wall. I think everyone in the U.S. should be legal, and we should have more rules to stop illegals. I really like that."
Cook, 17, said he never "liked" Obamacare. "It doesn't work for everyone, just some people. He did some good things but black people should be doing better."
Several of the young and black attendees echoed that idea — that black America hasn't succeeded under President Obama. "Obama hasn't helped black people," said Alex Chalgren of Irmo, S.C. who is the state director for SC Students 4Trump. "If Trump stresses the point that Obama has not helped his own people he can get a lot of the black vote."
As the possibility of Trump winning the nomination sinks in, some Republicans have been floating this theory: that Trump could put black voters like Jackson and Cook in play for Republicans in the general election.
This theory — which is mostly being pushed by a few pollsters, fringe black operatives, Trump sympathizers, and Trump himself — is rooted in the idea that black voters aren't as excited about either of the leading Democratic contenders, and that Trump's high name ID and life story could win over a higher percentage of black voters than GOP nominees have been able to secure in recent presidential elections.
One problem: Public polling does not currently back this theory up, when it comes to Trump himself or the policies he's proposed. And in Gilbert, there were only about a dozen black Trump fans — at a rally attended by hundreds of people.
Still, the theory hasn't died — even among establishment Republicans in Washington. They won't publicly talk about it, but the idea has come up in private discussions on Capitol Hill, half a dozen sources say.
That Trump fans harassed black protesters at his rallies, or that Trump himself has said that maybe a protester should have been "roughed up," or called for a ban on Muslim immigration, or alienated some of his very famous black friends, or fanned the Obama birther conspiracies years ago has made for bad news, sure, but some Republicans sympathetic to Trump believe he would change his tone — and has a particular agenda — that would appeal to voters in a general election.

"I think he's going to be talking about issues that could appeal to African Americans — like trade," Alabama Sen. Jeff Sessions told BuzzFeed News. "So I think there could be support for him there." (Sessions hasn't endorsed in the presidential primary, but a top aide from his office recently left to advise Trump's campaign.)
Republican South Carolina Sen. Tim Scott — one of two black senators — said he hadn't heard the theory, but it shouldn't be ruled out.
"All things are possible," he told BuzzFeed News. "I haven't heard that specifically, but I think our candidates are doing their very best to make sure that we have a message that resonates all over the place and with all constituencies, and I hope that whoever our nominee will take to heart the opportunity to win votes in non-traditional Republican camps."
The senator, who recently endorsed Sen. Marco Rubio, also said that Trump has made an effort to meet with black voters in his home state. "He had a meeting in North Charleston where I believe over 100 young, professionals, small business owners showed up and had a very interesting and invigorating conversation with Donald, and it seemed to have gone well."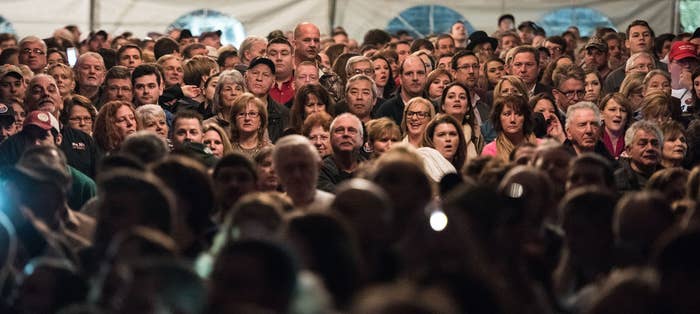 Last September, Trump met with Greater Charleston Business Alliance and the South Carolina African-American Chamber of Commerce (SCAACC) at their annual meeting. Trump told the group that over-regulation is terrible for small businesses of color, for whom trying to borrow money is hard. But "they'll lend me all the money I want," he said according to two people present.
"You should have seen the number of heads nodding in agreement," Stephen Gilchrist, chairman of the SCAACC, which is strongly considering endorsing Trump, told BuzzFeed News.
(Another notable feature of Trump's speech to the SCAACC: There were a lot of empty seats, and several people BuzzFeed News spoke to at the time were just curious about Trump, not interested in voting for him. One man, referring to a poll Trump cited that gave him 25% of the black vote in a hypothetical general election scenario, said, "I don't believe that. Where did he get that from? He got that from the comics section this morning.")

Gilchrist, who described Trump's courting of the business leaders that day as "impactful and engaging," said his membership was looking for a presidential candidate who understands the problems black businesses face in the current economic climate. "When we start thinking about where we want to go economically and the leveling of the playing field that needs to occur, there are a lot of people that see value in his candidacy."
Gilchrist, who said he met again with Trump in New York two weeks after the engagement in South Carolina, said black people have long admired Trump's business acumen — but are less familiar with his political identity.
Trump himself has been talking about black support for his candidacy. "Look, the African Americans love me because they know I am going to bring back jobs," he said in a recent interview with Fox News. "They are going to like me better than they like Obama. The truth is Obama has done nothing for them."
"He has not done anything for the African Americans in this country, OK?" Trump said Monday in South Carolina. "He got a free pass and he shouldn't have. Because if that were me or that was somebody else we would be taken over the coals, believe me. It would not be a good situation. President Obama has done nothing [for] the African Americans. You look at African-American youth, you look at African-Americans that are 30 years old, 40 years old and 50, in their prime — take a look at their statistics. It's very sad."
Gilchrist said there's truth to Trump's statements about the state of black America related to economic prosperity.
"It's certainly a conversation that's being had in the African American community," Gilchrist said. "We know there's been a huge decline in African American-owned businesses, unemployment in our community has been at an all time high and it's hard to get capital. It's given rise to interest in people like Trump and even Sanders."
Where this theory got started as a popular topic of conversation is less clear, but may trace back to a recent Politico interview with GOP pollster Frank Luntz. "If he were the Republican nominee he would get the highest percentage of black votes since Ronald Reagan in 1980," Luntz said. "They listen to him. They find him fascinating, and in all the groups I have done, I have found Obama voters, they could've voted for Obama twice, but if they're African-American they would consider Trump."
Asked for more details on the claim, Luntz told BuzzFeed News in an email: "I just put out a release on [former New York City Mayor Michael] Bloomberg. That's my focus now."
The National Black Republicans Association — which recently endorsed Trump — has said something similar, "He is the only candidate who can both unify our party and attract new, independent and conservative black voters."
Niger Innis, spokesman of conservative group Congress of Racial Equality, is especially bullish on the effect a Trump nomination would have on the black vote for Republicans, saying his "brash, bold style" appeals "to a sizable silent black minority" and has the potential to "realign the post-Obama electorate."
"Potentially that coalition would remake the electoral map. It would put states like Wisconsin, Pennsylvania, and Michigan in play for the GOP in ways they have not been since the '80s," he said. "It would take Florida and North Carolina off the map of battleground states, and it would lead to a potential Trump landslide in the election."
But most Republican operatives aren't convinced.
Kevin Madden, a senior adviser to Mitt Romney's presidential campaign, acknowledged there is an opportunity for Republicans to make gains within the black community in the 2016 because Clinton and Sanders both underperform with that demographic compared to Obama and former President Bill Clinton, but added that it's unclear if black voters will be able look past Trump's comments.
"The challenge for Trump is whether his populist rhetoric on the economy and immigration will outweigh his negative personal ratings, which are high among minority groups, when trying to appeal to these voters," he said.
Another strategist, Brad Todd, who until recently worked for the super PAC supporting Louisiana Gov. Bobby Jindal's White House bid, said a Trump nomination would have a "hard time holding the Republican coalition," so operatives are looking at other ways he could win the general. "If Trump is the nominee, it would force us to look at unusual coalitions."
"I haven't heard it from serious Republican operatives," he said of the theory. "Certainly, you've heard that from Trump himself."
And Charlie Black, a former senior adviser to John McCain's presidential campaign, said the idea of Trump over-performing among black voters was representative of Trump's overall personality. "His ego leads him to believe that he can attract all voter groups, but that is all wishful thinking."
In South Carolina, though they may be small in number, the people who like Trump really like Trump.
One black Trump volunteer, Joan Martin, said her affection for her candidate goes back to the 1980s. She said her father had caddied for Trump in Florida, and always spoke highly of Trump and the millionaire class. "He always said they were good to him," she said.
As Trump spoke, she clapped and laughed as he meandered through his stump speech. "When my friends found out I was volunteering for Trump, they asked me if I was crazy for not voting for Hillary Clinton," she said. "I just wanna tell 'em, 'Look, I'm not in slavery anymore. The only person I take orders from is in Heaven sitting on the throne.'"
She even explained away Trump's "two Corinthians" mishap.
"Anybody knows it's Roman numerals. One and two."