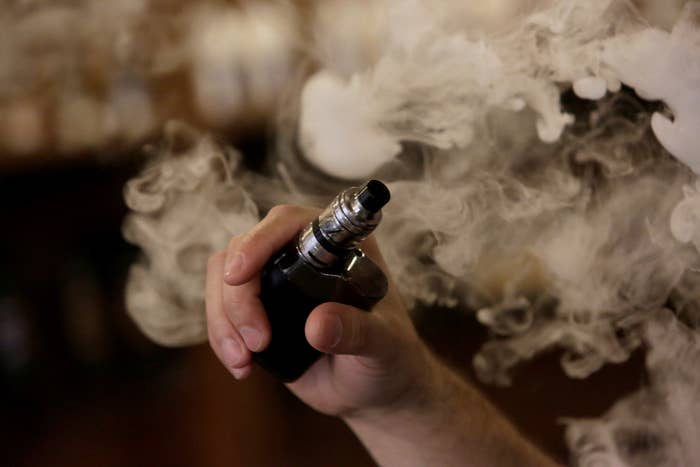 A nationwide epidemic of severe lung injuries tied to vaping now encompasses 450 reported cases, and at least five deaths in 33 states, health officials reported Friday.
"While this investigation is ongoing, people should consider not using e-cigarettes," said CDC's Dana Meaney-Delman during a briefing on the outbreak, in which agency officials discussed three deaths. A "chemical agent" in vaping liquids is seen as the most likely culprit in the cases, she suggested, responsible for causing the lung injuries.
State health agencies reported more deaths in the multi-state outbreak on Friday, bringing the total to five. Minnesota announced the death of a THC-vaping 65-year-old patient, a fourth case, soon after the CDC briefing, and Los Angeles County reported investigation of a fifth such death later on Friday afternoon.

The first death reported in the outbreak was announced only last month by Illinois health officials. The Oregon Health Authority had announced the second one on Wednesday, and Indiana's public health agency had announced a third death in the outbreak, of an adult, on Thursday. The Oregon patient had died in July after vaping "cannabis purchased from a cannabis dispensary," according to the state agency.
The fast-moving outbreak also led Michigan Gov. Gretchen Whitmer to ban flavored e-cigarettes this week.
Federal health officials said that no one ingredient in over 100 vaping liquids tested stands out definitively as the culprit for the cases. On Thursday, the New York Department of Health reported that vitamin E acetate, an oily chemical found in some foods and lotions, was "now a key focus" of its investigation of cases after it turned up in at least one vape liquid that each of 34 patients seen by the agency has used. That investigation has been linked to the FDA's testing efforts, with Meaney-Delman cautioning that multiple ingredients vaporized in e-cigarettes may bear some responsibility for the lung injuries.
Daniel Fox of WakeMed Health & Hospitals in North Carolina warned e-cigarette users against "vaping cartridges purchased off the street where the substances in them are unclear," or where the ingredients are not ones intended by manufacturers, based on cases in that state.
A series of reports from Wisconsin and Illinois, where the initial cases of the sudden onset of difficult breathing, fever, and nausea — pneumonialike symptoms — in teens and young adults first appeared this summer, as well as Utah and California, were also released in the New England Journal of Medicine on Friday. The reports described almost 80 patients with similar lung injuries tied to sudden damage in their lungs following vaping. Around 80% acknowledged vaping liquids containing THC, the high-inducing ingredient in marijuana, bought on the black market.
"Although more investigation is needed to determine the vaping agent or agents responsible, there is clearly an epidemic that begs for an urgent response," David Christiani of the Harvard T.H. Chan School of Public Health wrote in a New England Journal of Medicine editorial on the cases released Friday.
State health officials described suspected cases beginning as early as April of this year. "No consistent e-cigarette product, substance, or additive has been identified in all cases, nor has any one product or substance been conclusively linked to pulmonary disease in patients," concluded a CDC report on the cases released after the briefing. Federal officials asked that anyone with similar symptoms to the cases connect with a "Safety Reporting Portal" website to alert investigators.
Ted Kwong, a spokesperson for Juul, which sells about 80% of e-cigarette products in the US, stressed the illness reports were tied to black market vapes of THC, which the company doesn't sell. "We also must ensure illegal counterfeit and copycat products which may be made with unknown ingredients and under unknown standards and those that deliver controlled substances, stay out of the market."

UPDATE
This post has been updated with new reports of related deaths in Minnesota and California.
UPDATE
This post has been updated with information from a CDC report on the cases reported Friday.