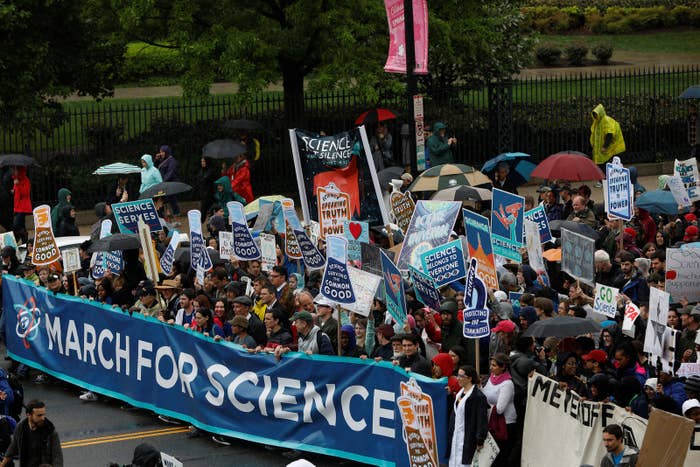 The political education of President Donald Trump continued over the weekend, with news that voters don't like dying, and neither does Congress, which boosted medical research funding at the National Institutes of Health by $2 billion.
The notably large increase, raising NIH's budget 6% to $34 billion, came in a budget deal that averted threats of a government shutdown until autumn, and despite a call by the Trump administration in March to trim NIH by some $1.2 billion this year and $5.8 billion in 2018. The budget deal is widely expected to pass the House and Senate in votes later this week.
"Biomedical research is definitely a favorite cause in Congress. It has a history of bipartisan support," science policy expert Al Teich of George Washington University told BuzzFeed News. "No one wants to vote against such causes as research on cancer, heart disease, and Alzheimer's."
The spectacle of dying patients testifying in hearings and in campaign ads against lawmakers who voted against curing their diseases apparently didn't thrill budget chiefs on the appropriations committees, the ones that actually dole out federal funds. Faced with a choice between an unpopular president with an approval rating around 40% who wanted to axe spending, and a popular cause — medical research — they went with science.
"Appropriators treated NIH very well in last year's appropriations, and it would take an especially influential president to get them to pull a 180, as they would have had to given how they've treated NIH in the past," budget expert Matt Hourihan of the American Association for the Advancement of Science told BuzzFeed News.
In fact, science at almost every federal agency received a bump in the budget deal, which augurs badly for Trump's proposed 2018 budget that seeks to cut $54 billion from the "discretionary" spending side of the federal budget, where science resides, a 10.5% cut to all federal basic research.
Instead most of the science agencies that Trump wanted to cut, including NASA and the National Science Foundation (NSF), received at least a small increase. A 1% cut to the National Institute of Standards and Technology (NIST) reflects the expected wind-down of construction funding. Even a 3% cut to the EPA's science budget looks better than administration's call to cut its research entirely.
The same budget committees chiefs, Rep. Tom Cole of Oklahoma and Sen. Roy Blunt of Missouri, who decided to increase funds for science this year will be the ones calling the shots next year, too.
Historically, Congress has raised questions from time to time about medical research funding, Teich said, but the NIH budget continues to grow — more slowly sometimes, but always up. In the aftermath of the 2008 financial crisis, it received a $10 billion bump in temporary funding that came after a doubling of its budget earlier in the decade. The increase actually added to a employment hangover for medical researchers, who have steadily graduated more PhD students than academic research alone could employ.
The history of scientific budget-cutting isn't favorable for Trump. In early 1981, the Reagan administration proposed major cuts in the federal budget to pay for a defense build-up. "It's the closest analogy to the current situation that I can think of," Teich said.
Reagan didn't propose cuts to NIH, but merely wanted to limit its growth over five years to below the level of inflation, Teich noted. "Congress didn't go along with Reagan's proposal and gave the NIH budget​ a significant boost."