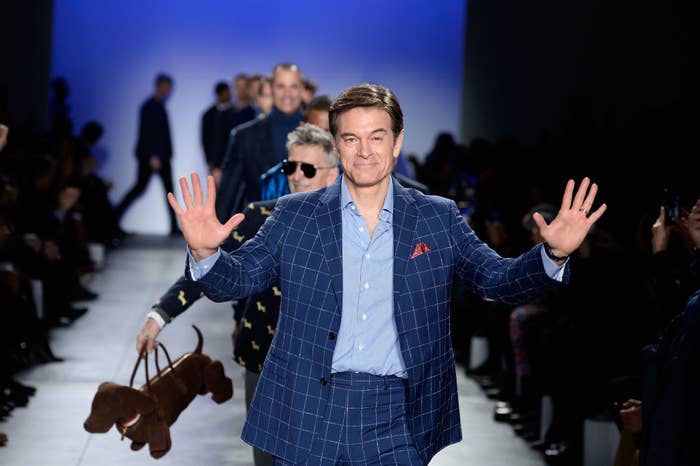 President Donald Trump on Friday named a bevy of sports and television figures to a presidential council intended to spur youth fitness and health.
Renamed in March as the President's Council on Sports, Fitness, and Nutrition, the panel will include TV doctor Mehmet Oz, New England Patriots coach Bill Belichick, and former The Incredible Hulk actor Lou Ferrigno, all named to two-year terms.
The council will advise US Department of Health and Human Services chief Alex Azar on how "to expand and encourage youth sports participation, and to promote the overall physical fitness, health, and nutrition of all Americans," according to its charter. Ivanka Trump and US Surgeon General Jerome Adams were involved in suggesting members, according to news reports.
Presidents have long enlisted celebrities in formal and informal ways to advance health causes. In 1990, then-president George H.W. Bush appointed Arnold Schwarzenegger to be the president of the council. Under the Obama administration, the council had focused on childhood nutrition and was chaired by New Orleans Saints quarterback Drew Brees and Olympic gymnast Dominique Dawes.
A golf club owner and former owner of the short-lived USFL New Jersey Generals in the 1980's, Trump has expanded the ambit of the council to sports. But some questioned the selection of Dr. Oz, suggesting his pick would promote unscientific information about health.
"Oz is a long-time purveyor of medical misinformation," wrote Julia Belluz of Vox, on the naming of the celebrity doctor, who has been criticized for giving a platform to vaccine deniers, homeopathy, and dubious weight-loss approaches. "And now, he'll be advising the president on how to improve health in America's school systems."
The New York Times reported Wednesday that Trump had spent "a long time" with Belichick on the phone, to the surprise of his chief of staff.

"The physical fitness of children in our country is an apolitical issue that is extremely important," Belichick said in a statement released Friday. "I was humbled to be asked and honored to accept, as I would have done for any administration."
The cochairs of the council will be former New York Yankees pitcher Mariano Rivera, professional beach volleyball player Misty May-Treanor, and former professional football player Herschel Walker, who once was a star player for the Generals.
Other experts argued that Oz and his celebrity athlete council members will likely do little to harm — or advance — public health.
"I'm greatly in favor of being active and anything the government can do to encourage 'overall physical fitness, health, and nutrition of all Americans' is a good thing. Who could possibly be against any of that?" New York University nutrition expert Marion Nestle told BuzzFeed News by email.
"I'm guessing the main messages will be to make healthy food choices and be active, without specifying what that means or entails, and certainly without advocating policies that will make healthy diets or physical activity easier or more affordable," Nestle added. "I expect words, or platitudes, but not much action."