This Manhunt Was Pretty Predictable — Except For The Bitter End
After an intense, three-week hunt, law enforcement officers have shot two prison escapees, killing one and wounding the other, in upstate New York. The course of the men's flight was fairly predictable, if you consider the history of fugitives.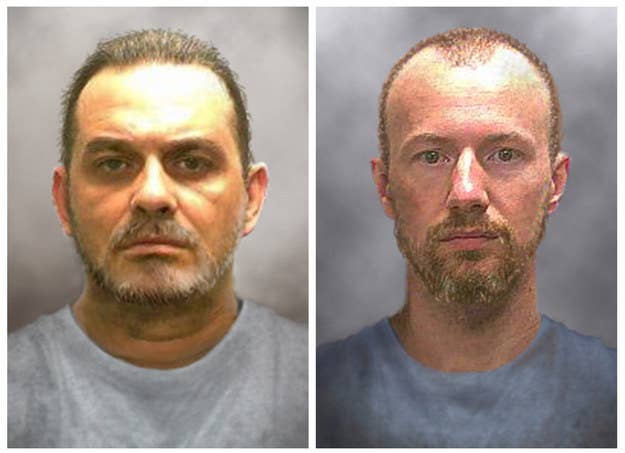 A 22-day nationwide manhunt for two escaped convicts that ended on Sunday reinforces one of the biggest lessons in the history of fugitives: They don't usually get very far.
Police across the country had been hunting for the pair, Richard Matt, 49, and David Sweat, 35, since June 6, when they broke out of the maximum security Clinton Correctional Facility prison in Dannemora, New York.
The prison is just about 20 miles east of a hunting cabin in Owl Lake, New York, where police first caught their trail last weekend, after a cabin owner reported a break-in and spotted a man sprinting away from the crime, leaving behind some socks and a peanut butter jar. The cabin is only six miles south of Malone, New York, where police officers killed Matt on Friday, and 17 miles from Constable, New York, where they found Sweat on Sunday.
Matt and Sweat's close proximity to the prison was entirely predictable, based on the history of fugitives like them, crime experts say. In most cases, petty crimes committed not far from the scene of flight reveals the whereabouts of escapees.
"Most often a simple tip from the public and standard police work is how escapees are found," prisons policy researcher Bryce Peterson of the Urban Institute in Washington D.C. told BuzzFeed News. Capture after an otherwise unremarkable break-in by hungry fugitives, Peterson said, "is how the trajectory of escapes often ends."
That's not where authorities chasing the fugitives were looking, however. A full-scale manhunt for the two fugitives 280 miles southwest of the prison on the Pennsylvania border only ended on Monday. New York Gov. Andrew Cuomo speculated last week that the two convicted murderers could be "in Mexico by now," and U.S. Marshals put the escapees on a nationwide most-wanted list.
Instead, the two escaped murderers' escape ended about five miles south of the Canadian border.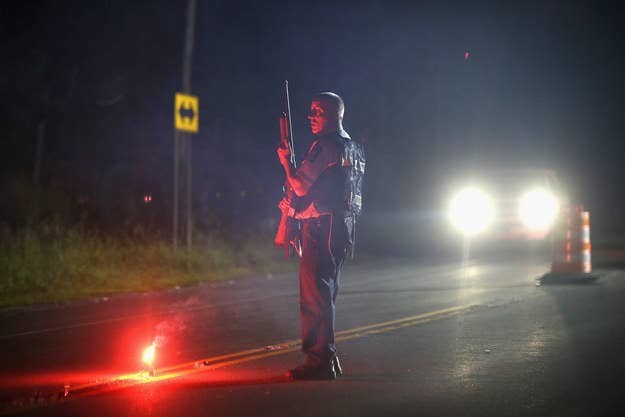 Matt and Sweat had lost their intended ride out of town as soon as they escaped.
That's according to what Lyle Mitchell, the husband of a prison worker, Joyce Mitchell, told NBC News.
He said on Monday that the escapees had looked to his wife to provide a getaway car.
With no car or help from the local community, the two were stuck walking away from the prison in the "vast scope of the north country of the Adirondacks," as Guess put it, a forest filled with rugged ridges and hills in New York state. Stealing a car there would have generated immediate police attention, and likely a quick capture.
"Movement entails effort, energy, and risk. The last is a particularly critical factor in prison escapes," criminologist Kim Rossmo of Texas State University, San Marcos, told BuzzFeed News by email. "Based on all this, it is clear that 'near' is a more probable search area than 'far'," to find fugitives, he added.
Guess, the State Police major, had warned people in upstate New York that Sweat and Matt were dangerous and should not be approached.
Although the men were "certainly dangerous," Peterson said, his own research has found that even violent criminal escapees rarely commit violent crimes as they try to hide, because it would draw immediate attention from police.
In this case, a shotgun hole in a camper reportedly alerted police to Matt's location. When challenged by a U.S. Customs and Border Protection team, Matt didn't drop a 20-gauge shotgun he had stolen during his escape, according to Cuomo. He was shot three times in the head, according to a coroner's report, when the police caught up with him.
Two days later, Sweat was shot by a New York State trooper, amid a search that involved roughly 1,000 officers from state, federal, and tribal police forces.
"Most guys are caught, that's how it goes overwhelmingly," Peterson added.
Though the manhunt was typical, plenty about their escape defies the normal story.
"Most escapes aren't planned and involve elaborate tools," Peterson said. "They are usually crimes of opportunity."
A 2005 Prison Journal report suggested that around 88% of prison escapes are actually nonviolent "walkaways" from low-security prisons. And escape rates have dropped steadily since the 1990s, even as incarceration numbers mounted.
Only a handful of escapes, 8%, involved "ingenious or sophisticated planning," the study found, in a subset of escapes noteworthy enough to generate news coverage.
Even more unusual, Sweat and Matt apparently acquired plans of their prison's interior walls and understood them well enough to cut out into the correct ducts, leaving a note behind before emerging from a steam pipe in the streets of Dannemora.
"The most fascinating and really curious part is how they knew how to get out and where to go. That's remarkable," Peterson said. The noise of the tools must have been loud and also demands an explanation, he added. So far, two prison workers have been arrested for helping the escapees.
Another weird thing about the escape is that while pairs of inmates escaping in sophisticated breakouts is not unusual, they most often split up to make capture harder. "People are looking for two escapees, so usually they go their separate ways to avoid expectations," Peterson said. "That way they don't know each other's plans and can't give anything away if they are caught."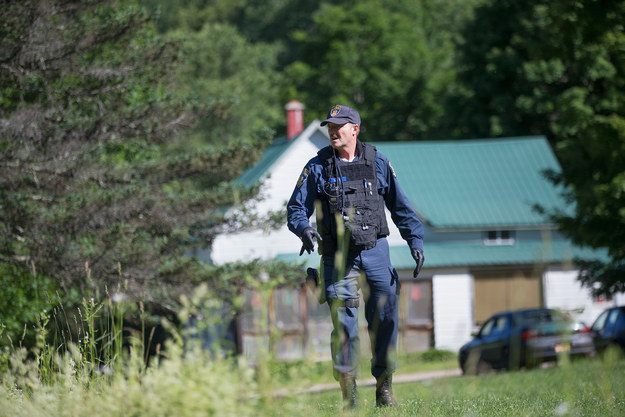 There is one thing, though, that wasn't at all predictable about the hunt: its ending.
Despite movies such as Thelma and Louise or Butch Cassidy and the Sundance Kid mythologizing outlaws dying in a shootout, death at the hands of police is an unusual coda to the June escape. Shootouts or similarly violent recapture happens in fewer than than 1% of all escapes.
"Very unusual, but not surprising given the circumstances surrounding this particular escape," Peterson said. After all, the pair faced a lifetime in solitary confinement after recapture. "The more motivated they are to be out, the more likely they are to use violence."