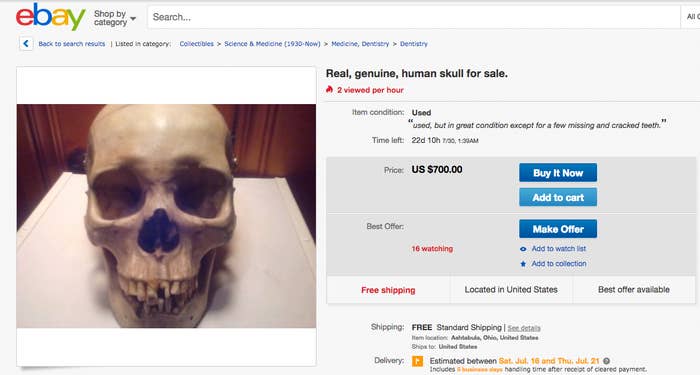 As recently as last week, you could browse the online auction giant eBay for "genuine" or "authentic" human skulls.
Of the two dozen listings that were live last Thursday, most were marketed as tools for medical study, with anatomical markings or springs to illustrate jaw motion, for example. Three were sold simply as creepy curios.
Sales of human skulls, spines, and other bones have faced criticism on eBay since 2004. But late on Friday, after receiving an inquiry from BuzzFeed News, the site abruptly issued a ban.
"Going forward, all such items will be prohibited from being bought or sold on eBay," spokesperson Ryan Moore told BuzzFeed News by email, adding that the change is the result of "regular, ongoing review of eBay policies." All human body parts are now prohibited for sale according to the new policy, except for human hair used in wigs.
BuzzFeed News was asking about an upcoming Journal of Forensic Sciences analysis of 454 human skulls listed for sale on eBay over seven months in 2012 and 2013. The authors of the study, Christine Halling and Ryan Seidemann of the Louisiana Department of Justice, found that skulls were being sold from at least 24 U.S. states that have laws prohibiting sales of human remains.
The opening bid for a skull averaged $648.63, but went as high as $5,500, the study found. Skulls marked with anatomical notations for medical school student memorization garnered the highest bids, over muddy or stained ones that apparently came from archeological sites or perhaps coroner's shelves. Almost 90% of the skulls were teaching specimens.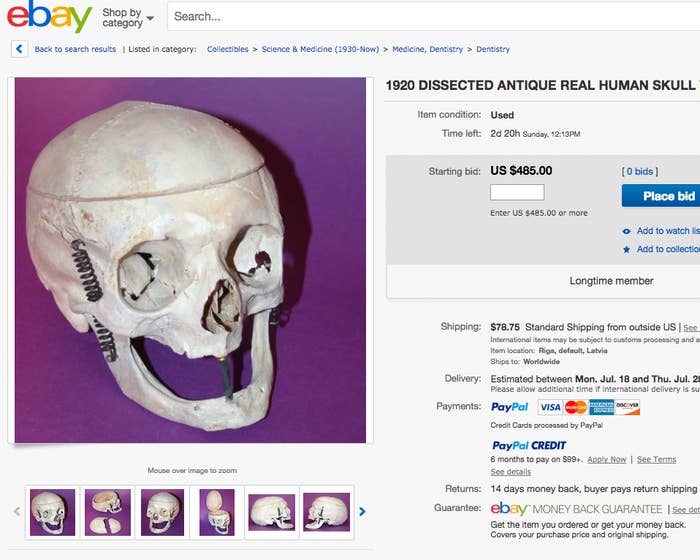 "The sale of these skulls is just a symptom of the wider problem of the trade in human body parts," Michele Goodwin, a law professor at the University of California, Irvine, and author of Black Markets: The Supply and Demand of Body Parts, told BuzzFeed News. "There is a history of anatomical grave robbing in this country that goes back to the Civil War, and the laws have never been properly straightened out."

One concern for the Louisiana officials is that a market for skulls might lead to grave robbing of Native American burial sites, prohibited under the Native American Grave Protection and Repatriation Act. Although 38 states have laws prohibiting the purchase of human remains to some extent, enforcement of the laws is spotty, particularly when they don't require documentation to prove the legal origin of a skull.
(BuzzFeed News asked the authors of the study to comment further, but a Louisiana Department of Justice public affairs official, Ruth Wisher, turned down the request, explaining that they were overloaded with queries due to the ongoing protests in Baton Rouge.)
"It is not likely that removing the easy ability to sell human remains online will stop people from selling these remains," the report said, predicting that shutting eBay sales of skulls down will simply move them into less visible black markets. That's largely because the public still sees buying a dead person's skull as harmless "curio collecting," the study concluded, rather than a ghoulish hobby that might spur grave robbing.