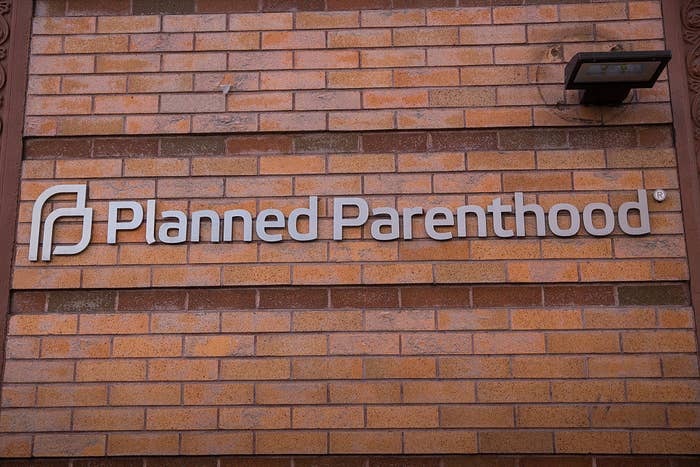 In the latest turn of a long-running investigation into Planned Parenthood and fetal tissue donations, a congressional panel on Wednesday asked for a federal investigation into alleged patient privacy and informed consent violations.
In Wednesday's letters to two federal research and patient privacy rule overseers, the "Select Investigative Panel" suggested that three California clinics broke patient privacy rules when women donated tissues from their aborted fetuses to research. Planned Parenthood has since halted its involvement in these donations, after anti-abortion activists secretly recorded videos of doctors talking about the process.
Fetal tissue donations after an abortion are permitted by a 1993 federal law meant to support medical research. In a series of hearings this year, the panel — one of the most bitterly divided by party on Capitol Hill — has sought charges of an illegal industry built around this little-known corner of medical research.
In the letters sent Wednesday, the panel said the donation process "takes financial advantage, obtains consent through coercion, and deceives the woman, all in violation of federal privacy laws."
Essentially, the panel is arguing that from 2010 to 2015, three clinics violated patient privacy laws by telling StemExpress — a company that sells fetal tissue obtained from clinics to scientists — about patients who might donate fetal tissues, ahead of their abortions. StemExpress, the panel claims, provided inadequate "informed consent" forms to women who made the donations.
StemExpress denied the select panel's charges in a statement, and said that it would welcome any federal questions about "continued unfounded accusations."
Planned Parenthood representative Mary Alice Carter told BuzzFeed News on Thursday, "We have obtained the documents from the website and are reviewing."
On the privacy violation allegations, the select panel has "a pretty thin argument," Nicolas Terry of the Indiana University Robert H. McKinney School of Law told BuzzFeed News. He noted that tissue donated to scientific research has long been seen as exempt from federal patient privacy rules. According to the 2000 federal patient privacy law, for example, "organizations that perform such activities would not be considered health care providers when conducting these functions."
"I wouldn't expect a very swift investigation on this front," Terry said.
On informed consent, however, the panel may have more grounds for complaint: At an April hearing, stem cell researcher Lawrence Goldstein of the Sanford Consortium for Regenerative Medicine in La Jolla, California, a Democratic witness, said that an informed consent form contained "an inappropriate statement" about tissue donations leading to cures for Alzheimer's disease. "That would not have made it past my [ethics review board] either," he said.
The origin of that consent form, however, is unclear. Michael Reynard, communications director of the select committee, told BuzzFeed News that the form, which has a Planned Parenthood logo on the top, belongs to the organization. But both Planned Parenthood and StemExpress told BuzzFeed News that the form was not theirs.
StemExpress had gotten approval for its forms from a nonprofit review board, BioMed IRB of San Diego. The board, which is supposed to provide an independent ethics reviews of biomedical research, was cited by the FDA in 2012 for lacking "professional competence" to review medical studies.
Federal agencies generally take investigation requests from Congress very seriously. "They are hard to ignore," Terry said.
The select panel's new request for investigation comes almost a month after the House minority leader Nancy Pelosi called for disbanding the panel because it turned from fetal tissue to investigating a Maryland abortion doctor, and started sending subpoenas to scientists about their research.
"The Republicans' select committee is engaged in abuses that have not been seen on Capitol Hill since the days of Joseph McCarthy," Pelosi said then. The panel has filed about three dozen subpoenas since its October start, which was sparked by a series of secretly recorded anti-abortion activist videos created by the Center for Medical Progress in Irvine, California.
The hidden camera videos of Planned Parenthood doctors, taped by activist David Daleiden, were edited to argue that Planned Parenthood was illegally profiting off fetal tissue donations. The charges almost led to the shutdown of the federal government in a Congressional budget dispute last fall, a conflict that ended with the surprise resignation of then-House majority leader John Boehner of Ohio.
Investigations in 12 states into the video's charges have led to no charges against clinics. Daleiden now faces grand jury charges in Texas over using fake ID and attempting to illegally purchase human tissues while making videos there.
CORRECTION
Lawrence Goldstein criticized a consent form at the hearing, but StemExpress and Planned Parenthood both deny that the form was theirs.