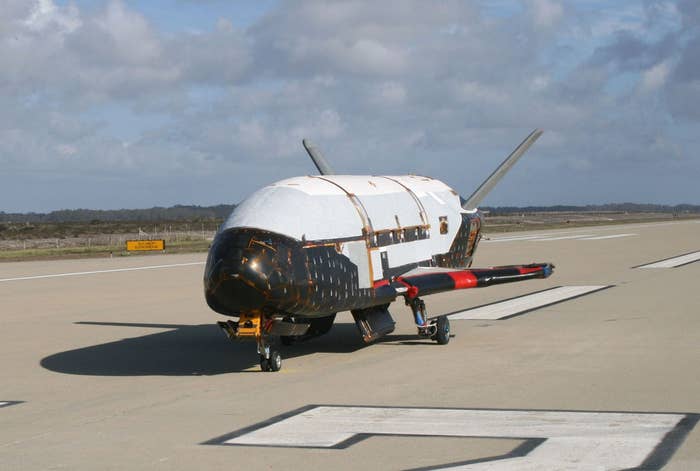 The weakest link in cockpit safety — the pilot — appears to have snapped in the crash of Germanwings Flight 9525, which killed 150 passengers on Tuesday.
French investigators on Thursday said that the doomed airliner's co-pilot, Andreas Lubitz, had locked the pilot out of the cockpit and crashed the plane into the French Alps. The report evoked memories of 1999's EgyptAir Flight 990 crash in the North Atlantic, which killed 217 people, attributed by U.S. investigators to a suicidal pilot. Then there was 2012's JetBlue Flight 191, where a pilot left the cockpit screaming about terrorists and the plane's first officer locked him out of the cockpit.
These incidents raise the question: In an era of drone warfare and autonomously piloted space vehicles, do we really need human pilots?
"The technology is already there, modern planes could take off, fly, and land themselves," engineering psychologist Stephen Rice, of the Florida Institute of Technology in Melbourne, Florida, told BuzzFeed News. But it's not going to happen for perhaps 30 years, he added, for reasons that have nothing to do with technology. "Passengers aren't ready for it yet, and neither are pilots."
The U.S. Air Force has already launched a winged space plane, the X-37B, which, after months in orbit conducting classified operations, lands under its own control in an explicit demonstration of robotic pilot technology. The Pentagon's defense research agency, DARPA, has demonstrated an autopilot that landed an F-18 after 60% of its wing was shot off. And on many flights today, pilots spend much of the cruise phase following the "magenta line" — the navigation trail familiar to any car owner with dashboard navigation — on their autopilot controls.
"With respect to commercial airplanes, there is no doubt in our minds that we can solve the problem of autonomous flight," said John Tracy, Boeing's chief technology officer, speaking in January at the American Institute of Aeronautics and Astronautics SciTech conference in Orlando. Cargo flight customers, such as commercial shipping companies, are already asking for robot-piloted flights, he added.
The day of robot pilots is coming. The question is how soon.
NASA is funding research on a "Single Pilot Operation" program, which envisions replacing the human co-pilot in the cockpit with one on the ground. In this project, which is so far confined to virtual cockpits at NASA's Ames Research Center, autopilot would serve the role of the co-pilot for up to 12 planes, all of them overseen by a trained pilot known as a "super dispatcher" on the ground.
The super dispatcher would only step into the role of the co-pilot if the real human pilot didn't respond to check-in calls, or if the plane flight path suddenly diverted — a scenario similar to the Germanwings crash, in which altitude precipitously dropped from 38,000 to 11,000 feet minutes before the crash.
Part of the pressure for robotic co-pilots comes from fears of a pilot shortage foreseen by the airline industry after the Federal Aviation Administration (FAA) last year increased flight hour requirements to 1,500 hours to certify pilots. (A report from the Government Accountability Office, on the other hand, didn't find much evidence of a shortage.)
"The airline industry is keenly interested," Yeonmin Cho, adjunct professor of political science at Towson University, told BuzzFeed News by email. That's partly because human errors are responsible for many plane accidents, she said. Airlines could also save money on pilot salaries and benefits. "Not having to worry about pilot strike is a bonus."
Pilots, on the other hand, aren't keen on the idea. "Pilots have real questions about moving pilots out of the cockpit," Rice said. "And they are the ones with the thousands of hours of experience flying planes."
At the Orlando conference, Tracy noted that FAA certification of robotic pilots would also be a hurdle for the airline industry. The agency released flight rules last month for 50-pound drones flying under 200 feet — after nearly a decade of the small fliers taking to the air. (The FAA has approved a "Next Generation" navigation system for U.S. airports that would support automated landings of planes.)
Passenger qualms might be the biggest stumbling block to robot pilots.
A 2014 International Journal of Aviation, Aeronautics and Aerospace report by Rice and colleagues found that U.S. passengers place far more trust in human pilots than either human ground controllers or autopilots. "A lot of people don't realize the industry is talking about this," Rice said. "They just say, 'Whoa, really?' when we ask them."
Similar concerns attended the removal of a human navigator from the cockpit in the 1970s, Rice said. "People felt more comfortable with that third person in the cockpit."
Interestingly, however, people's concerns about robotic pilots don't extend to FedEx cargo flights, he added, which means that is where pilotless planes will likely see their first use. "People don't think about their packages. They worry, 'Am I going to die?' and that is mostly it."
The pace of the shift to robotic pilots might depend on the success of driverless cars pursued by Google, Rice said. "If driverless cars become normal and people see that is safe, it might accelerate their acceptance of cockpits without a pilot, too." (Google also has a self-flying plane effort, called "Project Wing," which has conducted test flights in Queensland, Australia.)
One thing to keep in mind, he added, is that flight will never be absolutely safe, whether with human or robot pilots. "I think moving to autopilots would result in less loss of human life overall though. I'd feel much safer today flying on a plane piloted by autopilot."
This story has been updated to include comments from Yeonmin Cho.
Google's self-flying plane effort is called "Project Wing." A previous version of this story misstated the name.