John Templon / BuzzFeed News
2015 opioid prescriptions by county, in morphine equivalent (MME).
Doctors in some US counties prescribed up to six times more addictive pain pills than others in 2015, a new federal study shows.

Around two million people in the US have a substance use disorder involving prescription pain pills like OxyContin, Vicodin, and other morphine-related medications. Despite calls for fewer prescriptions — and 2010 apparently marking a peak year — prescriptions of these pills were still three times higher in 2015 than in 1999, according to the new report released by the Centers for Disease Control and Prevention (CDC).
"We're seeing too many getting too much for too long," said acting CDC Director Anne Schuchat, in a briefing for reporters. "Clinical practice is all over the place." Around 20,000 people died of prescription pain pill overdoses in 2015.
The report paints a patchwork picture of how opioids are prescribed, varying wildly from county to county nationwide. In some states, such as Florida, Ohio, and Kentucky, prescriptions decreased in 80%, 85%, and 62%, respectively, of their counties from 2010 to 2015. But other counties in those same states saw a spike in prescriptions at the same time.
Alarmingly, the average prescription increased from 13 days in 2006 to almost 18 days in 2015. The longer a person uses opioids, the higher their risk of addiction. The CDC released new guidelines calling for not prescribing opioids right away to chronic pain patients last year. (An April report by the health insurer Cigna found a 12% decrease in opioid prescriptions among its customers in 2016, which Schuchat suggested was a pointer toward even more drops in opioid use last year as well.)
Nationwide, the 2015 rate of prescribing these pills was 18% lower than in 2010, as measured by the potency of the pain pills, but CDC officials say there is still broad over-prescription of the pills, linked to an epidemic of addiction that sends more than 1,000 people a day to emergency rooms for misuse of the pain pills.
"Opioids continue to be prescribed at a high rate for chronic pain in the US," emergency medicine specialist Melanie Lippmann of Brown University told BuzzFeed News by email, although she called the overall decline encouraging. "We need to aggressively explore more non-opioid alternatives for patients with chronic pain."
The higher prescribing counties were typically in small towns and cities, marked by more arthritis, diabetes, and unemployment. A higher white population was also a risk factor.
"Differences in these characteristics explain only a fraction of the wide variation in opioid prescribing across the United States," said Deborah Dowell of the CDC's National Center for Injury Prevention and Control in a statement.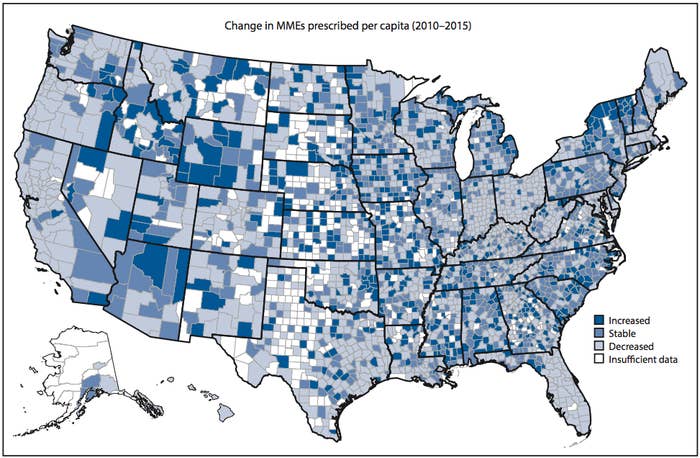 The CDC report follows a Blue Cross Blue Shield report last week that looked at 30 million of its members —people with health insurance through their employers — finding that 21% had at least one opioid painkiller prescription in 2015.
Over the last six years, members diagnosed with an opioid use disorder increased 493%, the study also showed, from just over 1 in 1,000 in 2010 to 8 in 1,000 people by 2016. Most often they were people in their 40's or older. People receiving medication-assisted treatment, where counseling is provided along with a less potent opioid to get people off the drugs, also increased to about 3.4 in 1,000 members, up from 2 in 1000 in that same time span.
"The most significant thing about that is that treatment isn't keeping up with people with disorders," opioid addiction expert Andrew Kolodny of Brandeis University told BuzzFeed News.
The insurance company's data also showed a mismatch between where most treatment was taking place: while more treatment for substance use disorders took place in New England, addiction was more widespread in Appalachia and Southern States.