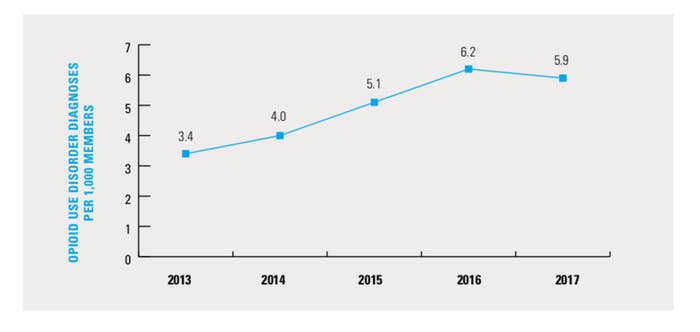 Blue Cross Blue Shield, which insures 1 in 3 people in the US, reported on Thursday that new opioid addiction diagnoses dropped among its members for the first recorded time, perhaps signaling a turning point in the nationwide overdose crisis.
An estimated 2 million people in the US have an opioid use disorder, typically driven by prescription painkillers or illicit heroin and fentanyl. But the new Blue Cross report found a 5% decline in these diagnoses in 2017.
"We are encouraged by these findings, but we remain vigilant," Trent Haywood, senior vice president and chief medical officer at Blue Cross Blue Shield, said in a statement.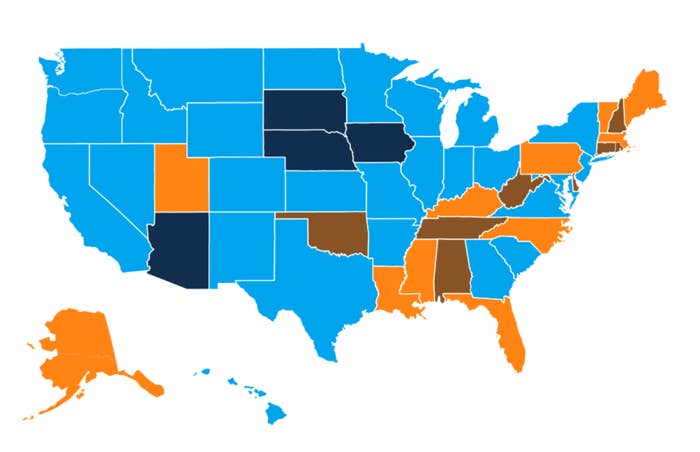 Following national trends, the report saw the highest rates of opioid addiction in New England, Appalachia, and the South.
Opioid prescriptions are also on the decline, falling 29% since 2013 for the drugs Blue Cross paid for, the report found. That drop reflects new CDC guidelines steering doctors away from prescribing opioid painkillers for pain and injuries. (A recent survey suggested that 7 in 10 doctors have cut back on opioid prescriptions in the last two years.) New England, Ohio, and Mississippi saw the biggest decline in opioid prescriptions, the report found.
Although the decline in addiction diagnoses was modest — from 6.2 per 1,000 in 2016 to 5.9 per 1,000 in 2017, or about 241,000 people — outside observers welcomed the drop as a sign of change.
"It means that there's light at the end of the tunnel," Brandeis University addiction policy expert Andrew Kolodny told BuzzFeed News by email. More cautious prescribing and greater public awareness of overdose risks, seen in other indicators as well, are probably driving the change, he said.
"Unfortunately though, the genie is out of the bottle," Kolodny added. "Millions of Americans are now struggling with opioid addiction. Unless we do a better job of increasing access to effective treatment, overdose deaths will remain at record high levels and we'll have to wait for this generation to die off before the crisis comes to an end."
Recent preliminary death certificate data from the Centers for Disease Control and Prevention still suggest that opioids killed around 48,000 people in 2017, an 8% increase from the year before. Deaths from overdoses of stimulants such as cocaine and methamphetamine, increasingly tainted with illicit forms of the powerful opioid fentanyl, are also increasing.