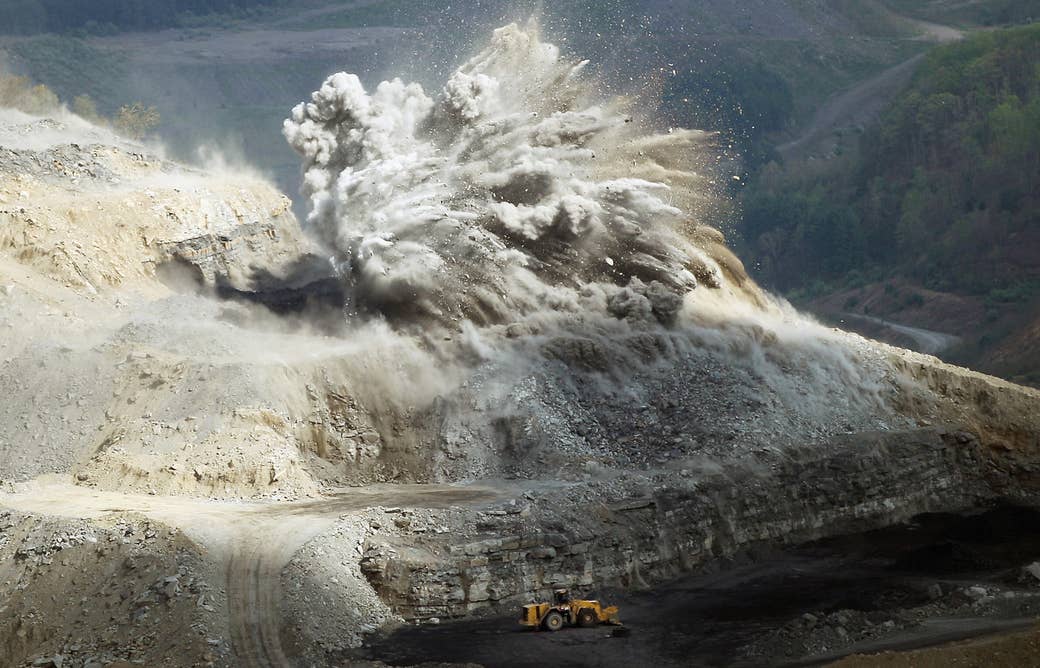 Count one more thing buried under the rubble of mountaintop coal mining — a high-profile study of its dangers, halted this summer by the Trump administration and now apparently in permanent limbo.
In August, the Department of Interior told the National Academies of Sciences, Engineering, and Medicine (NASEM) to stop work on the $1 million safety study, saying it was starting a review of grants "in excess of $100,000." The study was already halfway completed.
Now some in Congress are asking questions, but the halt is still in effect, according to the agency.
"​It's an ongoing process. We have nothing new to announce at this time," Interior Department public affairs official Heather Swift told BuzzFeed News, in response to a request for an update on any progress made by the review.
Only about 3% of US coal now comes from mountaintop mining, which grew popular after clean air regulations placed a premium on low-sulfur coal in the '90s. Mountaintop mining blasts dirt and rock off mountains to expose that coal, filling valleys below with up to hundreds of feet of refuse and mine tailings.
Originally requested under the Obama administration, the NASEM study was meant to settle unresolved questions about the safety of mountaintop mining, and what research should be funded to answer health questions, left over from a National Institutes of Environmental Health Sciences review of almost 100 studies. The science academy is the go-to place for settling politically charged health and science questions that politicians don't want to touch. Halts to its ongoing studies don't happen very often. "It's not unprecedented, but it's rare," William Kearney, executive director of the office of news and public information at NASEM, told BuzzFeed News.
"It looks like it's just an attempt to stop it forever," Michael Shawn Hendryx, an environmental health professor at Indiana University, told BuzzFeed News. Hendryx testified before a NASEM study panel in March. "Originally, I worried the study itself was a way to put off telling people that mountaintop mining was dangerous," he said. "But it must have worried somebody."
The Trump administration's hobbling of the NASEM study is one of several changes that have relaxed government oversight of coal, one of the president's campaign promises. The Interior Department lifted a moratorium on new coal mining on federal lands in March, for example. In October, the Environmental Protection Agency announced a repeal of a clean power plan that would have favored solar power over keeping coal plants burning. And in February, President Trump signed a repeal of a clean stream rule that raised the prospects of a mountaintop mining revival.

It's one of several changes that have relaxed government oversight of coal, one of the president's campaign promises.
Mountaintop mining had declined during the Obama administration, dropping by 62% from 2008 to 2014. About 40% of Central Appalachia has been flattened by 40 years of the practice, according to a 2016 study of West Virginia's topography.
"The evidence clearly shows people living there face higher risks" — of cancer, heart disease, lung ailments, birth defects, and other diseases — Hendryx said, even accounting for poverty, smoking, drinking, or other past explanations for poor health in coal mining towns. Described as a public health disaster, the mining's air and water pollution causes around 1,200 extra deaths a year in parts of Appalachia.
Blasting mountains apart shatters sandstone and rock layers, creating silica particles linked to lung cancer and respiratory illness, as well as coal dust. Ultrafine dust that lodges in the lungs of people who breathe it it in — linked to higher mortality — is prevalent in those dust clouds, Hendryx said.
The request to halt the NASEM study came even though it was already halfway completed. Public meetings to hear local health concerns were scheduled in Hazard, Kentucky, and Lexington, Kentucky, in the very same week that the halt was ordered. (They went ahead but nothing has happened since then.)
A BuzzFeed News public records request to the Department of Interior for communications related to the halt order, returned in heavily redacted form by the agency late in November, finds no discussion of the review, only handling of talking points about the decision.

At a November hearing of the House Committee on Natural Resources, Rep. Raúl Grijalva of Arizona complained that the Interior Department had not responded to a request for an update on the status of its review of the NASEM study. "They are refusing to tell us anything about the study or the $400,000 set aside for the study that are now unaccounted for," he said.
Grijalva noted that the mountaintop mining study appeared to be the only one halted by the Interior Department review. The agency contests this. "That is not accurate," Interior's Swift said by email.
Some people are happy about the study's axing. In a recent letter to the Charleston Gazette-Mail, the president of the National Mining Association, Hal Quinn, suggested that the science academy study was unnecessary — a "$1 million taxpayer-funded review of existing research" — because NIEHS reviews of such studies "did not show evidence of significant health hazards to miners and their communities."
That kind of wording is a dodge when it comes to mountaintop mining health threats, Duke University environmental scientist Emily Bernhardt told BuzzFeed News, because miners themselves might live far away from the stream valleys and homes at the foot of shattered mountains. In reality, studies of both air pollution and water pollution point to health dangers for anyone breathing near mountaintop mines or rubble-covered streams, she said.
"What we see is alkaline mine drainage, with elevated trace minerals in water," Bernhardt said. "Definitely all of this makes you feel cynical about the government protecting human health."