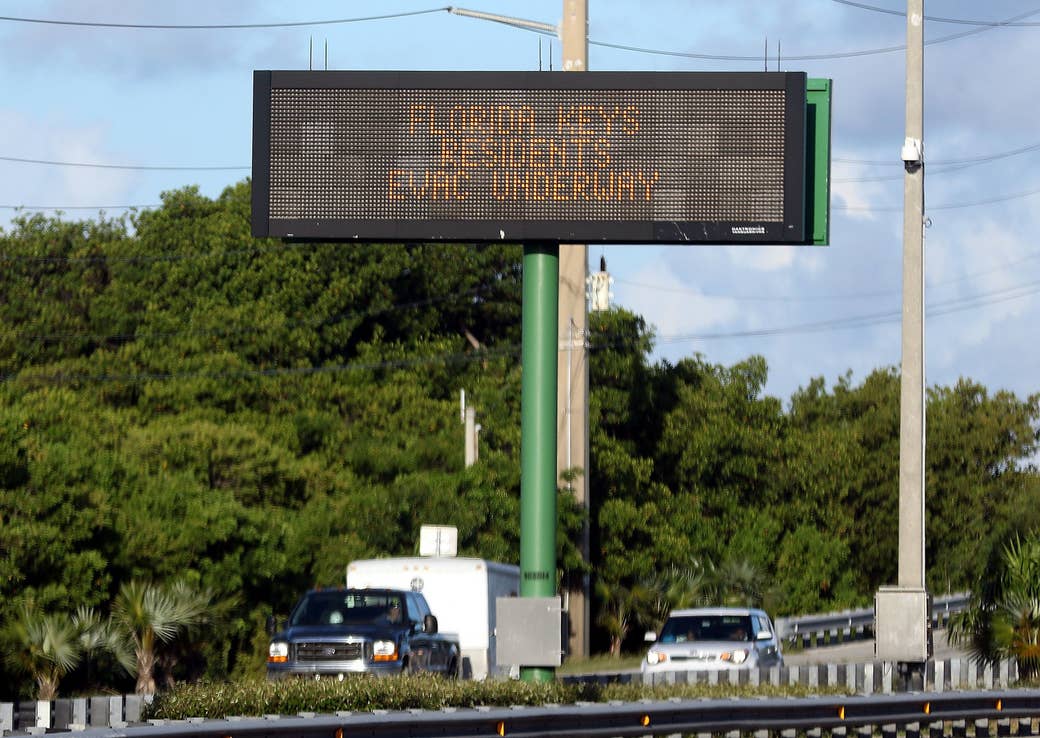 With Hurricane Irma bearing down on Florida, mandatory evacuations have started across the southern half of the Sunshine State, forcing millions of people to flee their homes.
Irma is forecast to strike on Sunday as a Category 4 storm with 150 mph winds, threatening to clear out the center of the state with the force of a tornado.
In response to the storm, evacuations of the coasts have started everywhere from Miami to Savannah, Georgia. Florida Gov. Rick Scott ordered evacuations, first voluntary, later to become mandatory, for cities south of Lake Okeechobee, after the US Army Corps of Engineers warned of flooding from water passing over its dike.
"Evacuees should move as soon as possible to the homes of friends or family who live outside of evacuation areas," Miami-Dade County Mayor Carlos Gimenez said in the mandatory order for homes closest to the coast in the county of 2.7 million people.
Beginning Thursday, traffic jams and long lines for gas have plagued I-75, one of the two major highways for moving people north.
Current traffic in Florida
Peter Aldhous for BuzzFeed News / Via Google Maps
Scott tweeted Thursday afternoon that state police cars are escorting gasoline tanker trucks to gas stations. Tolls are suspended and disabled cars will be towed off the road.

"Florida is much more prepared and ready than other states. But the highways weren't designed to empty the state," Joe Trainor of the University of Delaware's Disaster Research Center told BuzzFeed News. "This will be a real challenge."
The massive storm, some 500 miles wide, raises the classic "stay or go" question for people in its path. Irma is projected to deliver winds strong enough to rip nailed shingles off houses about 40% of the time and break most unprotected windows struck with debris, according to a 2006 risk assessment model. It will also bring storm surges 5 to 10 feet high on the coast, and 8 to 12 inches of rain across the state, with some places receiving up to 20 inches.
"The general rule is hide from the wind and run from the water," Trainor said. That means people in secure homes that don't face a flood risk are generally better off hunkering down as long as the structure is strong enough to withstand high winds. Florida upgraded its building codes after 1992's Hurricane Andrew, which destroyed or damaged 125,000 homes. "Now, we will see how well they did, unfortunately," he added.
People living in older or flimsier homes, however, will probably be better off heading for an evacuation shelter. Counties such as Hendry, sandwiched between the Everglades and Lake Okeechobee, have ordered voluntary evacuation of mobile homes and houses not built on concrete slabs, for example.
At least 13 Florida counties have ordered voluntary or mandatory evacuations of some kind as of Friday, according to the Florida Division of Emergency Management. Almost 6 million people live in three of those counties — Miami-Dade, Broward, and Palm Beach. That means millions of people are headed north in a peninsula state served by two major interstates, I-75 and I-95, or to evacuation shelters nearby.
"This is a state that has a lot of experience with hurricanes and planning for them," transportation expert Hani Mahmassani of Northwestern University told BuzzFeed News. "I think evacuation is definitely called for, in stages, and in an orderly fashion."
Staged evacuations are first voluntary, then mandatory, and begin in the most vulnerable coastal cities and towns before spreading inland to less vulnerable places. The idea is to steadily evacuate people in waves so that they don't overlap, avoiding crushing traffic jams that leave people exposed and in the open during the onslaught of a storm.
The traffic jams of 2005's Hurricane Rita in Texas, which left 2.5 million people stranded on highways for more than 20 hours, leading to 100 deaths, are the nightmare scenario for disaster planners, civil engineer Madhav Marathe of Virginia Tech told BuzzFeed News. The traffic disaster was marked by bad planning, not enough gas and no opening of highway lanes to create one-way traffic flows, all pitfalls that Florida seems to be actively avoiding.
Simulations show that evacuations only run smoothly if the highways are running at less than full capacity, Mahmassani added. That's due to a "more is less" principle where congestion causes a widespread slowdown (familiar to daily commuters in most US cities) that abruptly cuts highway capacity by a third and leads to a persistent traffic jam.
The trick for emergency planners is to time evacuations to load the roads and then let the highways digest the traffic before ordering them from the next locale. For Long Island during Superstorm Sandy, for example, the optimal pattern was 10 to 16 hours of loading, followed by four hours of holding off before ordering the next evacuation.
Still, Florida is a peninsula with only so many ways out of the state. Miami Beach, for example, has only six bridges out of town. The state also has lots of elderly residents who need extra time to evacuate, which has led to mandatory evacuations of nursing homes in some counties.
"People are not completely rational in how they decide to evacuate," Marathe said. A mixture of tolerance for risk, perception of risk, and advice from family members seems to drive when people head for the hills. "If the neighbors leave, you will see everybody leave," he said.
Disaster experts are watching the advent of social media in the midst of last week's Hurricane Harvey and now, Hurricane Irma, with some fascination, Marathe said. Real-time alerts of open gas stations on Twitter and traffic conditions on Google Maps, which is working with the state to manage traffic, are opening a new chapter in how people adapt to disasters, for example.
"We always see communities self-organize, change from passive to active, after every disaster," he said. "More and more now, the situation is people are self-organizing to solve problems as they happen."