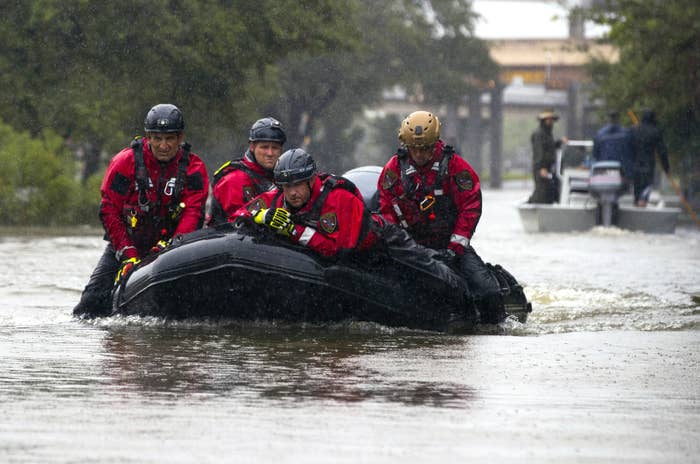 Hurricane Harvey snuck up on Texas, said weather experts, by strengthening at a pace that outran the forecasts.
By Tuesday, at least two deaths had been confirmed, though that number is expected to rise. Around 30,000 people were displaced in shelters, with cities such as Dallas expecting to house "thousands upon thousands upon thousands." Some 450,000 people are expected to need FEMA assistance, many of them now stranded in their flooded homes, and the winds and storm surge are currently estimated to cost Texas up to $2.3 billion in insured damage.
A week ago, however, Harvey had seemed possibly done for after running into Mexico's Yucatán Peninsula. There were no National Hurricane Centers warnings about the storm from Sunday until Wednesday last week. Although predictions for heavy rains were abundant, scientists hoped that Texas might be spared from the worst.
The late rebirth of the storm in the Gulf of Mexico came only on Wednesday, with an 11 p.m. ET note that Harvey was back to being a "tropical depression." On Thursday at 1 p.m. ET came an update that it was a hurricane. By Friday, Hurricane Harvey zoomed up from Category 2 just after midnight to Category 3, a "major" hurricane with 120-mph winds by 3 p.m ET, and ratcheted up to Category 4 by 7 p.m. ET.
The hurricane made landfall with 130-mph winds a few hours later in Rockport, Texas — just two days after it had reformed. Its strength surprised forecasters who had been closely monitoring the storm's progress.
"Yes, it definitely did intensify quickly — and in fact, quicker than most of us expected," Rob Rogers of the National Oceanic and Atmospheric Administration's Hurricane Research Division told BuzzFeed News, by email.
Everything hung on the rebirth of the storm into a hurricane, forecaster Kate Musgrave of Colorado State University told BuzzFeed News, for projections of the intense storm that followed. It wasn't until that happened that scientists could create accurate models. "We need to be able to see the storms within the storm to forecast what will happen," she said.
All hurricanes intensify once they form by adding a necklace of thunderstorms that swirl around their center. But this so-called eyewall formation usually happens far out at sea, giving extra time for scientists to make observations and issue warnings. Harvey only did this when it was about 340 miles southeast of Corpus Christi, Texas.
"Once Harvey did develop this inner core, the intensification could proceed for the most part steadily and rapidly," Rogers said. Forecasters knew a deluge would result because the water between Texas and the hurricane was warmer than normal — a habit of Gulf of Mexico hurricanes — promising to boost the power of the storm. But that wasn't something they could see until images from satellites such as NOAA's GOES-16 revealed the storm's structure on Thursday.
The weather models on Friday promised more than 30 inches of rain, which meteorologist Dan Satterfield called "astounding and astonishing" on an American Geophysical Union blog. But things were just getting started: The same day, a European weather model predicted 50 to 60 inches of rain would result, which weather reporters at first noted with some hesitation.
The scientists' prediction turned out to be right. On Friday, other models showed this very heavy rain parking over Texas as well, atmospheric scientist Clifford Mass of the University of Washington told BuzzFeed News. "There was unusually good agreement among them," he said. Rainfall is simply easier to predict with hurricanes, Mass said, compared to predicting more chancy wind speeds or coastal storm surge heights. And, in Texas, heavy rains mean heavy flooding.
"The bounces were a little different [after landfall], but the predictions were all in good agreement that we were going to get heavy precipitation."
By Sunday, the National Weather Service started warning about "unprecedented" rainfall. Those warnings have come true, with Houston now a city of islands in many places, and another 15 inches of rain predicted for Tuesday.
"Regardless of Harvey's eventual intensity, it was a good bet that the system would produce significant rainfall," Rogers said, because of the lack of prevailing winds to push the storm away from the Lone Star State.
"Of course that does nothing to diminish the suffering being experienced by all those caught in these extensive, long-lived rains," he added.
Rain is expected over Houston for at least the next two days, and the storm is projected, uniformly by all the models, to drift over Louisiana before heading north later in the week.