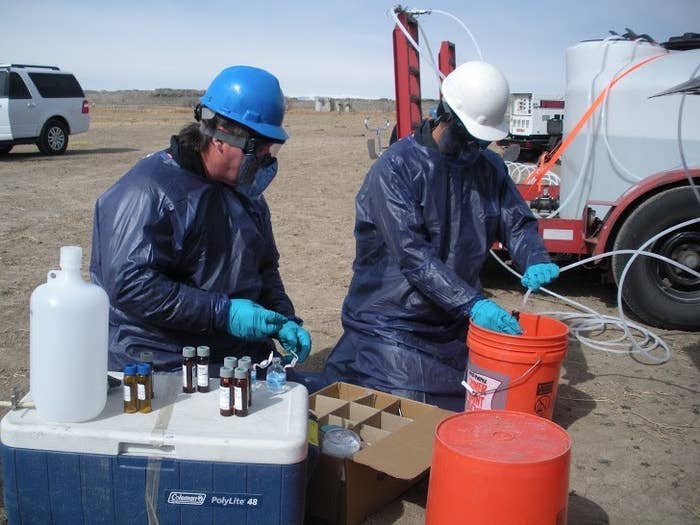 Fracking polluted underground water reservoirs around Pavillion, Wyoming, confirms a study that follows up on a never-completed pollution investigation that the Environmental Protection Agency (EPA) walked away from in 2013.
"It's the study I would have done for the agency if I was still there," former EPA scientist Dominic DiGiulio, who headed the study, told BuzzFeed News. The study partly relied on EPA data that DiGiulio knew to request under freedom of information laws. "I can't say it was the one they would have published."
In 2008, residents of Pavillion in the Wind River Indian Reservation contacted the environmental agency over foul tasting well water near fracking sites there. An EPA draft report in 2011 found hydraulic fracturing, or fracking, fluids from natural gas wells had been injected into a deep drinking water reservoir, or aquifer, there. Uproar ensued, with other federal, state, and industry officials critical of the draft report, saying EPA monitoring wells were unreliable. Two years later, EPA said it would not release a final version of the draft report. "Nor does the agency plan to rely upon the conclusions in the draft report," it said.
The decision by EPA to retreat from its draft study at Pavilion "wasn't made by any of the scientists" at the agency, DiGiulio said, but rather by the agency's senior leadership. EPA eventually handed the investigation over to Wyoming, which has since produced three inconclusive reports.
Fracking, which cracks open oil or gas-bearing rock layers with high-pressure injections of chemicals and sand mixed with water, has revolutionized the U.S. energy industry in the last decade, bulwarking long-shrinking supplies of fossil fuels. Concern about fracking chemicals migrating into drinking water has accompanied protests at Pavilion and in places such as Dimock, Pennsylvania. On Monday, the U.S. Geological Survey released a report concluding that underground disposal of waste fracking fluids in deep wells was triggering small to medium-sized earthquakes in states such as Oklahoma, putting 7 million people at risk for these "induced" quakes.
In the new study, published in the Environmental Science & Technology journal, DiGiulio and Stanford's Robert Jackson picked up where EPA left off, combining data from two agency monitoring wells and state reviews of natural gas wells, drilling pits, and drinking water wells. The researchers found that a wide range of chemicals from fracking wells injected into the Pavilion aquifer had migrated upward into higher layers of sandstone filled with untapped drinking water. The results confirm the 2011 draft EPA report and extend it by finding the first direct evidence of fracking fluids polluting a federally protected aquifer.
"No other industry can inject chemicals into drinking water," Jackson told BuzzFeed News. He criticized the EPA for "walking away" from the safety study of the pollution in Wyoming and warned that the findings from their independent study have implications for California, Colorado, and other Rocky Mountain states where shallow hydraulic fracturing, done at depths around 3,000 feet down or less, takes place. "It isn't only Wyoming where shallow hydraulic fracturing is a concern," he said.

Average Depth of Fracking Wells By State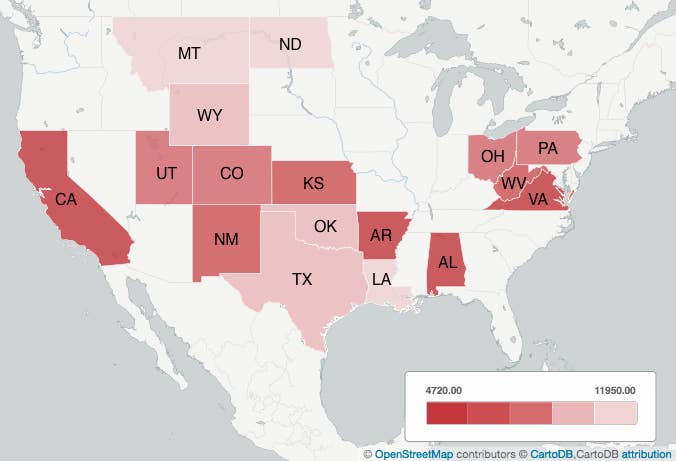 The new study did not look at whether the contaminated fluids reached the drinking water in Pavillion, DiGiulio acknowledged, only finding that the dangerous chemicals are present in aquifers deeper down. To confirm that drinking water has been contaminated would require testing samples from local wells.
Doug Hock of Encana Oil & Gas Inc., which drilled 44 natural gas wells around Pavillion starting in 2004 to depths as shallow as 1,220 feet, made this point to BuzzFeed News in response to the study.
"Encana, together with the State of Wyoming, as well as EPA have conducted numerous rounds of testing and study in Pavillion," Hock said by email. "There is no evidence that the water quality in domestic wells in the Pavillion Field has changed as a result of oil and gas operations; no oil and gas constituents were found to exceed drinking water standards in any samples taken."
Encana provided $1.5 million to the Wyoming Natural Resources Foundation in 2014 to fund the state's investigations around Pavillion.
The new study also shows that pits retaining drilling debris, unlined until the 1990s, likely have polluted dozens of water wells near them around Pavilion. These pits are now lined at fracking wells, "but the pollution is still there," DiGiulio said.
The study is basically the one that federal agencies would have completed if the Pavillion investigation hadn't been turned over to Wyoming, independent hydrogeologist Daniel Stephens, based in Albuquerque, told BuzzFeed News. "If anything, my sense is that this report should be well received by EPA which came to a similar conclusion early on in their work," he said by email.
The study adds to criticism of EPA for similarly walking away from fracking pollution studies not only in Wyoming, but in Dimock, Pennsylvania and Parker County, Texas, Peterson said.
"EPA will review all applicable peer reviewed scientific literature that has been published since the release of the draft assessment," said an EPA statement sent to BuzzFeed by agency spokesperson Julia Valentine. "EPA plans to evaluate the Stanford paper as we are evaluating other recent literature."
The agency is also reviewing a nationwide fracking safety report released in 2015, which has come under criticism from its own scientific advisory board over its draft conclusion that there was no "widespread, systematic" impact of the drilling method on drinking water. The new report suggests that shallow fracking does pose a wider risk beyond Wyoming, DiGiulio said.
UPDATE
After this story published, EPA representative Julia Valentine sent an additional statement to BuzzFeed News:
In June 2013, EPA announced it would be supporting the State of
Wyoming's commitment to conduct further investigation of drinking
water quality in the rural area east of Pavillion, Wyoming. Since
that time, EPA had been working closely with the State throughout our
groundwater investigation activity and welcomed the State's leadership
on the next phase of investigation. EPA and the State both agreed that
the best path forward in advancing the understanding of groundwater
issues in the Pavillion area included EPA's support for the State's
additional investigation of pits, production wells and drinking water.
We determined that this additional investigation was a positive step
that would generate additional information and build on EPA's work.
EPA is also providing technical input to Wyoming on their draft final
report on Domestic Water Well Palatability, as we have done with
Wyoming's previous draft reports on pits and well integrity. Many of
our recommendations suggest that important information gaps be filled
to better support conclusions drawn in the report, and that
uncertainties and data gaps be discussed in the report.
EPA appreciates Wyoming's continued efforts in investigating
groundwater quality concerns in the Pavillion area. EPA's comments
will be made available to the public
at https://www.epa.gov/region8/pavillion.