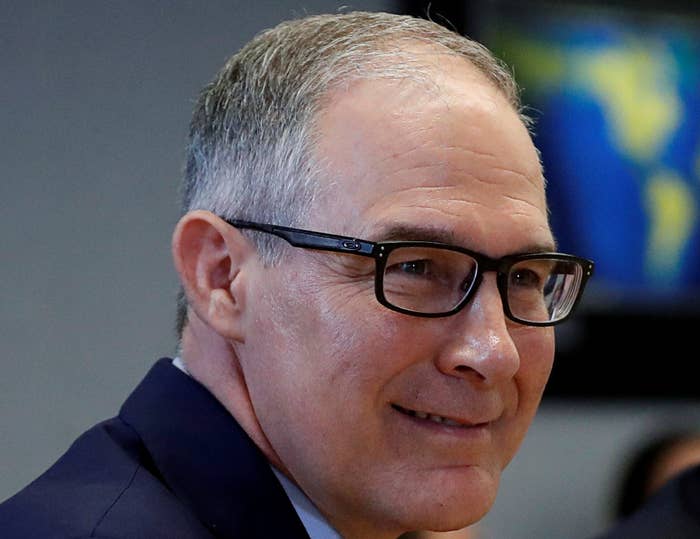 Six Democratic lawmakers on Friday called for an FBI "public corruption" investigation of embattled Environmental Protection Agency chief Scott Pruitt, citing reports of him using his office to pursue a hard-to-get Chick-fil-A franchise for his wife.
"Administrator Pruitt directly, and admittedly, used EPA resources to attempt to secure a job for his wife," said the letter sent to FBI chief Christopher Wray and Justice Department Criminal Division head John Cronan, from Rep. Don Beyer of Virginia and five other House members.
The EPA did not immediately respond to a request for comment on the letter.
Pruitt has been involved in a series of controversies, ranging from asking his staff to find him a used Trump hotel mattress to securing cheap lodgings — a $50-a-night rental — from the family of a lobbyist.
The letter is just the latest way that Democrats have gleefully pounced on each scandal over the last year, with the pace of oddities picking up in recent weeks as public records are released. Just Thursday, news broke based on a trove of emails showing that he used his security detail to pick up dry cleaning and moisturizer.
The letter noted that Pruitt reportedly contacted a New York nonprofit that later paid Marilyn Pruitt $2,000-plus in travel expenses to help with "a conference at which Administrator Pruitt spoke" in September, arranging meetings with the head of the group before and after.
Three Senators, also all Democrats, on Thursday had requested an internal agency investigation of Pruitt over the chicken franchise.
"Pruitt's self-inflicted scandals show why the government needs strong ethics laws and rules and enforcement," Project on Government Oversight investigator Laura Peterson told BuzzFeed News, noting past warnings about ethics rules ignored by the Trump administration.
"President Trump has lowered the ethics bar to depths we couldn't have imagined in modern times, and since leadership starts at the top it's not surprising we're seeing this kind of behavior in his cabinet."
UPDATE
This post has been updated with comment from POGO's Laura Peterson.