Greenpeace is a "global fraud." Climate change activists leave trash heaps at their protests. And wind turbines are killing 4,000 eagles a year.
These are the kind of stories (ranging from aggressively opinionated, to sort-of true, to demonstrably false) you'll find at Core News, a propaganda site with ties to major funders of the Republican Party.
Unveiled in April, Core News is the latest fruit of undisclosed cash in the political realm. It's an "opposition research" project of America Rising Squared, an offshoot of the America Rising political action committee founded by Mitt Romney and Jeb Bush operatives in 2013.
Opposition research, which involves following around political opponents with a video camera or digging up dirt on their past business deals, was once shopped one-on-one to political reporters or unveiled in political ads. Now, social media is allowing everyone from Bernie Sanders to the oil industry to eliminate the middleman — established media outlets — and go direct.
"We are seeking to shine a light on the Environmentalist Left and inform the general public about their true motives when it comes to energy issues," spokesman Jeremy Adler told BuzzFeed News by email. The site promises "comprehensive, highly credible opposition research," he said.
Despite the big-name organization behind the site and attention it has received, it's not clear what the point is. Its budget is tiny — Adler said it's just one part of a roughly $100,000 initiative involving political videos, ads, and research targeting environmentalists. And it appears to have a small audience so far, with fewer than 1,000 likes on Facebook.
"I think it is extremely doubtful that a high number of people will read material on this site," Yale professor of law and psychology Dan Kahan told BuzzFeed News. "But it's not at all inconceivable that a virus of deception emanating from a source like this could infect the body politic."

In this U.S. presidential campaign season, with an anticipated $10 billion in political spending on all races anticipated, opposition research is an ever-present part of the larger political campaign industry. Outfits such as the obscure WhoIsElonMusk.com attack Elon Musk from the right, while the huge American Bridge 21st Century goes after the Koch Brothers from the left.
The stories in Core News often have a nugget of truth in them, and can lead to more mainstream coverage. For example, one recent Core News post on President Obama in Indiana led to a news story in The Wall Street Journal. Another one, revealing that the EPA's top lawyer, perhaps unsurprisingly, approved of Obama's choice for the Supreme Court, was carried by several smaller news outlets.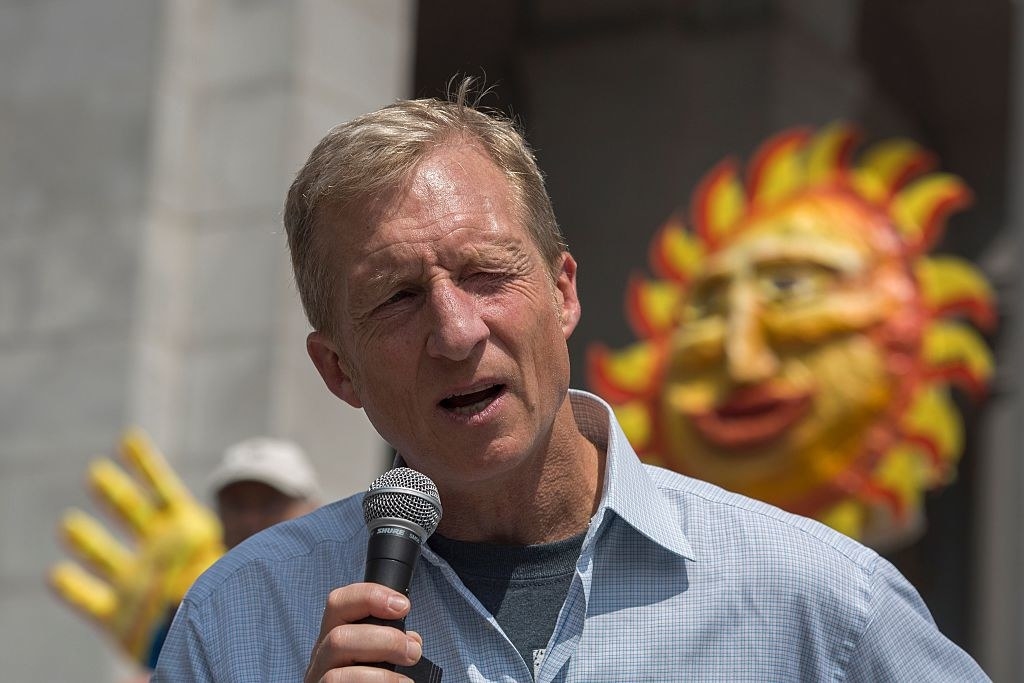 The site most frequently aims its fire at billionaire environmental activist Tom Steyer, whom Adler calls a target because of his contributions to Democratic Party figures and possible 2018 run for Governor of California.
Adler would not disclose which wealthy donors were secretly funding his own site, and the law doesn't require disclosure.
It's also equally hard to know if anyone is reading Core News. Its Twitter account had just 78 followers on Tuesday. And its Facebook page had only 938 "likes," an order of magnitude fewer than the more famous Core News, an arts site "dedicated to electronic music."
Some observers have described the Core News opposition research effort as a response to American Bridge, a political action group backed by billionaire George Soros (another Core News target) that attacks Republican candidates, and has upended Virginia's governor race in 2006 and Missouri's senate race in 2014. It's perhaps of a sign of the times, when billionaires have become kingmakers, and one now leads the Republican Party, that an industry of political attack sites would spring up to help them savage one another.
Adler said that both environmental writer Bill McKibben and Steyer having to respond to Core News show the effort has made an impact.
"I guess I see it as a way for them to distract from having to deal with the reality of climate change," McKibben told BuzzFeed News by email. "This summer is seeing record lows for Arctic ice; we've got massive flooding today on three continents; India is stuck in a crippling two-month heatwave. I guess I get why they'd want to change the subject."
Whether Core News represents a new evolution in opposition research, or is simply political operatives seeking to package research they couldn't unload in any other way is tough to tell, said Nick Surgey of PR Watch.
"They just launched it, so maybe this is just a testing the water phase, but I agree it's quite unimpressive so far, both in terms of content and impact," he said. "I suspect this might be 90% an attempt to intimidate and distract."