No More Research On Chimpanzees, Says U.S. Government
The National Institutes of Health chief Francis Collins is ending the federal agency's chimp research program. The agency's last 50 chimps will be sent to sanctuaries, but "it will be years" to move them all, Collins said.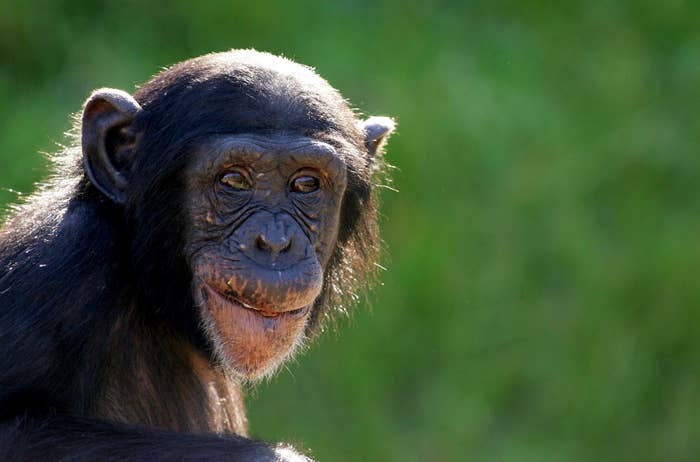 The National Institutes of Health (NIH) will send its last 50 research chimps to sanctuaries, agency director Francis Collins has decided, ending a controversial animal experiment program launched during the AIDS crisis.
In a November 16 email, according to Nature magazine, Collins wrote to NIH administrators: "there is no further justification for the 50 chimpanzees to continue to be kept available for invasive biomedical research."
In June, the federal Fish and Wildlife Service listed captive chimps as endangered, joining their wild counterparts in that status. That meant that future chimp research would have to show a benefit to the species to continue, adding a bar to their use in experiments. But NIH had said that month it intended to keep its reserve of 50 chimps.
"We have moved away from a time where we would consider chimps essential to medical research," Collins said, in telephone briefing for reporters. "Effective immediately, NIH will no longer maintain a colony of 50 chimpanzees for future research."
NIH now owns about 300 chimps in all that live in three biomedical labs, including the 50 reserve research chimps.
Collins said that NIH will begin transferring chimps to a federally supported sanctuary, Chimp Haven in Keithville, Louisiana. The timing of the moves will be determined by the health and welfare of the chimps, beginning with 20 chimps now in a Texas biomedical lab, according to a statement sent to BuzzFeed News.
"It will be years," to move all the chimps, Collins said. Chimp Haven presently has 25 available slots for new chimps, with another 25 anticipated next year.
"I'm elated that chimpanzees, some of whom have spent decades in research facilities, will no longer be subject to NIH-funded invasive experimentation," said John Pippin of the Physicians Committee for Responsible Medicine, in a statement. "Chimpanzees have repeatedly proven to be poor models for many areas of human disease research."
Collins initially froze chimp research in 2011, after an internal research panel questioned their use in medical research. That decision eventually led to the agency only using the animals for studies of hepatitis and psychological behaviors. NIH retired 310 chimps in 2013, saving the last 50 as a "reserve" for research in a public health emergency.
At that time, Collins said that because chimps are our closest genetic relatives and very intelligent, they "deserve special consideration and respect" in their participation in medical research.
Only one chimp research request, which was later withdrawn, has been sent to NIH since 2013, according to the email quoted by Nature.
The idea of keeping 50 reserve chimps was premised on the fear of a deadly epidemic that would require chimps for experiments and testing, Collins said. "That premise was faulty," he added, because it would have required an emergency lab equipped to both contain a deadly plague and chimps. "That would be impossible."
There are about 2,000 captive chimps in the United States. The split status between wild and captive chimps dates to the early 1990s when chimps were initially considered useful for HIV research. That was a mistake, researchers discovered, because the chimp immune system doesn't respond to the disease like humans do.
In September, the People for the Ethical Treatment of Animals (PETA) sent hundreds of letters to Collins' neighbors in a Washington D.C. suburb, decrying monkey research funded by NIH. The letters revealed his home address and phone numbers and urged people to hound him and an NIH researcher.
"Our polite and factual letter simply shared already public information," Justin Goodman, director of PETA's Laboratory Investigations Department, told BuzzFeed News by email.
Collins doesn't see it that way. "That kind of harassment is very unfortunate," he said. But he denied that the chimp decision had anything to do with PETA's monkey activism and reiterated that the agency would continue to support research on monkeys, which he said had played an important role in the recent response to Ebola.
UPDATE
This story has been updated with a response from PETA.
UPDATE
This story has been updated with comments from NIH director Francis Collins.
UPDATE
This story has been updated with reaction from John Pippin.