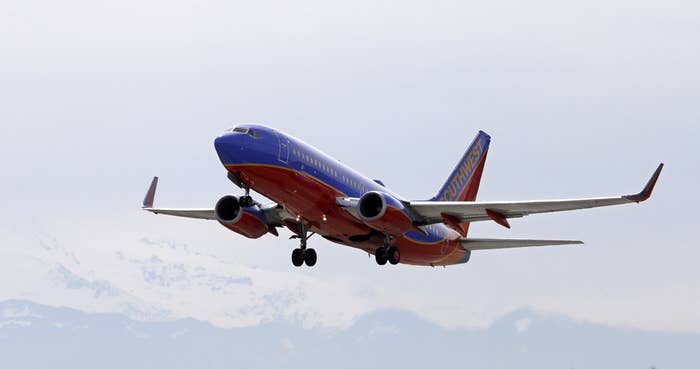 The Environmental Protection Agency concluded on Wednesday that airplane exhaust worsens global warming, adding some 760 million tons of greenhouse gases yearly to the atmosphere and violating air pollution rules.
The long-awaited scientific finding paves the way for U.S. airlines to conform to international airline emissions rules aimed at lowering airline emissions worldwide. These rules are expected in February 2016 from the International Civil Aviation Organization, a United Nations agency.
"Our number one goal is to secure a sound international standard. That will achieve the most reductions," said Christopher Grundler, director of EPA's Office of Transportation and Air Quality, at a briefing.
"The standards should drive emissions reductions beyond business as usual," Grundler added, a reference to fuel efficient engines already in the works from manufacturers.
The airline industry supports the move.
"Aviation is a global industry, making it critical that aircraft emissions standards continue to be agreed upon at the international level," Nancy Young, vice president of environmental affairs at industry trade group A4A, said in a statement sent to BuzzFeed News.
Republican lawmakers, however, are not happy with the idea of more regulations on airlines, which they argue will increase ticket prices.
"The sky is the limit when it comes to how much of the U.S. economy the EPA wants to control," Lamar Smith, Chairman of the House Science, Space, and Technology Committee, said in a statement. "This proposal is the next leg of a nonstop journey by the EPA to control how Americans live, work and travel."
Greenhouse gas emissions from airlines release a small but significant fraction — around 2% — of all greenhouse gas emissions.
That's according to the Air Transport Action Group, based in Geneva, Switzerland, which represents aircraft engine makers and airliners. U.S. airline emissions account for about one-third of those global airplane greenhouse gas emissions. ATAG announced a commitment to lower airliner emissions last Fall in support of the United Nations standard-setting process.
Today's announcement kicks off a 60-day comment period on proposed EPA rules that would make U.S. airlines abide by the United Nations' proposed lowered emissions rules.
Some environmental groups, such as the Sierra Club, are pleased with the news. But others are upset that the agency didn't take more drastic steps, such as imposing strict fuel efficiency limits immediately on airliners similar to mileage requirements on cars.
"Airplane carbon pollution is skyrocketing, but the EPA is still dodging responsibility for curbing this climate threat," Vera Pardee, an attorney with at the Center for Biological Diversity, said in a statement sent to BuzzFeed News. "Passing the buck to an international organization that's virtually run by the airline industry won't protect our planet from these rapidly growing emissions."
Because airline fleets may not retire in substantial numbers for decades, less fuel efficient planes purchased now could contribute to global warming for many years to come, she and other environmental advocates argued.
"This is just the first step," Grundler said, when asked whether EPA might go beyond whatever emission standards are released next year. He acknowledged, however, that stricter airline emission rules from EPA would not be possible until 2018, if the agency concludes the forthcoming international standards are inadequate.