Donald Trump tried to raise money from the regime of Libyan dictator Muammar al-Qaddafi two years before a 2011 revolution toppled the brutal leader, according to four people with knowledge of the effort. Trump even tried to set up a meeting with the tyrant himself, three of the sources say, to explore business ventures — despite the Libyan leader's notorious sponsorship of terrorism that killed scores of Americans.
The Trump campaign did not respond to repeated requests from BuzzFeed News for comment on his dealings with Qaddafi, which have not previously been reported. But the presumptive Republican nominee is facing questions this week about his flip-flops on the U.S. policy toward Libya. Trump supported efforts to depose the dictator in 2011, just as the Obama administration was pulling together a military coalition to help battle Qaddafi. More recently, Trump said that the administration's effort in Libya was misguided.
This Sunday, when asked about the U.S.'s Libya policy on CBS News' Face the Nation, Trump brought up an incident many had forgotten: that time in 2009 when Qaddafi rented Trump's opulent Westchester estate to erect a huge traditional tent where the Libyan leader would stay — and sacrifice a live lamb — while in New York for a United Nations assembly. The despised tyrant had been turned down by many other venues.
The dictator, who was overthrown and killed while resisting a bloody revolution by the Libyan people in 2011, never slept at the estate. After a storm of publicity stoked outrage, the town of Bedford yanked permission for the tent, scuttling the Libyans' plans and forcing their leader to stay in Manhattan, indoors. Qaddafi, Trump said on Face the Nation, "paid me a fortune, never got to stay there. And it became sort of a big joke."
But BuzzFeed News has learned there was more to the relationship between Trump and Qaddafi than the short-term rental of an expensive campground and surrounding estate. According to four U.S. and Libyan sources, Trump sought to use the opportunity to gain access to Qaddafi, who was in a position to release billions in investment capital.
It is not clear exactly what kind of project Trump had in mind, according to the sources, most of whom spoke on condition of anonymity because they were not authorized to discuss the matter.
Trump said: "'I'm interested in having a meeting with Qaddafi'" to discuss business opportunities, one source recalled.
Trump's uneven access to loans from mainstream banks may have motivated his quest for overseas investments. Trump has no lending relationships with the biggest U.S. banks, including Citigroup, J.P. Morgan, Goldman Sachs, and Morgan Stanley, according to his financial disclosures. Instead, he often leans on smaller firms such as Ladder Capital that have less money on hand, the New York Times reported.
It's also possible that Trump hoped to license his name to a project funded entirely by the Libyan government and others, guaranteeing financial returns without any new debt or risk involved.
As the tent controversy raged in the press, Trump called Libya's U.S. public relations firm to ask "if we could maybe quiet it down," said Chris Herbert, who had been hired by the agency, Brown Lloyd James, to help coordinate Qaddafi's visit.
Then Trump got down to business, Herbert recalled, saying, "Let's not worry about the tent, I'm interested in having a meeting with Qaddafi." Trump said he wanted to discuss business opportunities involving "the Mediterranean waterfront and construction," Herbert recalled.
Officially, the PR firm's client was Ali Aujali, then the Libyan ambassador to the U.S. Herbert described its work as "less PR, more shadow embassy."
Trump's courtship of Qaddafi highlights the Republican presidential candidate's willingness to seek favorable business deals — even if they require him to cooperate with unsavory figures.
Trump's overtures to Qaddafi began in 2008 or 2009, a few years after the Libyan leader had embarked on a campaign to rehabilitate his image in the West. Qaddafi hired U.S. lobbying and public relations firms such as the Livingston Group, which received $2.4 million to represent Libya for a year, and Brown Lloyd James, the communications firm that Trump contacted, which was founded by society figure and former Beatles confidante Peter Brown. The company, now called BLJ Worldwide, received $35,000 a month plus expenses to represent Libya, according to federal filings. BuzzFeed News spoke with multiple former employees of the company.
Qaddafi gave up his pursuit of nuclear weapons and made a show of cooperating with U.S. intelligence in the war against al-Qaeda. Still, he remained widely reviled after decades of supporting international terrorism, notably the 1988 bombing of Pan Am Flight 103 over Lockerbie, Scotland, which killed 189 Americans and 81 people from other countries.
But Trump saw possibilities in a partnership with the Libyan Investment Authority, which invests profits from Libya's lucrative oil industry. The fund, established in 2006, had ballooned to more than $60 billion as oil revenue flowed in. It had invested in assets including the Ponzi scheme of "Sir" Allen Stanford, a larger-than-life Texan who had been knighted by the Antiguan government before being convicted of fraud and sentenced to 110 years in federal prison.
Trump approached the Libyan government through several channels, BuzzFeed News has learned, including the then-Libyan ambassador to the U.S., Ali Aujali. The billionaire invited Aujali, said to be an avid golfer, to Florida for time on the links, according to a former Libyan embassy official, a former U.S. government official, and a Washington insider with direct knowledge of the effort. It is not clear exactly what the two discussed. Officials at the Libyan Embassy did not immediately respond to a request for comment.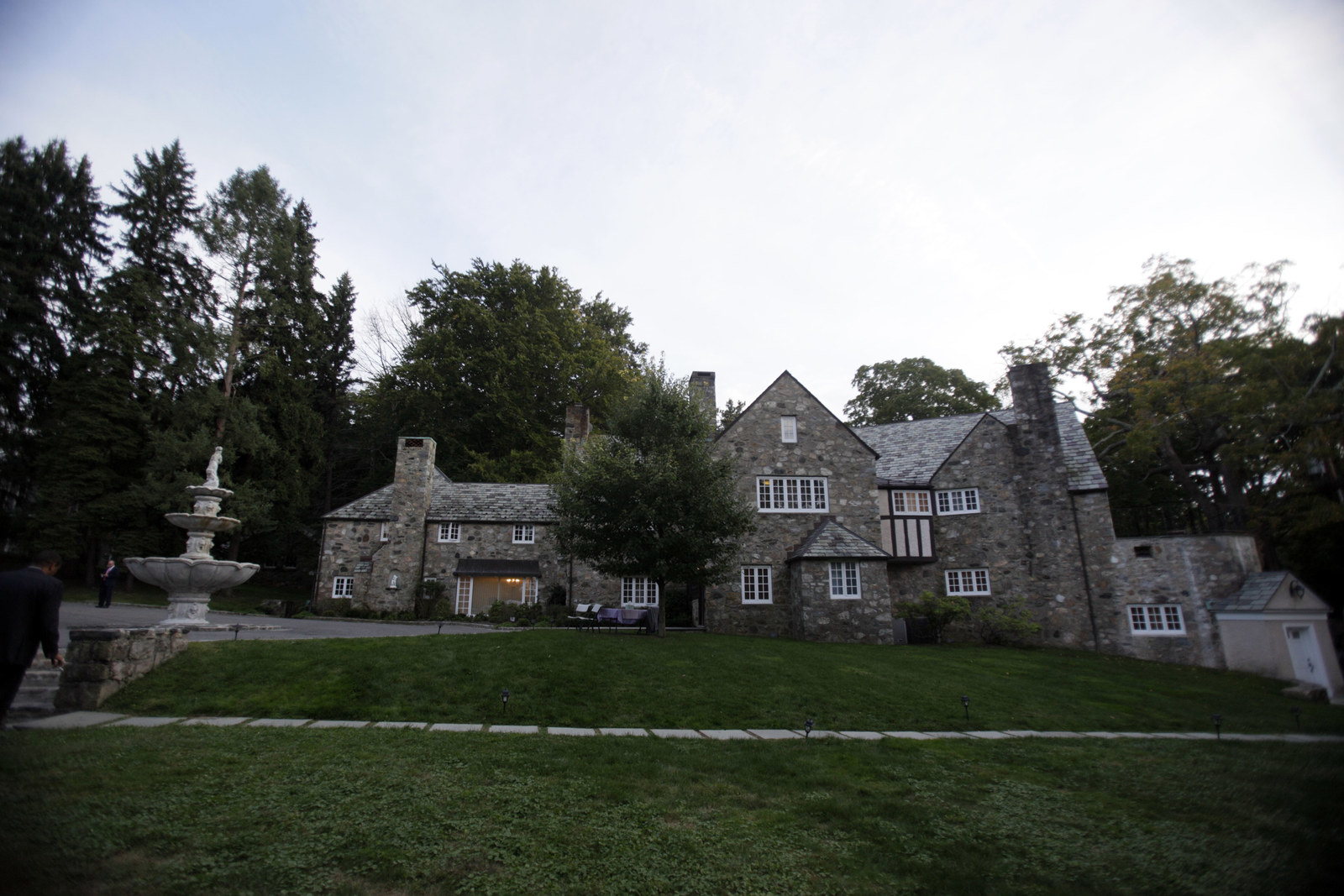 The rental of Trump's estate was another opportunity to court Libya. Qaddafi was visiting New York for the annual U.N. General Assembly. When traveling, the eccentric tyrant, known to Libyans as "Brother Leader," slept in a large, North African–style tent that requires significant acreage to erect. Herbert said he had sought permission to pitch the tent in various Manhattan parks, but the New York Police Department summarily rejected the application.
The billionaire invited the Libyan ambassador, said to be an avid golfer, to Florida for time on the links.
A real estate agent contacted by Brown Lloyd James identified several large homes in Westchester "that could have room for this tent and a bunch of Libyans living in the house," Herbert said. They settled on Seven Springs, Trump's 230-acre estate in the wealthy suburb of Bedford in Westchester County, so the leader could set up camp. The estate features 60 rooms; other town residents include billionaire George Soros and actor Richard Gere.
Herbert's name appeared on the lease. He said the fact that Trump and Qaddafi were involved was no secret: "Everyone knew who everyone else was in the chain, but we were pretending we didn't know."
Brown Lloyd James declined to discuss its work for Libya.
As the Libyans and their American representatives prepared for Qaddafi's arrival, a frenzy ensued behind the property's high stone walls. Twenty Libyans stayed in the house for about two weeks, along with five people from a U.S. public affairs firm representing the country, said a source who spent time at the site. The Secret Service, which protects visiting foreign leaders, also sent five agents. Libyans responsible for protocol set about retrofitting toilets with pressurized hoses, which are used instead of toilet paper in Libya. An American tried unsuccessfully to set up TVs to receive Libyan programming.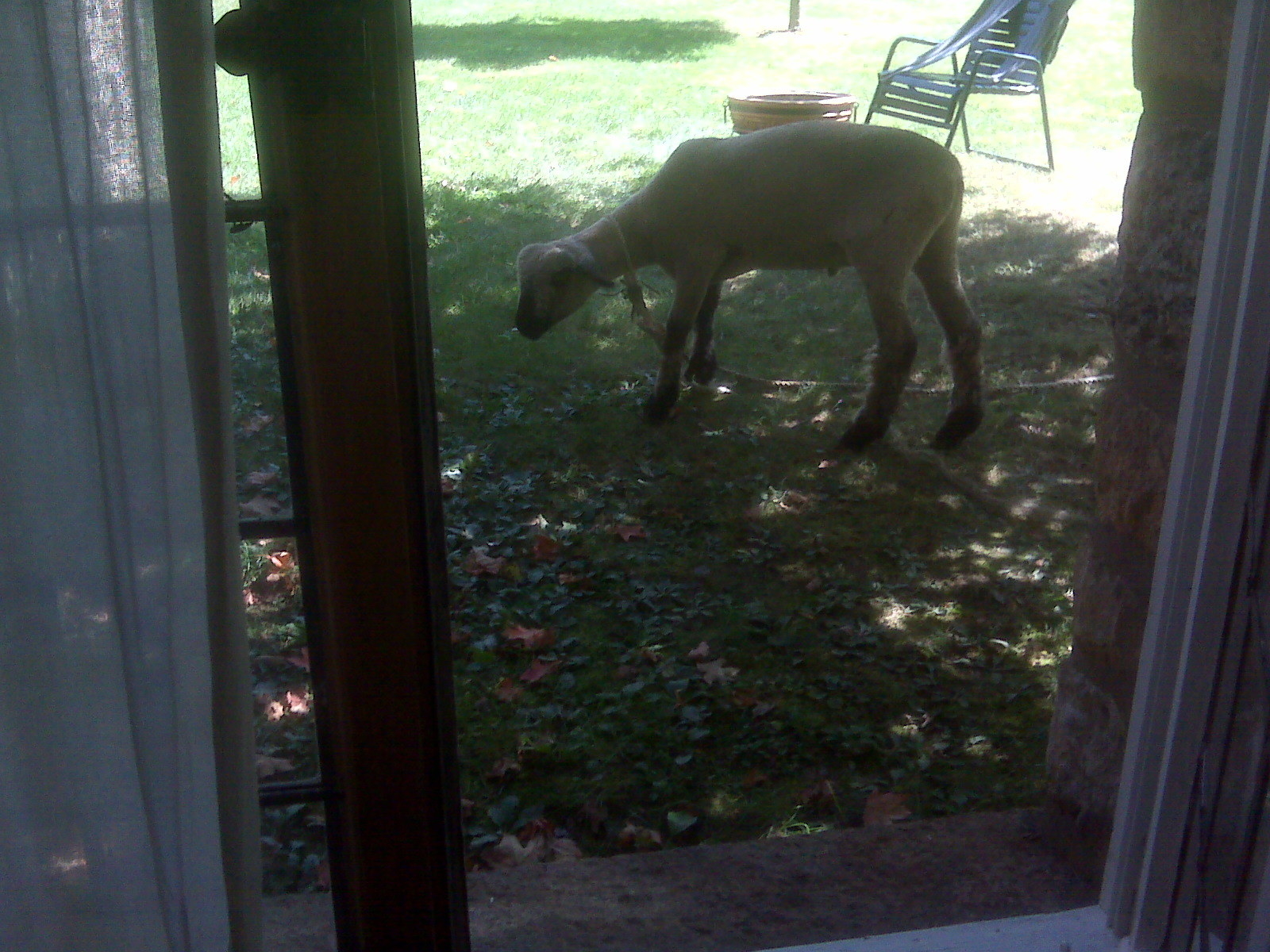 Mutassim Qaddafi, one of the leader's sons, was on the scene. So was a fuzzy white lamb, purchased in Queens, that the group planned to sacrifice when their leader arrived, said Herbert, who helped coordinate the preparations.
But the tent was partly visible over the fence, and a helicopter captured images of it. Before long, the media swarmed to learn more of the expedient alliance between these two odd characters. Headline writers had a field day.
"Terror Tent Down at Camp Trump," blared the New York Post.
In the end, the town of Bedford issued a stop-work order, based on a local ordinance against building temporary structures without a permit. The citation for zoning violations is addressed to both Brown Lloyd James and the Trump Organization, the Wall Street Journal reported in 2011.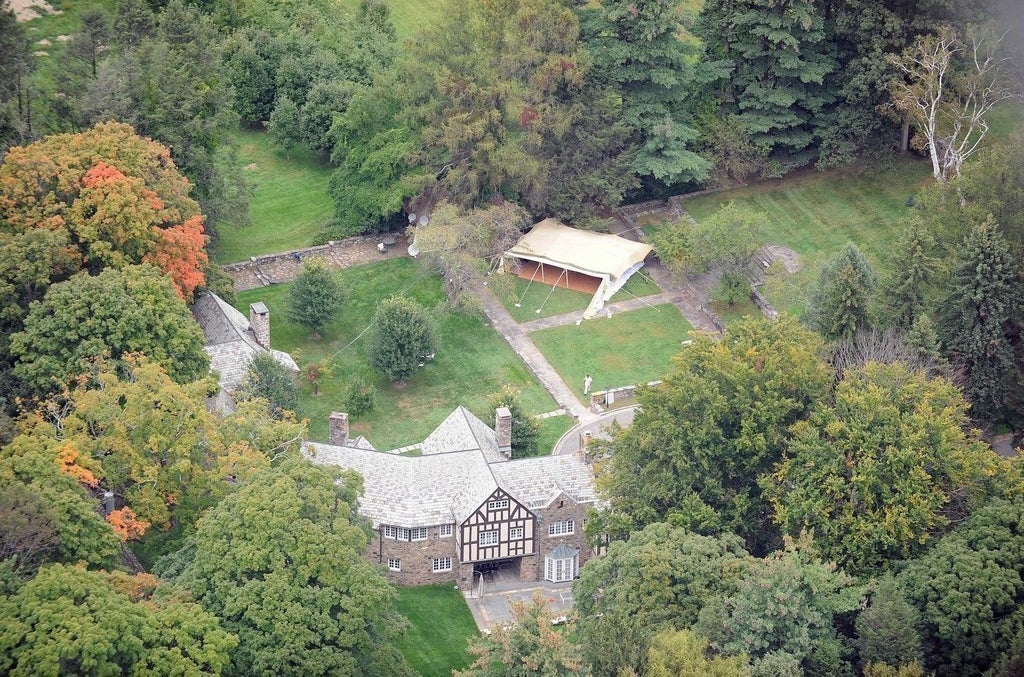 Aerial views of what was reported to be Muammar al-Qaddafi's tent, pitched on Donald Trump's Westchester estate.
After the tent folded, Trump called Brown Lloyd James to ask for a meeting with the dictator about business opportunities in the nation, Herbert said.
At first, the Trump Organization publicly denied that it knew who the renter was. Yet later, Trump took credit for shutting the site down, saying he had asked the Libyans to leave. Trump said he was "proud" that Qaddafi never got to visit the site, especially after Libya paid Trump "a lot of money for one night."
Speaking to Fox News in 2011, Trump said: "I don't want to use the word 'screwed,' but I screwed him. That's what we should be doing."
Yet sources pointed out that representatives of the Libyan government occupied the estate for two weeks before Bedford kicked them out. Trump also appears to have exaggerated his income from the deal, suggesting in an interview that he received well over $200,000. Libya's representatives paid Trump $150,000 under the lease, according to Herbert, who signed the document. Later, when Trump asked to meet with Qaddafi, he demanded an additional $50,000 for the tent-related troubles, Herbert said, but Qaddafi's representatives refused to pay extra.
"The fact that he would allow Qaddafi to stay at his place, that says tons," the official said.
"Had a rough talk with trump org and said it was an insult to shake us down for 50k more and ask for a meeting," another Brown Lloyd James employee wrote in an email obtained by BuzzFeed News. "The 150k for a few weeks rent is more than enough s ecurity [sic], go fuck self, etc. She says she's talking to trump and will get back to me or have him call."
A former U.S. official with knowledge of Trump's efforts to raise Libyan cash said that U.S. intelligence and law enforcement "absolutely" knew what Trump was up to, and "we were disappointed."
"The fact that he would allow Qaddafi to stay at his place, that says tons," the official said. "Hotels would not let Qaddafi in."
During this year's election campaign, Trump has continued reversing his views about Libya and Qaddafi. In 2011 he said, "we should go in. We should stop this guy, which would be very easy and very quick." That argument put him in line with Hillary Clinton and the Obama administration, who ultimately led a NATO force to support Libyan rebels.
More recently, he has called the intervention "a total mistake."
CORRECTION
This story has been changed to reflect that Libya gave up its pursuit of nuclear weapons. A previous version said that Libya had given up the weapons themselves, but the country never possessed such weapons.