"Oh, I want to learn how to shout orders in Dothraki!" Melissa Anelli, 35, is leaning over a small, round table, ripping a turquoise sticky note into tiny squares. She quickly writes something on one of the pieces and presses it onto a portable, platter-size whiteboard, which is already covered in neat, color-coded vertical rows. She's trying to figure out where the panel about the Game of Thrones language might fit in the sprawling four-day schedule for GeekyCon, the annual fan convention that she co-founded (under the name "LeakyCon") in 2009, set to kick off in Orlando on July 30 this year.
"Should I go to that panel, too?" asks Sierra Fox, Anelli's executive assistant, who is busy adding notes to a similarly mapped-out board on the other side of the table. Their laughter fills the small conference room of the shared workspace in the Midtown building that houses their tiny office. "I mean, if you're going to start speaking Dothraki, I should be able to understand what you're saying."
If the fact that San Diego Comic-Con has 130,000 people in attendance during its four-day span and brings in over $135 million to the San Diego area is any indication, the business of fandom is thriving. The Harry Potter movie franchise has made more than $7 billion worldwide. Three of the top 10 highest-grossing films in history are Marvel superhero properties released in the last three years, and they have pulled in a combined total of more than $4 billion worldwide. Toy sales are expected to have a record-breaking year thanks to the pop cultural frenzy over Frozen, Minions, Jurassic Park, and the upcoming Star Wars: The Force Awakens. You can't swing a properly licensed replica of Mjolnir without hitting a Tumblr dedicated to your favorite Sweet Valley High book covers, a fantasy baseball league, and a group of people on Twitter talking about their favorite theatrical cast of Les Misérables. There's never been a better time to like things, or more ways to show how much you like them.
Geeks might be inheriting the Earth, but not necessarily in a way that feels diverse or inclusive — especially at fan conventions. Blackface is somehow still worn. During a 2011 Game of Thrones panel at San Diego Comic-Con, actor Jason Momoa joked that he gets to "rape beautiful women and make them fall in love with me" as a positive aspect of working on the show. Groping, catcalling, and sexual harassment are so prevalent at many fan conventions that harassers refer to it as a sort of event of its own — "creeping at a con."
Melissa Anelli, co-owner of the event-planning group Mischief Management and co-creator of GeekyCon, LeakyCon, and BroadwayCon, could change that. The former journalist has not only turned a love of Harry Potter into her life's work — she's done it by creating positive spaces in a male-dominated field that incorporate her naturally inclusive, feminist principles, and by encouraging fandom as a shared experience. Anelli is part of a growing wave of people inventing careers out of the nerdy things they love — and when you invent your career, you get to make all the rules.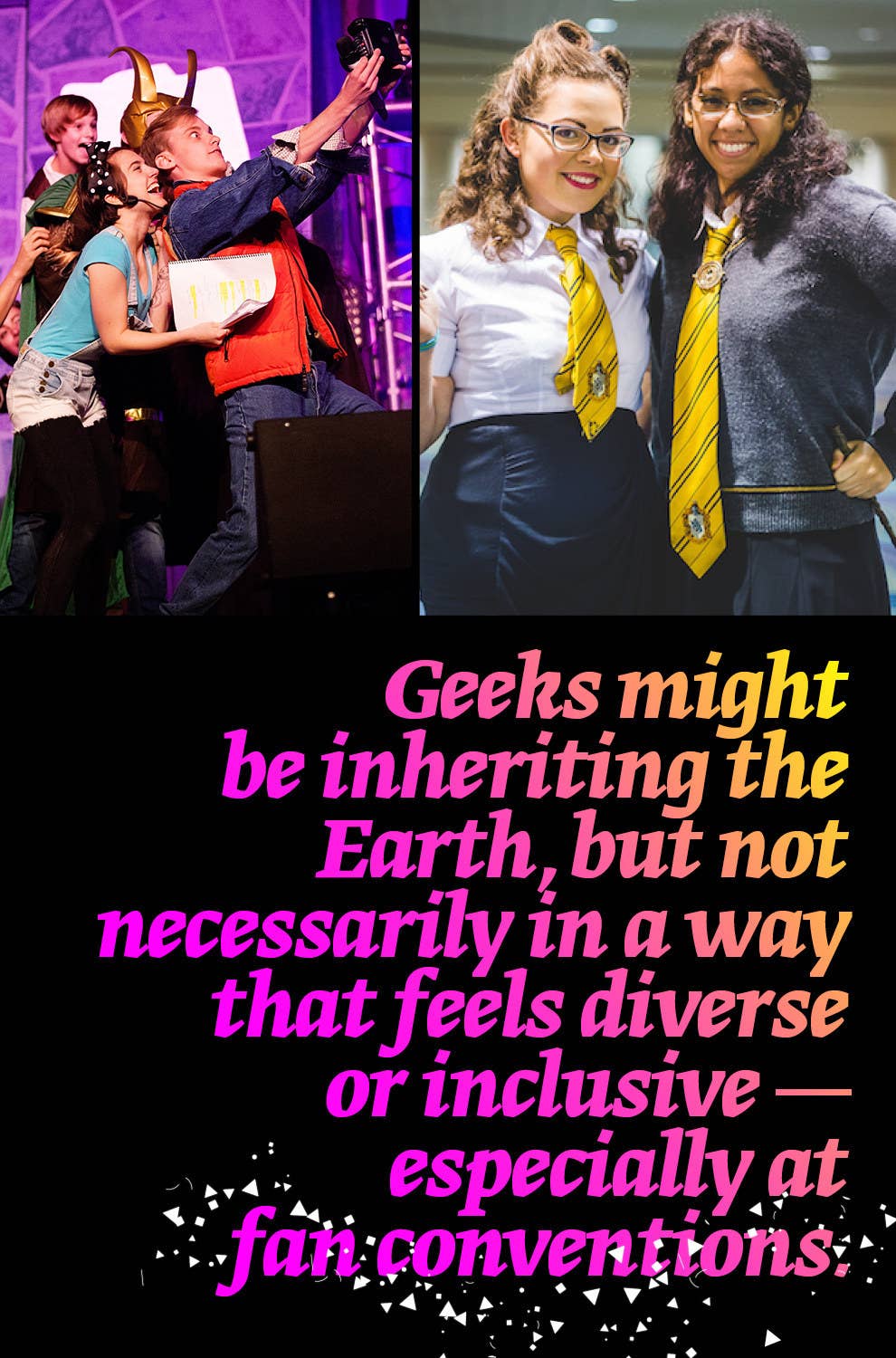 Anelli's status in the world of Harry Potter took a little while to take hold. She started reading the series during her last semester at Georgetown when her older sister insisted she needed something light in addition to all of her schoolwork. When she graduated with an English degree in 2001, bored and out of work, she started reading the series again and went searching online for more information on when the next book would come out. It was then that she found The Leaky Cauldron, a Harry Potter fansite named for the wizards' pub frequented by characters in the book.

Anelli used the blog as her main source of Potter news and frequently sent the editors links to Harry Potter articles she found all over the web. In the fall of 2001, she scored a major coup by sending the site pages from the October issue of Vanity Fair, which featured an exclusive first look at the Harry Potter and the Sorcerer's Stone actors in full costume, the day before it officially hit newsstands. Anelli was a managing editor at The Leaky Cauldron by 2002 and gained full editorial control of the site by 2004, the same year she became a reporter for the Staten Island Advance, a daily local newspaper in her hometown. During that time, she met J.K. Rowling for the first time at a Harry Potter reading in London. "I love The Leaky Cauldron!" Rowling squealed when Anelli introduced herself, and later declared it her favorite fansite. Anelli started the popular PotterCast podcast in 2005 and, later that year, established her own LLC, Leaky Net. When she released her New York Times best-seller Harry, A History — an extensive look into the explosion of Potter fandom — in 2008, Rowling wrote the foreword. That year, The Leaky Cauldron's forum had 75,000 registered users, up from 30,000 the year before Anelli joined.
Yet, while the all-consuming world of Harry Potter gave Anelli a place to comfortably blend her journalistic background with her pop culture obsessions, her work within the fan community was entirely voluntary. Then she met Stephanie Dornhelm.
Dornhelm, a California-based attorney, and Anelli first crossed paths in 2007 at Phoenix Rising, a Harry Potter convention in New Orleans. "There was this whole contingent of people [at Phoenix Rising] who were somehow affiliated with The Leaky Cauldron and many of us had never met before, so this was somewhat of a coming together of the group," Dornhelm explains. Her father raised her on Star Trek and Star Wars, but Harry Potter was the first fandom she sought out on her own, gravitating to The Leaky Cauldron the same way Anelli had. At the Prophecy Convention, another Harry Potter–themed gathering that took place later that year, Dornhelm overheard that The Leaky Cauldron was planning a Harry Potter convention of its very own, and she jumped at the chance to help bring it to fruition.
Both women worked nonstop — and as unpaid volunteers — to pull off the first LeakyCon in Boston in May 2009. The recession had just started, and Anelli had to use $7,500 of her own money to get the convention off the ground; she says she's still feeling the financial effects of it six years later, but it was worth it. Over the course of the three-day event, 750 Harry Potter fans lived out their favorite fantasy book series, attending events like "The Hufflepuff in All of Us," "Wand Making and Lighting," and "Snape Rehabilitation With Dr. Cynthia Cynical." Traditions were also born that year — like the Circle of Awesome.
"Basically there was this song 'Dumbledore,' by Harry and the Potters," says Anelli, referencing the group widely known to be the pioneers of "wizard rock," a genre of Harry Potter–themed music. "It goes slow and then it picks up into this great crescendo. Out of nowhere, someone actually grabbed me and said, 'Melissa, look what's happening!' There was just this giant circle on the dance floor [and] when the music picked up, everybody just rushed to the center, jumping up and down and singing about books. People were talking about that circle for weeks."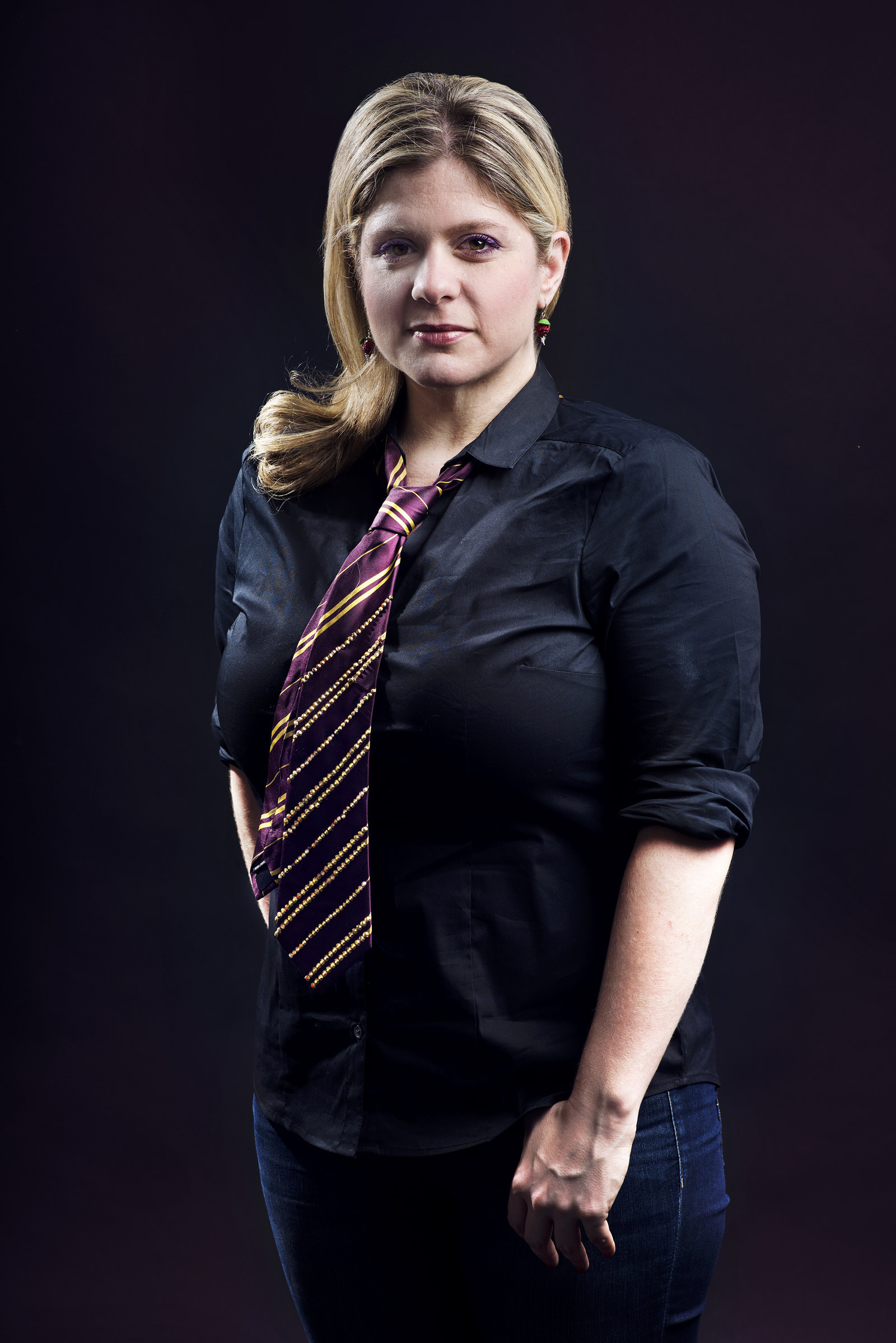 Anelli and Dornhelm made things official and founded Mischief Management, an event-planning company that would eventually house all their conventions, after the second LeakyCon in 2011."Melissa and I are like Kirk and Spock," says Dornhelm. "She provides the inspiration and drives us all to shoot for the stars, and I am the one who brings us back down to Earth and helps implement her vision in a realistic way."
However, they decided to make the new business their full-time jobs only after a remarkable thing happened during the August 2012 convention in Chicago. Actress Evanna Lynch (Luna Lovegood in the Potter films) got onstage to play bass with Harry and the Potters; the excited crowd of 4,000 completely flipped out, and didn't stop screaming when Anelli and Dornhelm came out to say good night at the end of the show. "I started crying," Anelli remembers. "I just looked at Stephanie and said, 'Something is happening here, and we have to make it real.'"

When I walked out of the bright, muggy morning and into the Orange County Convention Center in Orlando last July, it felt empty. As a lifelong reader of comics, I had attended conventions before; I stood in the hour-long maze to get into New York Comic Con in 2009, and got creeped out by strip mall sci-fi signing events in the '80s. I was ready for the immediate frenzy of bustling bodies and the long, snaking lines that greet you as soon as you walk through the door. Instead, a handful of young women stood smiling behind a small line of skirted tables, handing out LeakyCon badges to fully costumed attendees. A teenage white girl dressed as a Tom Baker–era Doctor Who, the long, multicolored scarf grazing the ground, complimented a young black girl on her gauzy, bright Princess Bubblegum from Adventure Time costume as they picked up their badges. These strangers had the ease of two friends exchanging a quick bit of gossip between classes in a high school hallway; both smiled as they left and walked in opposite directions.

Rather than the marketing maze that bolsters most conventions — basketball-court-size banners hanging from the ceiling and bookmarks emblazoned with an author's photo and next publication date — at LeakyCon, you're immediately thrust into the best part of every convention: the vibrant audience making fandom their own via thoughtful, funny costumes and a shared interest in nerding out over pop cultural touchstones. Everyone was full of compliments for cosplaying; some even shouted quotes from their favorite TV show/movie/book across escalators at each other. A group of Hermione Grangers passed along hair-frizzing techniques to one another in the bathroom between panels; a Whomping Willow posed for pictures with a Gandalf. The scheduled meetups, broken down by fandom (Gryffindor, Sherlock, Teen Wolf, and so on), all had a friendly, welcoming vibe; you got a sticky ribbon for attending and people layered them on their badges like bright, rainbow-colored tails. It felt like camp.
And, more than any other con I'd ever attended, most of the attendees at LeakyCon were girls and women.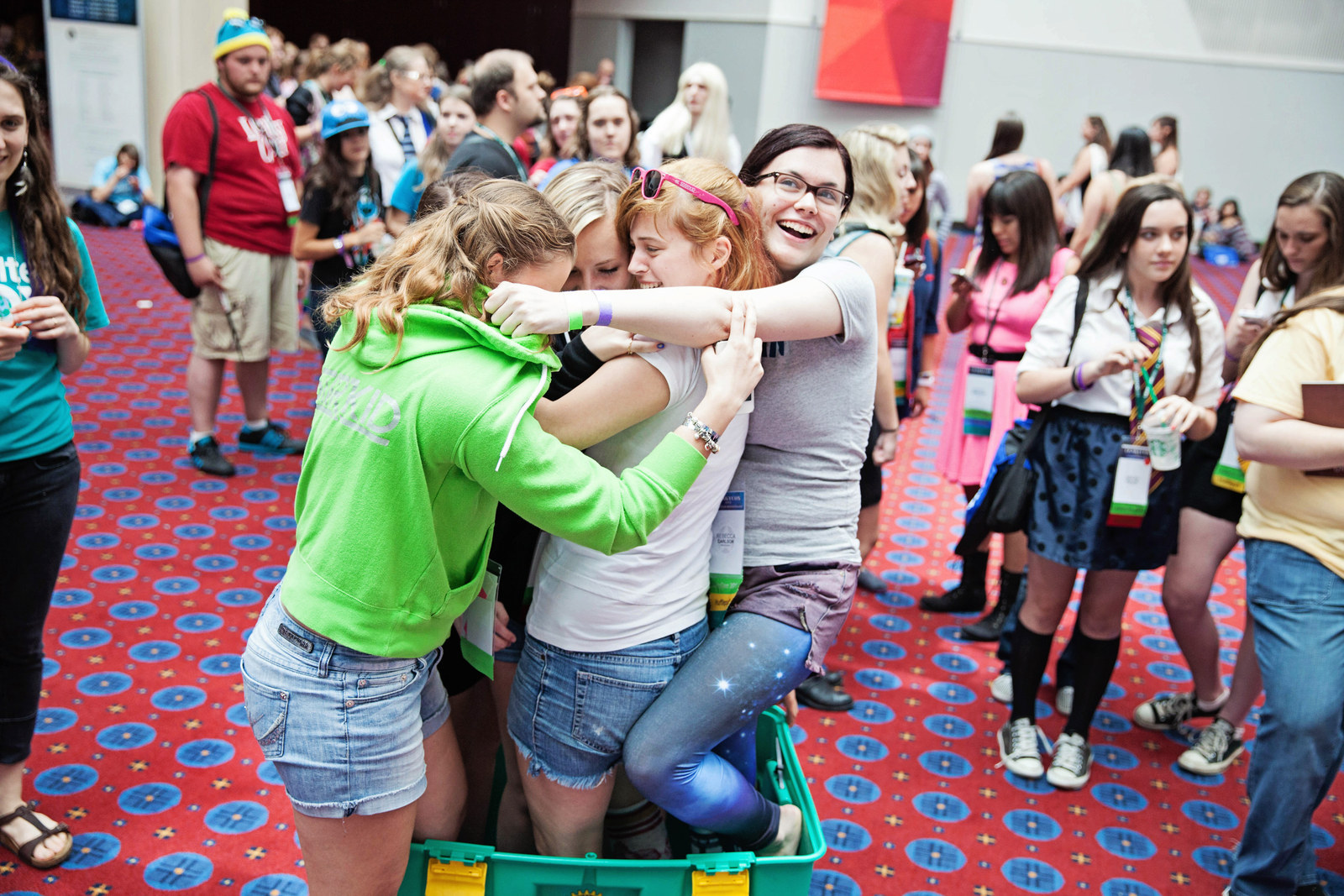 Even though Mischief Management doesn't keep track of the demographic information of its attendees, when I tell Anelli LeakyCon felt like the most feminist convention I'd ever attended, she agrees. "Convention space is a very male-dominated space," she explains. "We didn't realize that going in; we were just like, 'We're doing a thing!' We came in like scrappy upstarts. Then we noticed that, hey, there are a lot of girls here finally finding a space to enjoy themselves."

Pockets of various fandoms still struggle to accept that women constitute a huge percentage of pop cultural consumption, forcing an antagonistic point of view where there doesn't need to be one. As was made loud and clear by last year's GamerGate scandal, many girls and women are still being forced to prove their legitimacy in industries built around particular obsessions where misogyny is the standard.
Though Anelli luckily has been spared sexism from fellow fans, she laughed when I asked her to give me an example of misogyny she's faced while putting together a conference. "I wish it was a joke!" she says. "But I just have so many."
One time, at LeakyCon 2013 in Portland, Oregon, she and Dornhelm were paying a company to set up the hundreds of chairs needed for a panel, and Anelli thought they were being fleeced by the vendor. "I said, 'I can do it faster than that! You're overcharging us.'" When the man in charge smirked and said, "Go ahead," Anelli started moving, setting up chairs as fast as she could. "We were arguing in between, and then he said, 'Listen, hon.' I said, 'Hey, my name is Melissa. If you don't like that, you can call me Miss Anelli, or ma'am.'" Her eyes are wide with disbelief. "That attitude of 'sit down, little woman' is everywhere."
When I ask Anelli how she created the conference's fun, feminist vibe, she insists it's unintentional. "It's not something we set out to do," she says. "We just set out to create something for all fans." As she explains it, her desire for inclusion felt like a natural — and necessary — aspect of planning an event where everyone could enjoy themselves. She encourages trans-inclusive language, reads sites like Cosplaying While Black to follow the concerns of people of color in the geekosphere, and has hosted panels about race, class, and gender since the very first LeakyCon in 2009.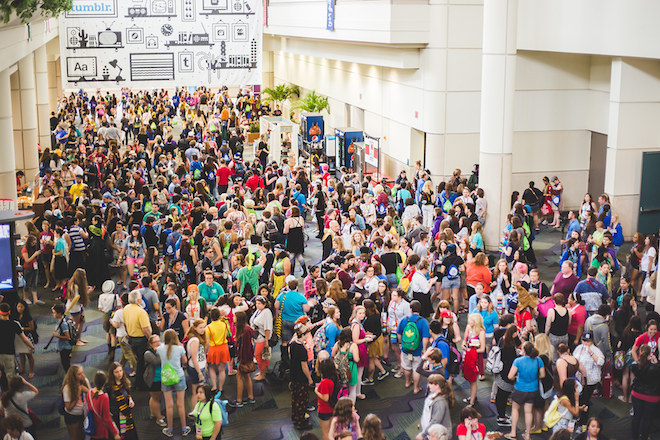 Anelli's favorite LeakyCon moment happened last year on the dance floor. When the DJ started playing "Blurred Lines," everyone stopped dancing and started booing. "I was so proud of my people," Anelli says, smiling broadly. "That is the community we're trying to create — people who hear a song about rape culture and go, 'No, we're not having that!'"

Suddenly, there is a small buzz in the conference room. Anelli pulls her phone out of her pocket and frowns. It's the first time she's stopped smiling since I arrived. "I don't answer unknown phone calls. It's an artifact of being stalked."
Until recently, only the people closest to her knew that she had been mercilessly cyberstalked for the last seven years. But last February, she candidly opened up about her experience to NPR's Weekend Edition. The stalker first visited The Leaky Cauldron forums and harassed other people; when Anelli asked her to stop, the stalker set her sights on Anelli. She sent graphic rape and death threats via email and Twitter, and even mailed a package addressed to Anelli's newborn nephew saying "Enjoy your family while you can."
The police offered to help her get a restraining order, but since the stalker was based in New Zealand, she was told it wouldn't do much good. The FBI eventually issued a warrant for the stalker's arrest should she ever come to the United States, but the fact that this woman is still out there takes a mental toll on Anelli. She told me that she wakes up in the middle of the night, afraid she forgot to lock her front door. Though she actively interacts with her 28,000 Twitter followers and regularly answers questions on Tumblr, she can also sometimes be cautious about people who reach out on social media. She isn't living her life in fear, but she's fully aware that she's in a dangerous situation.
True to form, however, Anelli has turned this jarring experience into a teaching opportunity. She's now working with the Harry Potter Alliance, a fan-based activist group for which she also serves as president, to develop "positive fandom" guidelines, an effort to keep fandom a "safe, constructive, positive space" by pledging to ideas like "I will respect and celebrate diversity" and "I will practice self-care." "It's just the idea that we can be fans and be passionate and be amazing and also not be bad to each other," Anelli says.
The GeekyCon code of conduct is brief, but reminds you that the private event reserves the right to kick you out for any form of mistreatment or harassment. You don't have to ask her to stand by her claim — Anelli will prove it. She kicked a talent agent out of the convention last year for aggressively blocking a doorway when she tried to end their conversation. When I asked her how it felt to kick someone out, she shrugged her shoulders a little. "Being a woman in this industry is hard."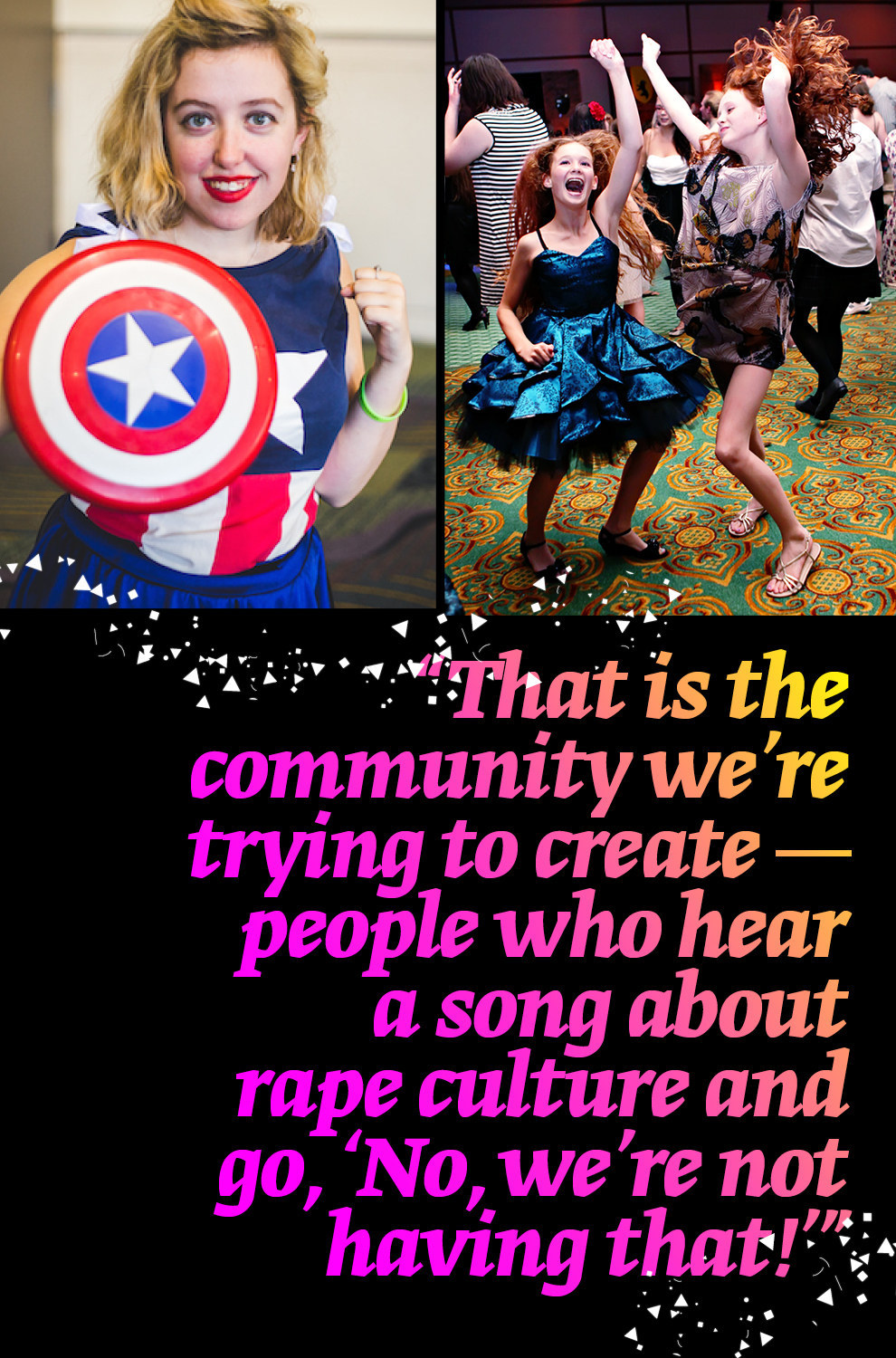 It's also hard to expand a conference while you're still figuring out how to run it, but Anelli and Dornhelm have a lot of practice learning as they go. They barely slept during the planning of their first two conferences, as they learned the ins and outs of how to book and pay for space, or how to deal with hidden hotel costs for things like lighting and AV equipment.

Money is always a primary concern. "In most places, it costs $2 million before anyone walks in the door," Anelli says. By contrast, GeekyCon has a budget of $450,000. For one, the lack of a static location for the conference has made it difficult to develop relationships — and thus deals — with the same vendors over time. On top of that, Mischief Management doesn't make money the way most cons do: by charging through the roof for celebrity autographs (which guests still have to wait hours in line for) and VIP events. "I don't want to crap on autographs — it's a nice token and a nice memento," she says. "We just don't think it's the core thing that makes a valuable experience." Having to compete with much larger, more commercial conventions, however, has posed challenges for securing sponsorships, which cover less than 10% of the costs of producing this year's convention.
Instead, 80% of the convention's financing comes from direct ticket sales. They charge a flat fee, and try to make it easier by offering four different tiers for conventions, ranging from $60 for a single-day pass to $275 for an all-inclusive one. By comparison, New York Comic Con sells single-day passes, four-day passes, VIP packages, special events packages, and add-ons (T-shirts, lanyards), and you still have to pay for autographs and photos once inside. Has Anelli ever thought about getting investors to offset some of the costs? "We don't want to give up control. Control is a big part of this. But then the funding has to come from our tickets."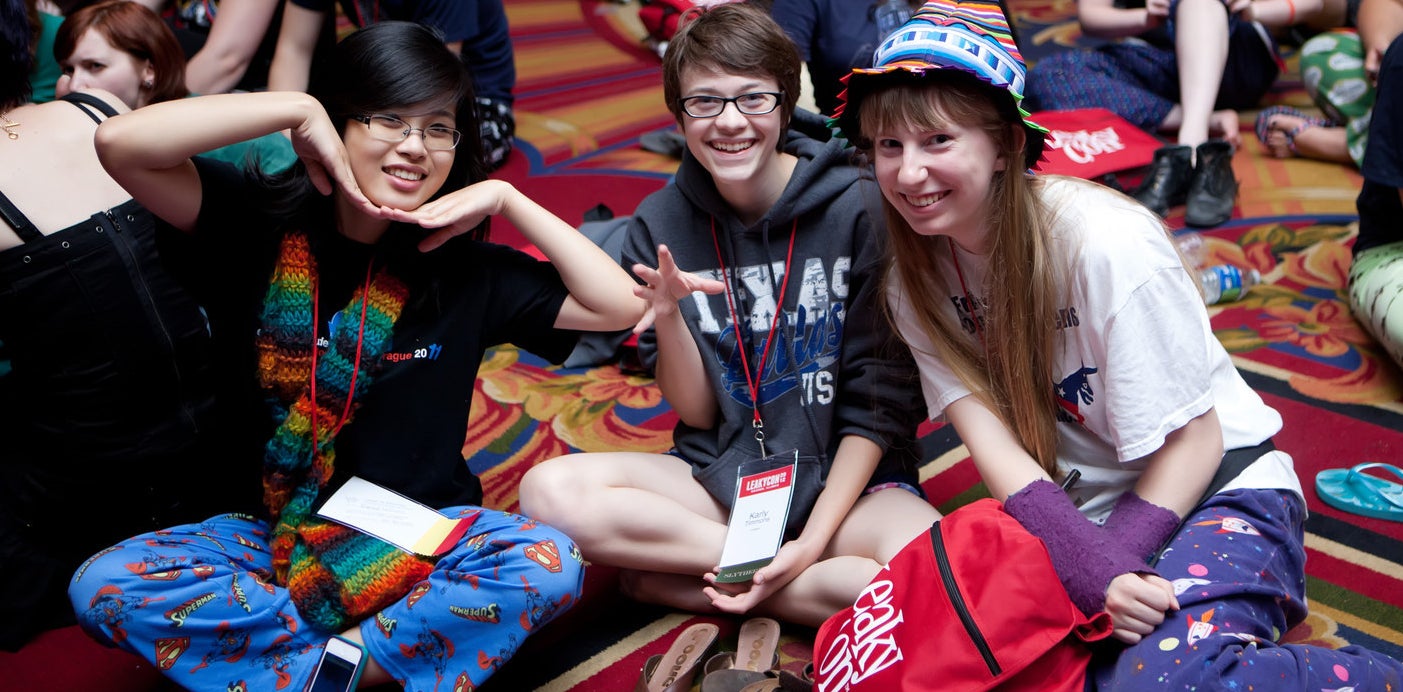 They also don't pay panelists — though they do pay performers — and, up until recently, they didn't even pay themselves. "I think I got a $2,000 stipend in 2011," says Anelli, but she was still earning the bulk of her living as a reporter during that time. Anelli points out that getting guests is not as easy as picking from a list; they often have to sell agents on what they do, what makes their conference special, and why a pay cut is a good idea. "There are only eight weekends a summer, and a lot of conferences pay lots of money. The cool part of what we do is interacting with people, and we choose guests we think will want to get involved [with that]."

Yet despite the costs, a sizable portion of LeakyCon's profits have been donated to charity — which is one of the main tenets of the Mischief Management ethos, along with creativity and community. "Creativity fosters community, and both should be used to give to charity," Anelli says. In the short time it's existed, LeakyCon has donated more than $300,000 to organizations like The Harry Potter Alliance, Kamp Kiwanis, Oxfam, Reading Is Fundamental, Shelterbox, and Snow City Arts. Esther Earl, the girl who inspired John Green's book The Fault in Our Stars, attended the first LeakyCon in 2009; when she died in 2010, the annual conference dance was renamed The Esther Earl Rocking Charity Ball. The Earl family established This Star Won't Go Out in Esther's name to help families handle some of the expenses of having a child who is living with cancer; LeakyCon has donated proceeds to the foundation every year, and Green has been a regular staple at the conference ever since. "If we continue working in the idea that charity is part of a fan's life," Anelli says, "then hopefully people will continue to see that you don't have to be rich to do good work in the world."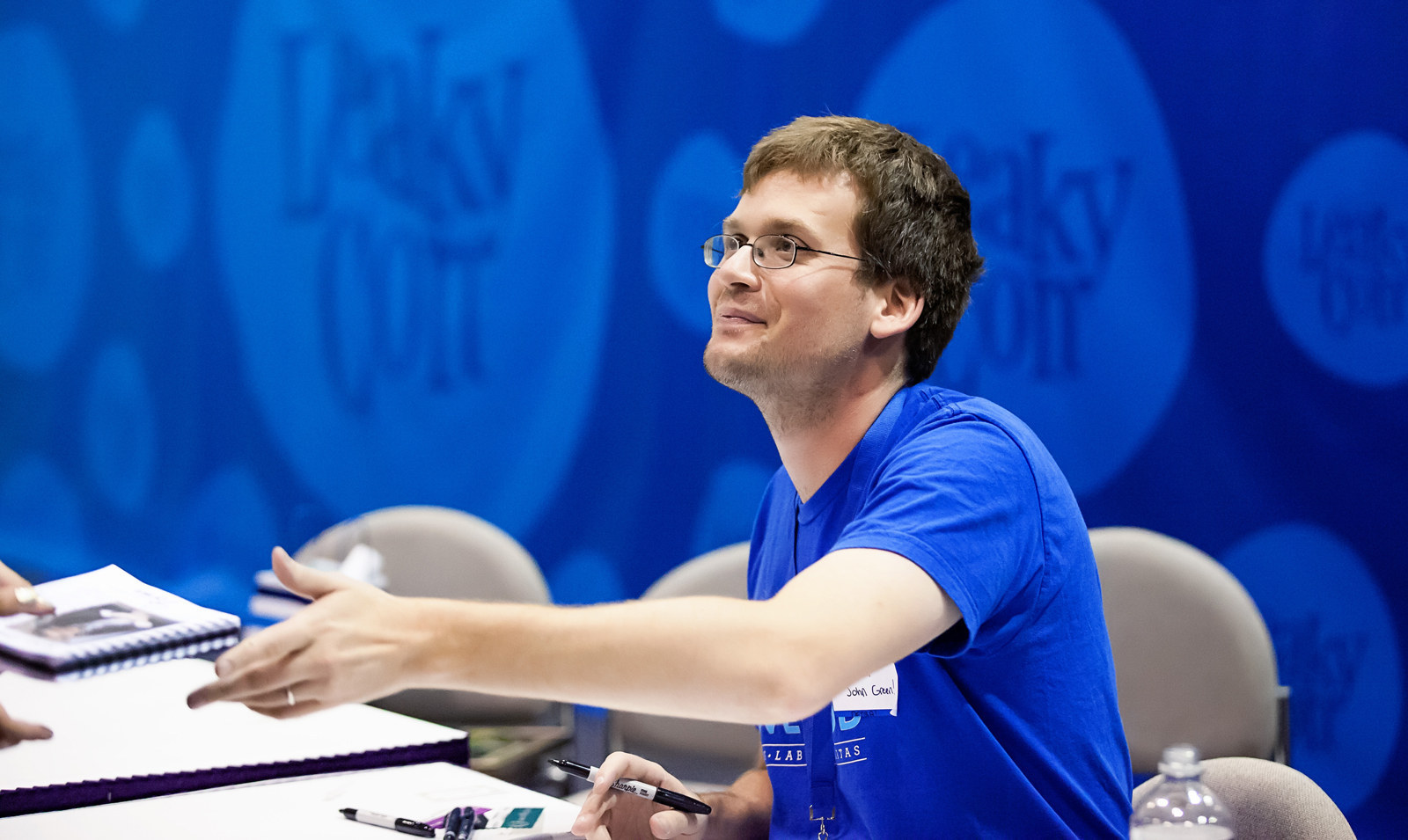 Finances might have been a primary concern, but Mischief Management's audience has grown by leaps and bounds every year. The 750 attendees of the first LeakyCon in Boston in 2009 turned into 3,200 attendees in Orlando in 2011; 4,000 attendees at both LeakyCon 2012 and 2013 in Chicago and Portland, respectively; and nearly 5,000 attendees last year. While that's a fraction of the tens of thousands of attendees at bigger, more established conventions, Anelli also notes that their figures are representative of individuals, as opposed to the number of people who walk in each day (that is, a person who buys a pass for all four days still counts as only one attendee, not four). In 2013, LeakyCon Rock Star passes — which grant access to all programming, priority seating, fast-track lines for autographs and photo booths, and special swag — sold out in 12 minutes.
Over time, LeakyCon's programming also shifted to fit its ever-expanding audience. Lit Day, first introduced in 2011, was expanded to a Lit Track in 2012. It makes sense that attendees of a conference built around a series of books want to hear more from the people creating them. Author Maureen Johnson runs the four-day program, which houses some of the most popular panels, concurrently within the rest of LeakyCon. In addition to John Green, past lit guests have included Kazu Kibuishi, Lev Grossman, and Varian Johnson, participating in panels like "YA Jeopardy" and "I Was a Teenage Writer," where they read what are often disastrous works from their younger years.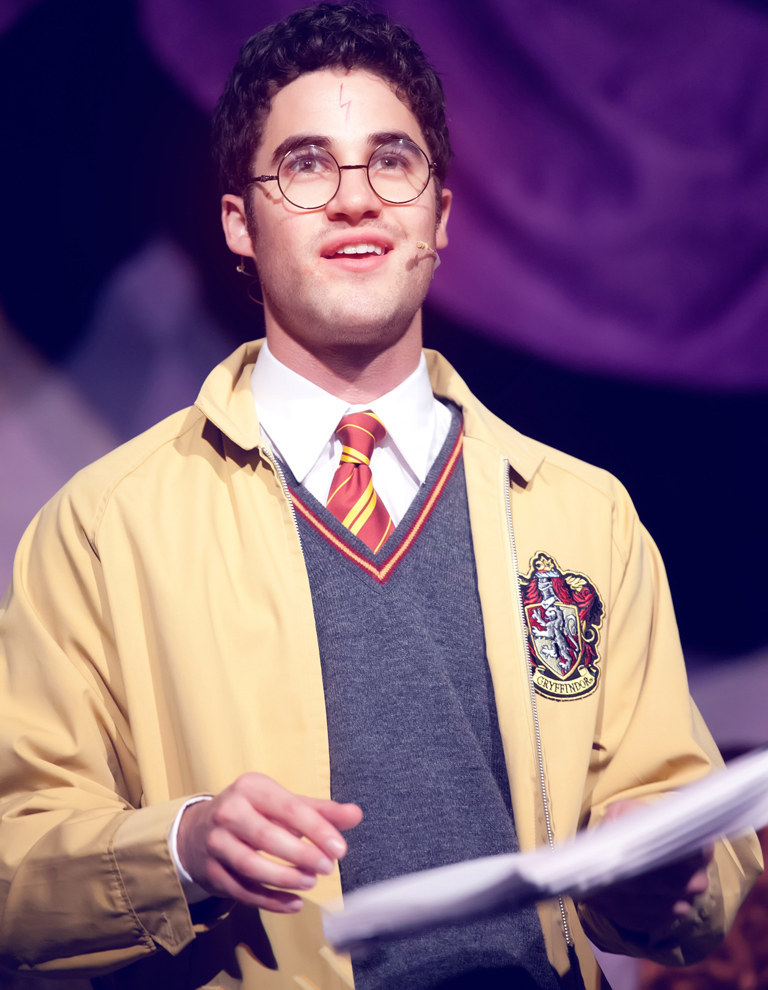 LeakyCon has always drawn big names from film and television as well, with panelists joining the convention for love of fandom and fans more than the money. Darren Criss, fresh off of a heart-melting debut on Glee, attended LeakyCon 2011 and 2012; he played Harry Potter in the viral musical comedies his postcollege theater company StarKid created. Harry Potter movie actors such as Evanna Lynch, Scarlett Byrne, and Robbie Jarvis have all been panelists multiple times, and actors such as Buffy the Vampire Slayer favorite Amber Benson and Doctor Who guest star Nina Toussaint-White have also made appearances. As the conference evolves, so does the organizers' desire to accommodate the kinds of guests the audience wants to see.

In a clear move away from being a convention rooted in Harry Potter fandom toward something bigger and further reaching, Dornhelm and Anelli announced last year at the end of LeakyCon that they would be changing its name to "GeekyCon" to "better encapsulate the geeky spirit." The change was met with some backlash from the Harry Potter community, whose members worried the conference was getting too big and losing focus. "Rebranding is difficult," Anelli says. "We're not new Coke, with a changed formula and the same name; we're the opposite, with the same formula but a different name. It's been really hard to get across the message that we are exactly the same event, and we have definitely taken an attendance hit as well as a perception one."

Though Anelli predicts to have about 70% of the expected attendance, hotel rooms in Orlando started selling out for GeekyCon in April. It is the only event Mischief Management is producing this year, but next year it's producing three: GeekyCon, LeakyCon, which will make a comeback as a Harry Potter–centric conference, and BroadwayCon, a new conference built around the pair's lifetime love of theater.
BroadwayCon came about in the same way LeakyCon did — on a whim. "I was watching the Tonys at Anthony's house the year Audra McDonald dropped the mic at the end of her performance," says Anelli. "Anthony" is actor and Broadway veteran Anthony Rapp, with whom Anelli developed a friendship 20 years ago as a fan of the musical Rent. "We were all just standing there, and Stephanie sent a text saying, 'Has BroadwayCon ever been a thing?'" Anelli laughs. "I was like, I can't have two giant theater moments at once, you've got to give me a sec! I think I just wrote back 'OMG.'"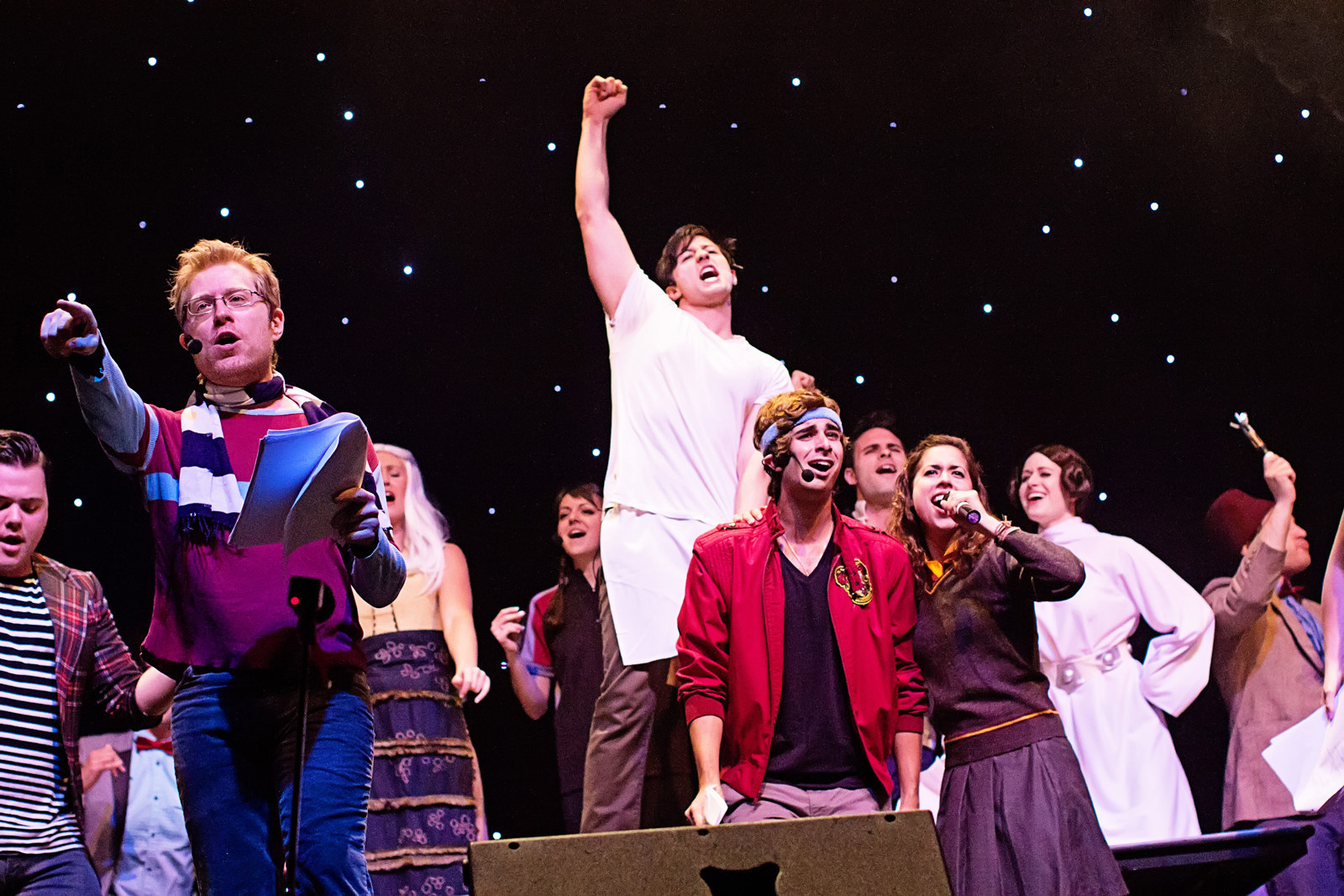 Rapp is now on the board of directors for the conference, and listed as a co-creator. He's excited about what's on the horizon. "Our first batch of tickets sold out in a couple of hours," he said. "I'm not surprised; whenever you fill a void, energy rushes in. That's just physics; it's just science."

The difficulty of keeping up with her schedule once BroadwayCon was announced in February is part of the reason Anelli had to rent office space. "Suddenly I had 20 meetings a week, three meetings a day. I was using Starbucks' Wi-Fi in between meetings to talk to my team." The system quickly broke down, and she told Stephanie she was starting to lose her mind. They hired Fox as an executive assistant in March, and found office space soon after. Mischief Management is growing slowly but steadily, and the space goes a long way toward solidifying some of the changes and challenges they face. In the span of seven years, the small team of two has grown by leaps and bounds; they are not yet profitable, but are managing to employ six people full time, 10 contractors, and an arsenal of volunteers.
"It's still going to be DIY, but with a little more money," Anelli says. "The audience and performers are just used to a certain caliber, and if we screw that up, we'll never have another one again." They initially budgeted $500,000 for BroadwayCon, but that amount has doubled as they better appreciate what things cost in New York City and allot "more financial room to make things awesome." They've also managed to have more success pulling in sponsors for this newest endeavor than for GeekyCon. "There isn't a convention like it, and we have some incredible support already," Anelli says. Though they can't reveal any specifics yet, she notes that those involved so far are "names people will recognize as key to the Broadway community."
Rapp isn't worried. He knows that the Rent community planted seeds of activism in Anelli, and the Harry Potter fandom gave her a great platform. "Melissa stood on the shoulders of that to continue making a community that was also making a positive difference in the world. And I do believe that makes this stand out from other conventions as well."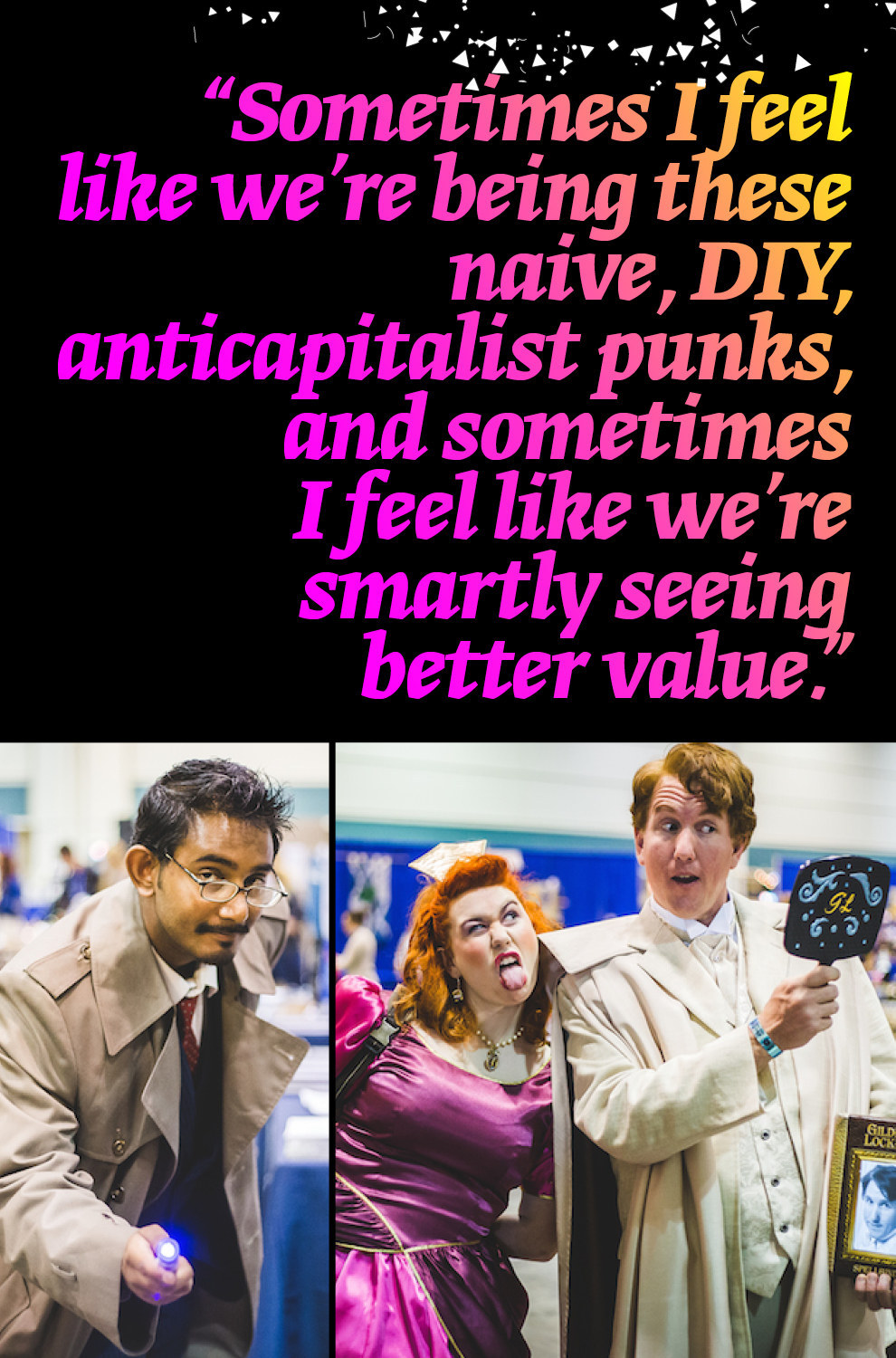 Someone else has scheduled the conference room, so it's time to pack up. "I actually got a lot of work done!" Anelli stacks the two whiteboards on the table and quickly gathers her markers and sticky notes into her bag. "Sometimes I feel like we're being these naive, DIY, anticapitalist punks, and sometimes I feel like we're smartly seeing better value. I always wave between, like, 'Which one are we being today?'"

Is it important for her to feel like she's working outside of the existing system? "It is! We're fighting the man. And the man exists for a reason, and he's beneficial, and will exist no matter what, but there's got to be someplace where you can say SCREW the man!" She goes on to describe an exchange she once had with an agent who was pushing back about a fee. "He kept saying, 'It's industry standard,'" she smiled. "I finally said, 'I understand, but we're not industry standard.'"
More than anything, Anelli wants to do whatever she can to maintain the spark that makes these conventions so special. "The big thing that stuck with us was that these kids who probably feel a little bit off in their regular lives come to our cons and can just be themselves. And when you watch people who don't usually get that opportunity get that opportunity, and you see them dance their FACES OFF at a ball, it is the BEST. I love walking around the ball. When you see people dancing to Harry and the Potters like the world is on fire and they have to save it? I love it."
I know what she means. As a child, so much of my geekiness was solitary; I built an emotional fort around the things I was interested in to keep them close. You've never met a more ravenous New Kids on the Block fan; I bought everything from the trading cards to magazines with two sentences written about them inside. I was an artistic, intelligent, punk rock–loving, tall, black weirdo in a predominantly white rural town; I stuck out like a sore thumb everywhere I went, and always felt out of place. I also loved to sew and knit, but it seemed old-fashioned compared to the things my friends were into so I never talked about it.
But as I got older, the joyful part of being a geek was in sharing. The books, graphic novels, TV shows, and movies I was obsessed with were not just a means for escape, but a way to parse out friendships and solidify my own ideas about how I engaged with the world. Putting your favorite band's patch on your backpack can feel like a small thing, but then one or two people ask you about it after study hall. You figure out that you like a lot of the same music, and start trading mixtapes. When you hang out on the weekend, it's all about showing someone the coolest book or greatest, most quotable movie while you eat pizza and laugh soda through your nose. When you're a nerd, making friends can be that simple, and that hard.

Finding my tribe through the shared experience of fandom eased the pain of feeling like an outcast, and finding ways to express that joy with people made me feel like I belonged.
That feeling came back to me like a bolt of lightning during the wizard rock concert at LeakyCon last year. I was there with my friend, author Rainbow Rowell; she had been to LeakyCon before and was the one who convinced me to give it a try. I had never heard wizard rock before, and didn't know what to expect. By the time Harry and the Potters finished playing "My Teacher Is a Werewolf," I was laughing and jumping and down. This was a band singing songs about fictional characters in a book, and it was the most energetic concert I'd been to in ages, in stark contrast to the shoegazing that happens at most shows I go to. All around me, people were singing, smiling, and hugging; I was screaming so loudly I practically lost my voice. A simple fact suddenly dawned on me: This was FUN. LeakyCon had tapped into something I had been missing — the unbridled thrill of being a megafan. By the time the Circle of Awesome happened, I was in tears, overcome with the emotion of remembering how amazing it felt to share this part of life with other people.