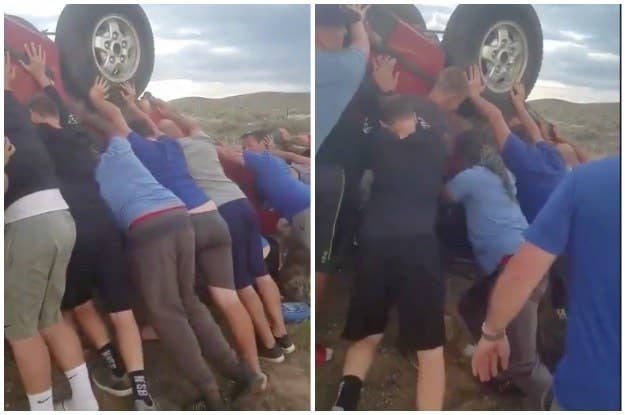 While driving back from a championship tournament in California, a teenage football team from Idaho proved themselves to be champions off the field as well when they rescued a woman pinned inside of a wrecked car.
The team came across the accident on a highway in Oregon at dusk Wednesday and banded together to lift the vehicle off the trapped woman, rescuing her and also tending to her injured husband.
Player Regan Magill captured the dramatic save on camera, and Rachel Vasquez, a friend, posted the footage to Facebook Wednesday.
"This is the true definition of teamwork, compassion, and strength," she wrote of the Idaho team, which is appropriately named the Boise Black Knights.
The Knights were driving back from the Bay Area Spring Football League Tournament of Champions, which they had won, when they saw the vehicle that had crashed ahead of them.
Head coach Rudy Jackson pulled over, and the team first took care of the driver who had been thrown from the vehicle, before realizing his wife was still trapped in the overturned car.

After cutting her seatbelt and attempting to free her that way, the boys can be seen on the video lifting the car so that she can escape.

"We had to stop and become heroes," Jackson told the Idaho Statesman. "It was just a little adversity. ... It's almost an unreal story."

He said he was "more than proud" of the team.
"They got out of the car like they were supposed to do that," he said. "It's a great bunch of kids."
Magill, the player who took the video, told Good Morning America that Jackson had taught the team to "play selfless football, not selfish."
"It felt amazing that we could do what we did," he told the Statesman, "because I don't want to imagine what would have happened if we were not there to help."
BuzzFeed News has reached out to Vasquez and the Boise Black Knights for comment.