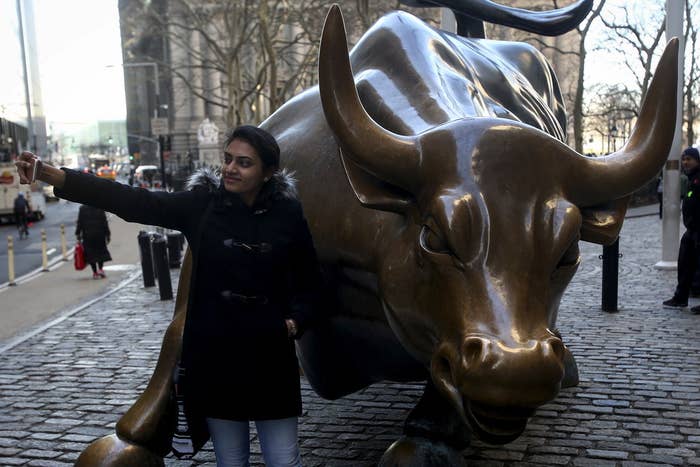 Young workers in New York City are more educated but earn less than this demographic did in the past, according to a study released Monday by the Office of New York City Comptroller Scott M. Stringer.
New Yorkers aged 19 to 31 earn about 20% less than the previous generation did after adjusting for inflation — a lingering impact of the recession of 2008.
This is despite having a higher level of education: 72% of all 23- to 29-year olds in the city have earned some college credit, according to the report. As recent job growth has been concentrated in low-wage industries (such as retail, food service, and hospitality), the share of young workers with a bachelor's degree employed in low-paying sectors in New York grew to 33% from 23% between 2000 and 2014.
Others fared worse: in 2014, one in ten young people in the city was idle – neither in school, nor the labor force, nor caring for a child.
"Millennials make up the largest generation alive today. Given their sheer size, their economic fortunes will have a disproportionate impact on the economy," Comptroller Stringer told BuzzFeed News. "Our fortunes, mine included, will rise or fall on the shoulders of this generation."

While the study focused on New York, millennials across the U.S. are experiencing similar challenges.
Employed 29-year olds in the rest of the nation, for instance, earned 15% less than their counterparts in 2000 in real terms, according to the report.

Countrywide, there are fewer jobs in the areas where wages are growing and more opportunities where wages are falling.

Yet more of these workers have a higher level of education than their predecessors, and all that education comes with a steep price tag.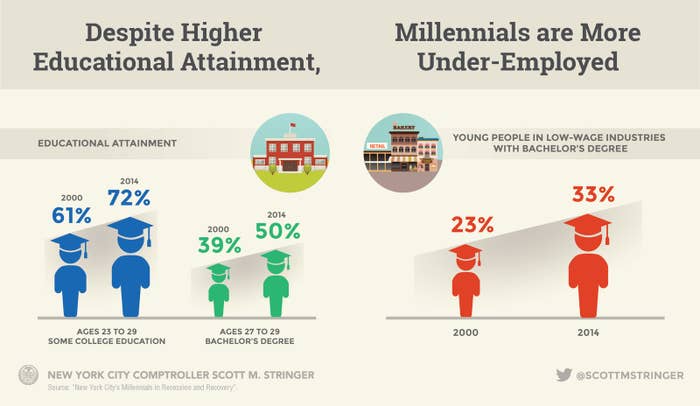 Across the country, total student loan balances held by all borrowers under age 30 increased at nearly a 10% annual rate between 2005 and 2014, reaching $369 billion.

New Yorkers owe approximately $14 billion in student debt.
The study suggests policies to help young workers.
"We've had the opportunity as a nation to invest in job growth programs and lower student debt, but Congress has done nothing," said Comptroller Stringer. "Now it falls on urban centers like New York to help millennials start digging out of the hole we that we dug for them."

The report concluded with a series of recommended steps for local and state government to take to address the economic difficulties of young workers, including raising the minimum wage, expanding overtime protections, prioritizing the affordability of public universities, and developing summer jobs programs.
UPDATE
A previous version of this article included a quote not intended for attribution.