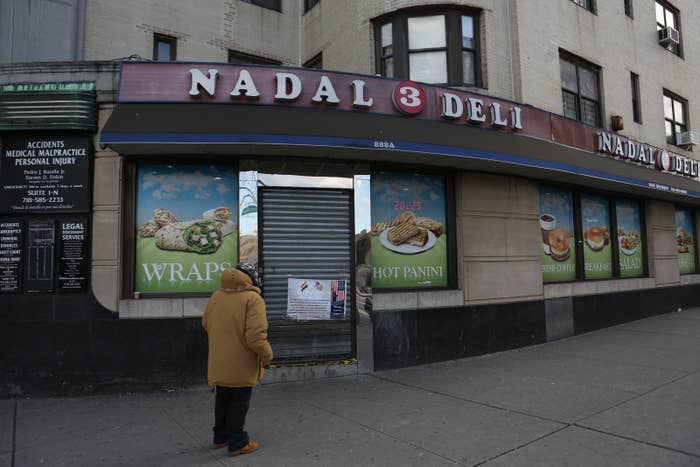 "You can't worry about money when you're worried about your boys," said Muhammad as he shuttered his store on Leonard Street in Greenpoint, Brooklyn on Thursday. "You have to get your boys."

Muhammad, who asked that only his first name be used, closed his bodega at noon, one of more than a thousand Yemeni-American bodega owners on strike in protest of President Trump's executive order on immigration.
"They see the sign in the door, and they agree with what we're doing," he said, of his customers.
Muhammad has been in the United States for 54 years, and his sons now help him run his business, which includes multiple corner store locations. He said he is distraught over the immigration ban, which affects people seven in Muslim-majority countries, including Yemen, blocking them from US entry for 90 days. The order also bars Syrian refugees from entry indefinitely and suspends all refugee admissions for 120 days.
In protest, bodega owners in New York — a trade where Yemenis are heavily represented — banded together to close their stores in protest. At a planned rally on Thursday evening at Brooklyn Borough Hall, they will share stories of how the ban has impacted their lives. They also plan a prayer at sundown.
"People are stuck in their country, and in airports, and I feel like this is the only thing we can do for them," said Adnan Alshabbi, standing in front of one three bodegas he closed in the Bronx on Thursday as part of the protest.

Alshabbi, who came to the US in 1995 and became a citizen in 2001, said he emigrated to this country for freedom, and that the latest move from the president has put his community at unease.
"Our kids were born and raised here," Alshabbi said, while holding a sign he would later place on his closed storefront. "This is our country. We have nowhere else to go."
"You know how long it took me to be a citizen?" said Aziz, a Yemeni-American who runs the cash register inside Nadal Deli. Aziz, who didn't want to provide his last name, said he had to buy locks to close the 24-hour store.

"We're not safe back there, and now we don't feel safe here," Aziz said. The civil war in Yemen means even citizens with passports and US visas or green cards struggle to make it out of the country, with many international flights suspended and chaotic conditions for people attempting to cross by land into neighboring Saudi Arabia. In addition, the lack of consular services at the US embassy in Yemen's capitol, Sana'a, has required Yemenis with documentation to travel outside of the country to have their questions about immigration answered.
"It took me 14 days to get here" Aziz said of his trip back to the US from Yemen in November 2016, when his crossing of the Saudi border was delayed. After being interviewed, Aziz asked what the words "ban" and "chaos" meant, saying that he had been hearing those words so often of late.
In Manhattan, at 137th street, Hussein Ghadsha was closing the doors of Golden Deli as the clock struck 12. Ghadsha, who is 33, has worked at the grocery store for seven years.

"I work in this place, I don't own it," he said. "But I hope the strike lasts more than one day, and it should. People have to speak up — you can't stay numb. This is something that has to happen until something happens."
After closing, Ghadsha got on the phone with teachers at his children's school — he has a 16-year-old, 13-year-old, and 9-year-old — to make sure it was alright that they left classes early to attend a rally in downtown Brooklyn.
"They understand," he said, of both the teachers and customers. "It's not about the business. Money is not everything, you know. Money comes and goes. This is about our values, equal rights.
"For people to go through something like this, in this time, I'm sick to my stomach even thinking about it."