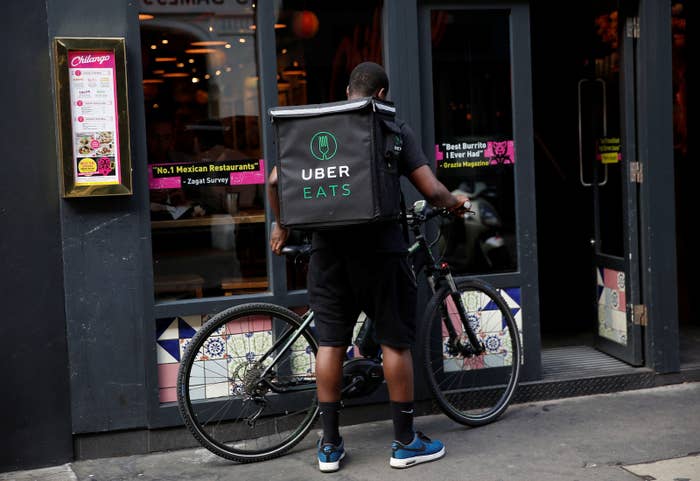 A courier in New York has sued Uber claiming he and other delivery people, who work for the company's on-demand delivery services UberRush and UberEats, are owed unpaid tips and wages.
Uber declined to comment on the litigation.

Uber's Rush and Eats platforms, which launched in October 2015 and March of this year, turn the company's on-demand ride-hailing platform into on-demand delivery services for packages and food, adding bike messengers to their network of drivers.
The Rush and Eats services operate slightly differently: The majority of UberRush food deliveries are made from restaurants that use the platform GrubHub, which has a field for customers to add a tip while making an order. UberEats, like Uber's popular car service that aimed to take tipping out of the equation for the user, does not allow for in-app tips.
The suit, filed in federal court in Manhattan on Tuesday, alleges that nearly all GrubHub deliveries for UberRush included "an on-line gratuity – none of which were passed onto the Couriers."
The suit also claims that UberEats "charges a $3.99 'Service Fee' in lieu of a gratuity" (the app recently renamed the "Delivery Fee" a "Booking Fee"). It argues that because a user would never know this fee was not a tip, it should therefore be passed on to courier, under existing wage law.
Rather than earning a set minimum hourly wage, Uber couriers are paid per trip. In New York, for instance, UberRush messengers receive $3 for the handoff of the delivery item and then $4 per mile (rates vary by market).

A disclaimer added to the New York UberEats checkout page this sumner now reads, "Tips are not included in the cost of your order. Tips are neither expected nor required."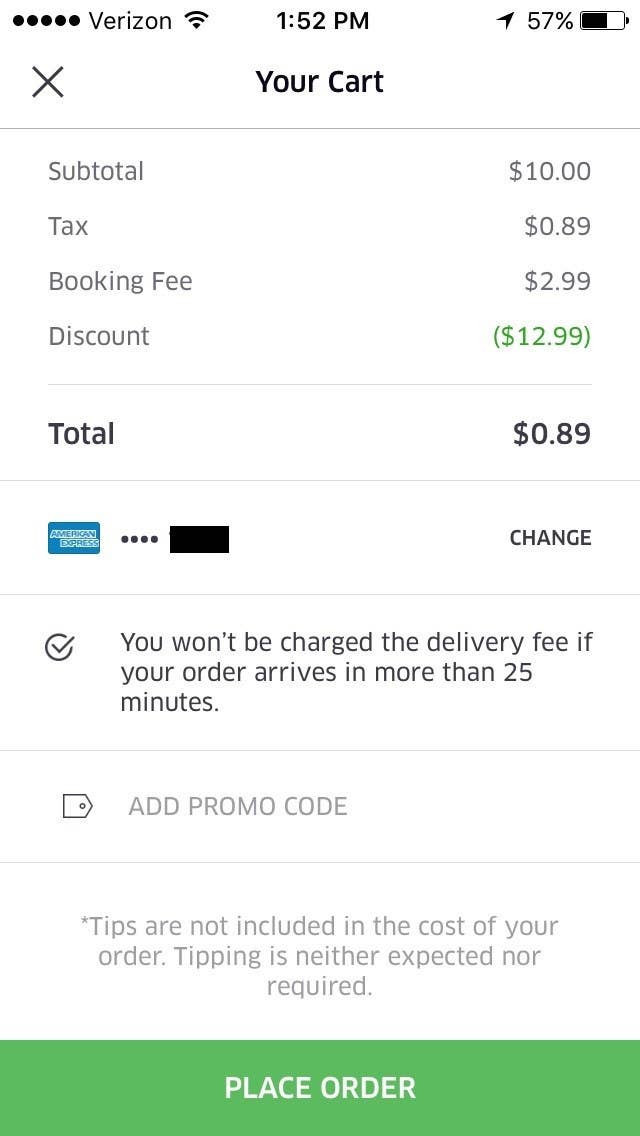 Under the Hospitality Wage Order in New York, in order for a Service Charge (that is not a gratuity) to be legal, the company must "adequately notify the customer" that the fee is not a tip intended for a worker. "The statement must also be in ordinary language readily understood" and in a size "no smaller than 12-point font" (much like high school term papers for the smart teachers).

According to the suit, Uber provided "no notification what-so-ever that the $3.99 Service Fee is not a gratuity," and so the fees should have been passed on to couriers as tips.
In October, Uber couriers formed an alliance with delivery people from other apps, including Postmates and Instacart, to gain bargaining leverage over wages, hours, tipping practices, and safety concerns.
Members of the Messenger Alliance interviewed by BuzzFeed News said that they, too sometimes do not receive tips from GrubHub orders, as the plaintiff in the suit alleges. They say they know when a customer included a tip via GrubHub because they can see the tip on the order receipt when they deliver the food. UberEats does not provide such receipts.
Sadio Ballo, an UberRush courier and member of the alliance, told BuzzFeed News that when some messengers complained to Uber, the company "told them it was the restaurants that were keeping the tips." Worker efforts to deal directly with the restaurants fell flat.
"You take it up with the restaurants, they ignore you," Bello said. "Or the next time restaurant chooses someone to make the pickup, and that guy [who complained] shows up, they would cancel them."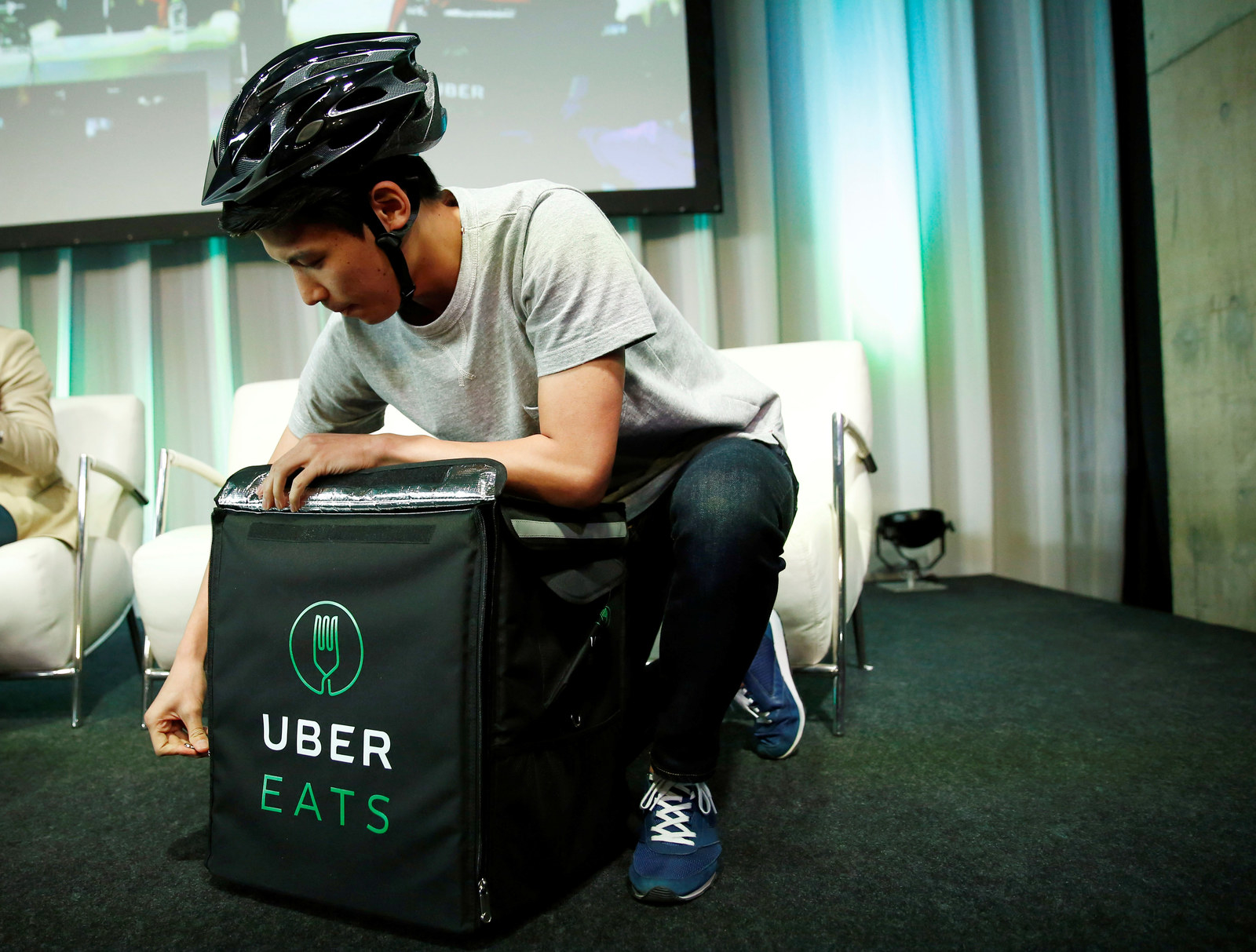 In the world of digital orders, which involves a long chain of middlemen, tips make a complicated journey from the customer to the courier.
In the case of UberRush, a tip has to travel from the customer, to GrubHub, to restaurant owner, to UberRush, and then finally to the courier. It seems it's the space between GrubHub and UberRush — when the restaurant owner manually transfers the tip from one platform to another — is where the gratuity is most likely falling through the cracks.
Uber told BuzzFeed News that it is the responsibility of individual restaurants to tell Uber when a GrubHub customer has added a tip so that it can be passed along to the courier. Uber also said that they have made it easier for restaurants to make sure they're passing along tips to Uber (and thus, to the couriers), with a revamped UberRush dashboard design. The company said it has reminded restaurants that they must pass on any tips intended for couriers — including for orders submitted through GrubHub — so that Uber can pass them on to the couriers in their payouts.

A spokesperson for GrubHub said that "restaurateurs are legally required to disperse the full tip amount to delivery workers."

Critics of tipping argue this kind of increasingly tenuous transaction chain is one more reason to reform or abolish tipping altogether, and replace it with living wages.

In recent months, Instacart similarly changed its tipping model to a default 10% "Service Charge," which does not go directly to the shopper, with an option for an additional tip. Instacart workers interviewed by BuzzFeed News said the new tipping option is difficult to find, and the "Service Charge" system is misleading to consumers who think it is a tip.
"It's not limited to Uber," Bello said of the labor conditions that squeeze app-based delivery workers. "It's DoorDash, Instacart, Postmates. But Uber set the trend for these other apps."
Some customers have also expressed confusion over the lack of a tipping option in the UberEats app, with some couriers taking to personally texting customers themselves, in the hopes of seeing the tips they're used to getting while delivering for other platforms.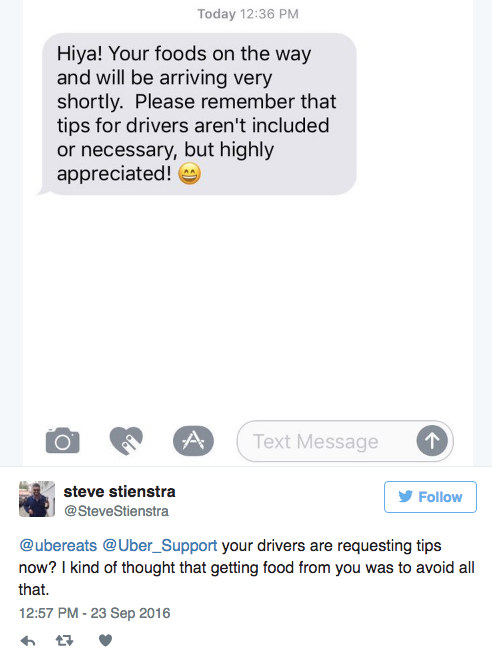 You can read the full suit below:

UPDATE
A previous version of this article referred to a 'Service Fee,' rather than a 'Delivery Fee' (which was changed to a 'Booking Fee' on the UberRush checkout page), using information from an Uber spokesperson.
A previous version of this article also referred to a partnership between UberRush GrubHub. To clarify, GrubHub works with restaurants; and restaurants work with UberRush.