Two San Francisco Nonprofits That Fight Evictions Are Losing Their Offices
To make way for more WeWork spaces.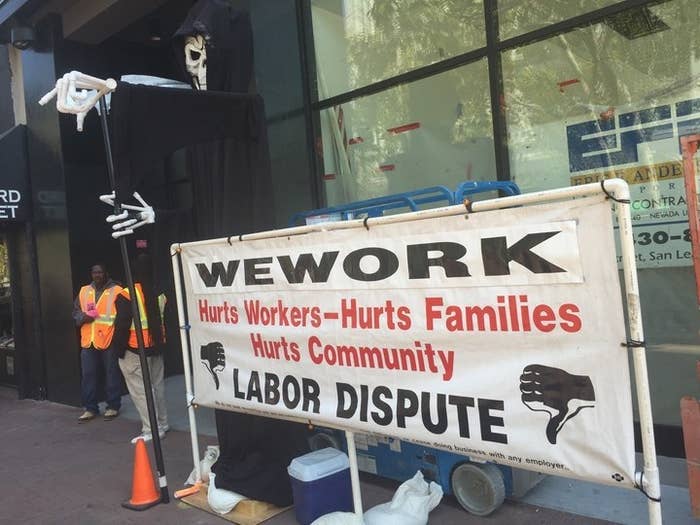 Two San Francisco nonprofits that help low-income tenants avoid eviction are — wait for it — being forced out of their offices. They say their space, on the 11th floor of an office tower in downtown San Francisco's Market Street, will be taken over by shared office space provider WeWork.
The two groups, the Eviction Defense Collaborative and Tenants Together, plan to throw themselves an "eviction party" on December 2 to raise money to cover the costs of new space.
"We're being evicted. Like so many in the Bay Area, Tenants Together and the The Eviction Defense Collaborative of San Francisco are being PRICED OUT of our homes," they wrote on the event page. The two groups did not respond to requests for comment.
A WeWork spokesperson confirmed that the company would be taking over the floors. It is also extending an olive branch of sorts to the ousted nonprofits: they're free to re-rent space in their former office once it re-opens as a WeWork shared office space.
"WeWork leased space from a landlord after the previous tenant's lease was up," said the spokesperson. "We have reached out to them and would happily welcome them as members."
Sub-leasing WeWork office space would likely cost the groups significantly more than the rent they have paid over the past decade at the location. The WeWork spokesperson declined to clarify what the company would charge the nonprofits, and one of the nonprofits has said it is close to signing a lease on a new space.
The tenuous status of the nonprofits' offices first emerged in August, when workers at Carpenters Union Local 22 in San Francisco noted that WeWork's gradual takeover of the building would likely displace a number of long-running tenants, including groups dedicated to helping people avoid eviction.
During a union protest in the neighborhood this summer, a mock grim reaper was stationed outside the building at 995 Market Street. At the time, WeWork had already leased a number of floors of the building.
Fliers handed out by members of the Carpenters Union in the summer warned, "Don't let WeWork move San Francisco workers, wages and benefits back in time!" (Since June, on the East Coast, WeWork had clashed with workers backed by Service Employees International Union local 32BJ in New York and Boston over their use of subcontractors to pay sub-union rates for building cleaners. In October, the company pledged to stop using non-union shops in the two cities.)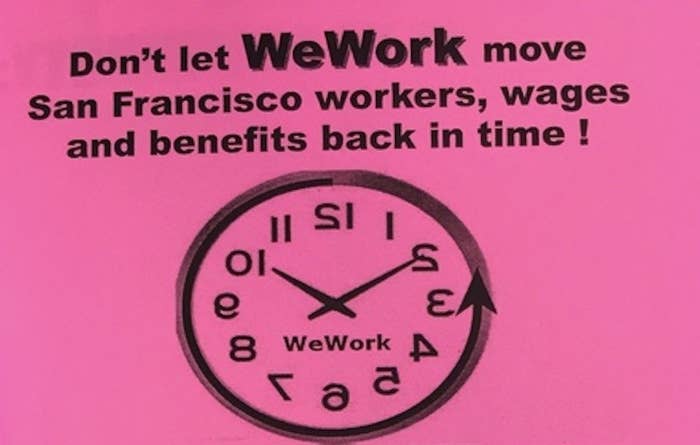 Eviction Defense Collaborative executive director Paul Cohen told San Francisco magazine the group is close to finalizing a deal to lease a new office space, with rent set to more than double from the $14,000 a month it was paying at 995 Market.
And while the new space means higher bills, it offers one advantage for the anti-eviction activists: it's currently empty. "I don't think we're displacing anyone where we're going," he told the magazine. "We feel very good about that."
The Collaborative's lease runs out at the end of the year, and building owner Long Market Property Partners did not offer to renew, according to San Francisco Magazine. Calls to Long Market Property Partners this week went unanswered.