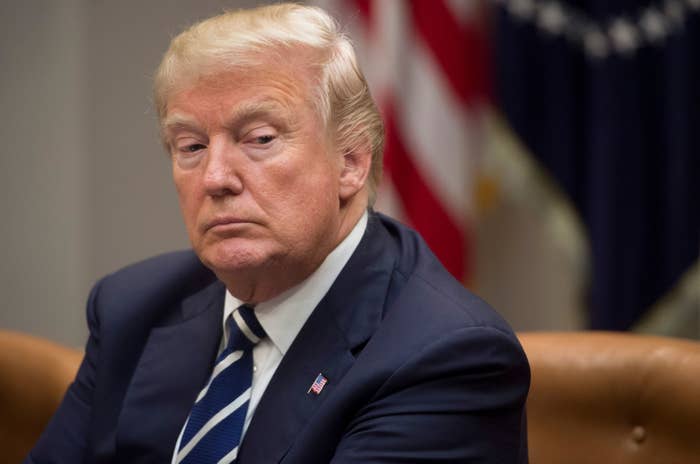 President Trump on Friday suggested on Twitter he didn't call places including Africa, El Salvador, and Haiti "shitholes" during a conversation about immigration with lawmakers — even though people in the room said he did just that.
Trump's attempt to walk back the comments came after intense criticism that his remarks were racist.
In a rambling Twitter rant on Friday, Trump confusingly claimed it was "not the language used" and said he "never said anything derogatory about Haitians other than Haiti is, obviously, a very poor and troubled country."

But Trump stopped short of a full denial. And at a Friday signing of a proclamation for the upcoming Martin Luther King Jr. federal holiday, he refused to answer shouted questions such as, "Mr. President, will you give an apology for the statement yesterday? Mr President, did you refer to African nations as shitholes? Mr President, are you a racist?"
A White House spokesperson on Thursday night also didn't deny Trump had used the word "shitholes," putting out a statement that simply said "President Trump will always fight for the American people."

Several lawmakers who were in the meeting discussed the controversy on Friday.
Democratic Sen. Dick Durbin, who was in the room with Trump when he made the remark, said that Trump did use "vile, vulgar" language including the word "shithole."

"He said those hateful things, and he said them repeatedly," the senator said, calling the comments "heartbreaking."

Sen. Tim Scott told the Post and Courier that Sen. Lindsay Graham, who was at the meeting, told him the comments attributed to Trump are "basically accurate."
"If that comment is accurate, the comment is incredibly disappointing," Scott said, without seeming to explain how he couldn't "recall" the comment. "We ought not to disparage any other nation, frankly."
But Senators David Perdue and Tom Cotton, who were also in the meeting, issued a joint statement saying they "do not recall" the comments.

"In regards to Senator Durbin's accusation, we do not recall the President saying these comments specifically but what he did call out was the imbalance in our current immigration system, which does not protect American workers and our national interest," the statement read.
After a long public silence on the controversy, Graham said Friday, "Following comments by the President, I said my piece directly to him yesterday."
"The President and all those attending the meeting know what I said and how I feel," he continued. "I appreciate Senator Durbin's statements and have enjoyed working with him and many others on this important issue.
Republican Sen. Jeff Flake of Arizona said Friday that Trump's words were "related to me directly following the meeting by those in attendance." He said the comments "were not 'tough,' they were abhorrent and repulsive."
Trump reportedly made the comments while lawmakers were discussing restoring temporary protection status for immigrants, such as those from El Salvador, who had their status removed this week.

The Trump administration has been discussing the possibility of a deal addressing the immigration status of hundreds of thousands of young immigrants under the Deferred Action for Childhood Arrivals program, or DACA, as well as increased security at the border.

Trump has said a deal that does not include funding for a wall along the southern border would be rejected.
Thursday evening, there were reports of a tentative deal reached between Republicans and Democrats, which would fund President Trump's promised border wall while allowing hundreds of thousands of undocumented people to remain in the country.
But Trump on Friday morning blasted the deal as a "big step backwards." Here's his full and confusing tweetstorm in order. (The article picks up after it.)
According to a source familiar with the meeting, cited by CNN's Jake Tapper, Trump was specifically calling African nations "shitholes."

In terms of Haitians, Trump said, "Haitians? Why do we need more Haitians? Take them out," — as in, take them out of the deal.

Speaking at an event Friday, Republican Speaker of the House Paul Ryan called Trump's rhetoric "very unfortunate" and "unhelpful," calling immigration "a thing to celebrate."

Meanwhile, a human rights spokesperson with the United Nations said on Friday morning that the comment could "potentially damage and disrupt the lives of many people."

"If confirmed, these are shocking and shameful comments from the president of the United States," Rupert Colville told reporters in Geneva. "I'm sorry, but there is no other word for this but racist."
"You cannot dismiss entire countries and continents as 'shitholes,'" he said, adding that the comment "legitimizes the targeting of people based on who they are."
"This isn't just a story about vulgar language, it's about opening the door to humanity's worst side," he said.
The government of Haiti said in a statement it was "deeply shocked and outraged" by Trump's remark — and called it "racist."

"These insulting and reprehensible statements in no way reflect the virtues of wisdom, restraint and discernment that must be cultivated by any high political authority," the statement said, adding that Trump's remark "reflects a totally erroneous and racist view of the Haitian community and its contribution to the United States."
In Botswana, the government summoned the US ambassador to "express its displeasure" at the comments.
"The Botswana Government has also enquired from the US Government through the Ambassador to clarify if Botswana is regarded as a 'shithole' country given that there are Botswana nationals residing in the US, and also that some of Batswana [sic] may wish to visit the US," read a press release published on Friday.
CORRECTION
Sen. David Perdue released a joint statement with Sen. Tom Cotton. A previous version of this post incorrectly said Sen. Tim Scott released the statement with Cotton.