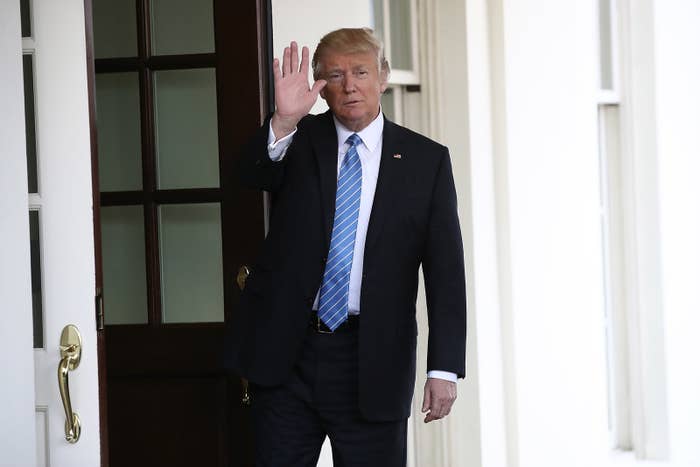 President Donald Trump named R. Alexander Acosta as his new labor secretary nominee in a press conference Thursday. If confirmed by the Senate, Acosta will be the first Hispanic member of Trump's cabinet.
The announcement comes one day after Trump's original nominee for the job, fast-food CEO Andy Puzder, withdrew his name from consideration during a chaotic week for the administration. Puzder dropped out Wednesday after more than half a dozen Republican senators said they could not support him, citing concerns over revelations that he employed an undocumented worker without paying taxes on her wages and allegations he physically abused his ex-wife.
Acosta, who will now face a confirmation hearing and vote in the Senate, is the dean of the Florida International University College of Law in Miami and served on the National Labor Relations Board, the country's highest body for adjudicating labor disputes, from 2002 to 2003. He additionally serves as chairman of US Century Bank, the largest domestically owned Hispanic community bank in Florida, according to his faculty biography.
He was the assistant attorney general for the Justice Department's Civil Rights Division from 2003–05, under President George W. Bush. He also served as a deputy in the division. Later, he served as US attorney for the Southern District of Florida, during which time he prosecuted several high-profile fraud, white collar crime, and drug cases.
"Mr. Acosta's nomination is off to a good start because he's already been confirmed by the Senate three times. He has an impressive work and academic background," said GOP Sen. Lamar Alexander of Tennessee, who chairs the Senate Health, Labor, Education and Pensions Committee, which will hold a confirmation hearing on Acosta's nomination, in a statement. "We will schedule a hearing promptly after his nomination papers arrive in the Senate, and I look forward to exploring his views on how American workers can best adjust to the rapidly changing workplace."

Acosta also testified before Congress about protecting the civil rights of Muslim Americans in 2011, during which he discussed the DOJ Civil Rights Division's work in the wake of 9/11, including holding meetings between "senior representatives from the Arab-American and Muslim-American communities and the leadership of key government agencies."
"These efforts following 9/11 were important," Acosta testified at the time. "They set a tone. They reminded those who might be tempted to take out their anger on an entire community that such actions were wrong. … Now is good time to remember that no community has a monopoly on any particular type of crime."
Acosta clerked for Judge Samuel Alito on the US Court of Appeals for the Third Circuit after graduating from Harvard Law School.