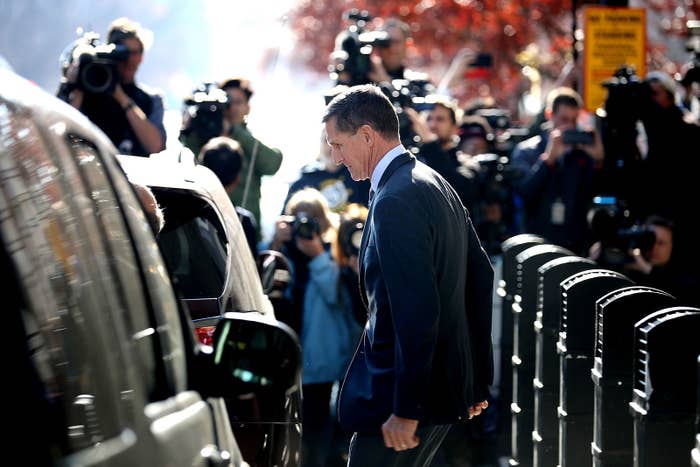 President Trump and his team continued to try to contain fallout Monday from a tweet over the weekend in which he appeared to reveal he was aware his former national security adviser Michael Flynn had lied to FBI agents at the time he left the administration.
"I had to fire General Flynn because he lied to the Vice President and the FBI. He has pled guilty to those lies. It is a shame because his actions during the transition were lawful. There was nothing to hide!" Trump's account tweeted from an iPhone on Saturday, which conflicts with an earlier narrative.
It'd be the first time Trump has said he knew Flynn lied to the FBI in January 2017. (In May, Trump fired the bureau's then-director, James Comey, saying in an NBC News interview it was over the Russia investigation.)

Trump's personal lawyer, John Dowd, on Sunday then told several news outlets that he wrote the tweet and sent a draft to White House social media director Dan Scavino, who appears to have tweeted on Trump's behalf in the past.
Then, on Monday, top Trump adviser Kellyanne Conway said she was with the president "all day" Saturday and that Dowd crafted the Flynn tweet and sent it to Scavino.
Twitter does keep data such as IP address, operating system, mobile carrier, and device information for sent tweets — but the company is vague about how long they store that information.
"Given Twitter's real-time nature, some information (e.g., IP logs) may only be stored for a very brief period of time," the platform's privacy policy states.

Other legal experts have said the tweet admitting knowledge of Flynn's lying to the FBI has strengthened the case that Trump obstructed justice. Dowd said Monday the tweet "did not admit obstruction," calling the assertion "ignorant and arrogant."

The Washington Post first reported — and CNN confirmed Monday — that White House Counsel Don McGahn told Trump in January that Flynn likely lied to the FBI.
Meanwhile, on Monday morning, the president told reporters that he feels "badly" for Flynn, who was charged Friday with lying to the FBI in the investigation into Russian interference in the 2016 election.
Trump then quickly turned his attention to Hillary Clinton — who he defeated more than a year ago.
"Hillary Clinton lied many times to the FBI, and nothing happened to her," he told the White House pool. "Flynn lied, and it destroyed his life, and I think it's a shame."
The president went on to call the consequences Flynn is experiencing "very unfair."
Dowd also told Axios on Monday that Trump's legal team believes the president cannot be charged with collusion or obstruction of justice in connection with Russian interference into the election.
Dowd said that the president "cannot obstruct justice because he is the chief law enforcement officer under [the Constitution's Article II] and has every right to express his view of any case."
Additional reporting by Kevin Collier.