Top Sanders Backer On Email List: "He Doesn't Want To Hand It Over"
One key backer says Bernie won't give the list to Clinton. "He doesn't want to hand it over to Wall Street," said RoseAnn DeMoro, executive director of National Nurses United.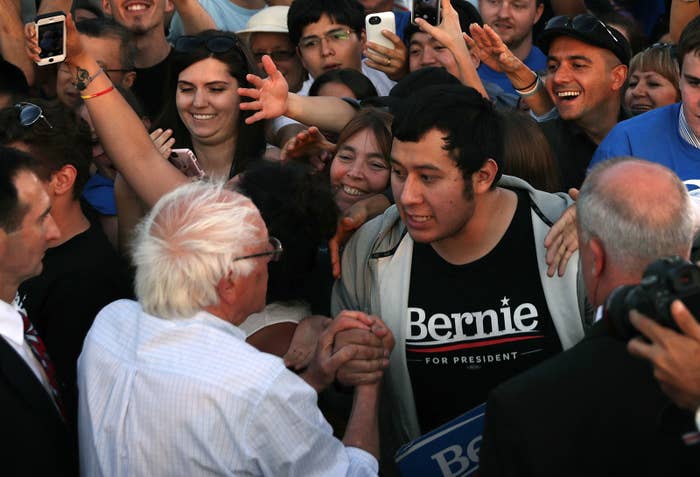 One of the open questions in Democratic politics right now is what will happen to Bernie Sanders's huge email list, which he's used to raise more than a hundred million dollars from grassroots Democrats and independents all over the country.

So far, according to a senior Sanders campaign official, there's been no discussion between the campaign and Hillary Clinton's about what will happen to the email list.
But at least one of the Vermont senator's top supporters is already arguing that Sanders should refuse to give the list to Clinton.
Monday, the head of the main labor group behind a pro-Sanders super PAC pledged that Sanders will not provide access to the list to Clinton.

"Bernie has run a populist campaign and the campaign is not over," RoseAnn DeMoro, the executive director of National Nurses United, told BuzzFeed News. "The campaign's in its nascent stages, really. He's sitting on the greatest populist list in the history of this country. And he wants to use it for populist reasons."
Asked whether Sanders would give the list to Hillary Clinton's campaign, DeMoro said he would not, "Because he doesn't want to hand it over to Wall Street."
DeMoro was among one of nearly two dozen supporters and congresspeople at a meeting in the living room of the candidate's Vermont home Sunday, including Sen. Jeff Merkeley of Oregon, Rep. Raul M. Grijalva of Arizona, Rep. Tulsi Gabbard of Hawaii, Rep. Keith Ellison of Minnesota, former state senator for Ohio Nina Turner, Benjamin Jealous, Jim Hightower, and the actor Shailene Woodley.
The Sanders senior official said the email list was not discussed at the meeting.
This weekend, Sanders supporters will convene at a "People's Summit" in Chicago to discuss policy priorities and formulate strategies for the populist movement going forward.
"Electoral politics are not the movement. The movement is completely independent," said DeMoro. "Young people have been very clear that they don't want their information handed over and it's not going to be. Sanders could surprise me, but I don't think so."
Instead, DeMoro said the campaign would continue to use the email list to raise money for progressive candidates and progressive causes.
"We're really going to engage people nationally and at all levels in progressive politics and issues campaigns," said DeMoro. "Bernie will use his own magic, his list, and his influence to help... and try to move people into the legislature that are progressive."

Evan McMorris-Santoro contributed reporting.