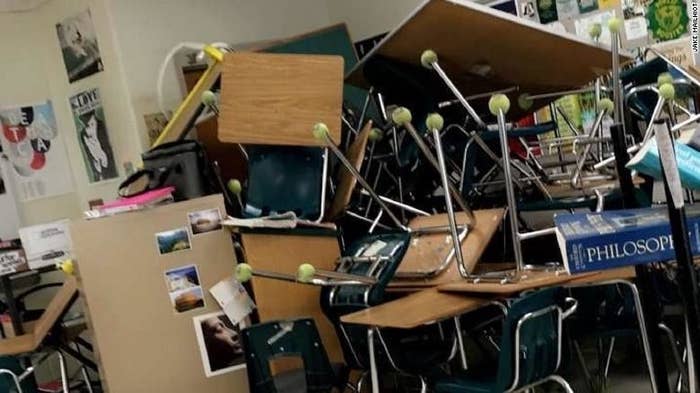 Jake Mailhiot, 16, a junior, posted a photo a friend had taken of a psychology classroom at the school, where students had piled desks and chairs against the door.

"I didn't hear anything other than people from other classrooms crying," he told CNN. The school was on lockdown for an hour, according to police.
People shared the images as students protested in Washington, DC, and elsewhere, as evidence of the continued presence of gun violence in schools.
Observers noted the students had also planned to hold a walkout against gun violence later in the day.
"Barricade building is a skill these kids should not have to be good at," one person wrote.
The Marion County Sheriff's Office said the suspect shooter, identified as 19-year-old Sky Bouche, did not resist being taken into custody, and the injured student was quickly transported to the hospital.
The wounded student's injuries are not life-threatening, according to a spokesperson for the school system.
Craig Ham, deputy superintendent of operations for Marion County Public Schools, told BuzzFeed News the gunman carried the shotgun in a guitar case into the school. Ham said the shooter fired at the bottom of a locked classroom door, and pellets struck the victim in the ankle.

A judge ordered Bouche be held without bond during a court hearing Saturday morning.
Bouche faces charges of terrorism, aggravated assault with a firearm, carrying a concealed firearm, culpable negligence, possession of a firearm on school property, possession of a short-barrelled shotgun, interference in school property and armed trespass on school property.
He is scheduled to return to court on May 22.
Stephanie K. Baer contributed reporting to this story.