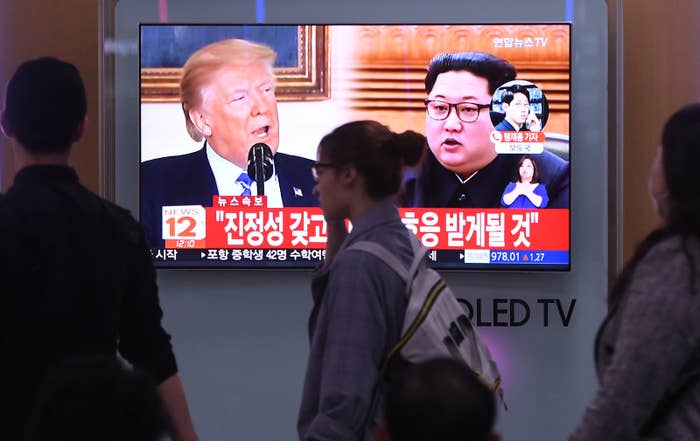 President Donald Trump on Wednesday delivered his first response to North Korea's threats to cancel a planned, historic summit meeting between himself and Kim Jong Un.
"We'll have to see," Trump told reporters.
He also said the US would continue to insist on denuclearization, when asked about the position.

Asked whether the North Korean leader was bluffing, Trump replied, "We'll see what happens" and, "We haven't heard anything.
The comments came in response to a statement Tuesday from a North Korean official who said the country was not interested in a meeting that would focus exclusively on denuclearization.
White House Press Secretary Sarah Sanders said Wednesday she was unsurprised by North Korean threats to call off a scheduled summit, calling the statements "expected" and downplaying whether a cancellation of the historic meeting would be significant.
"If they want to meet, we'll be ready, and if they don't, that's okay too," Sanders said.
North Korea's vice foreign minister Kim Kye Gwan specifically said that the nation would consider canceling the meeting if the US insists on making a "one-sided demand for [Pyongyang] to give up our nukes."
The unprecedented meeting between President Trump and Kim Jong Un is slated to take place in Singapore on June 12.
North Korea's statements followed reports Tuesday that the country had called off scheduled talks with South Korea, a day before the two nations had planned to meet.
North Korea's Central News Agency said the meeting was terminated in response to the "provocation" of military drills being conducted by the US and South Korea.