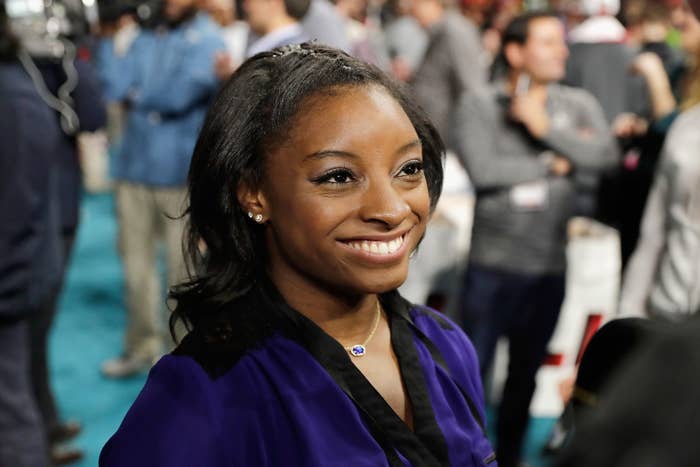 Olympic gold medalist Simone Biles, one of more than a hundred gymnasts molested by former Olympic team doctor Larry Nassar, spoke to BuzzFeed's live morning show AM2DM Wednesday about her decision not to speak at his sentencing, saying she had not yet spoken to a therapist and was still actively training.
"I think for me that would be too much to handle, personally, especially before going to counseling and talking to anyone," Biles said. "And I was still training, so I couldn't take the time out and go, and I think it would just put too much stress on me."

The gymnast has put out a statement and tweeted about her experiences, and spoken to the media. Biles called the judge who sentenced Nassar to 40-175 years her "hero" and praised her decision to give his victims so much time to speak.
"I think with us speaking out about it, people don't need to feel so ashamed," she said. "They need to feel they're not alone. Sometimes talking about it is relieving, and that's a first step, and then you can go to therapy."
Biles also told the Today Show on Wednesday that she was able to compete despite the abuse because of her love for the sport.
"I think we're very good at compartmentalizing things," Biles said. "We push it in the back of our heads because we don't want anyone to think of that, or we don't want ourselves to think about that. We go out with a full heart and compete because that's what we love to do, to represent our country."
Biles said it was especially powerful that the judge allowed every victim to speak individually about her experience.
"The judge is my hero because she gave it to him straight and didn't let him get the power over the girls," she said. "And letting the girls speak is very powerful."
Biles has a movie about her life coming out on Lifetime this weekend, is back in the gym training for the 2020 Olympics, and is planning to attend the nonprofit, online University of the People as a student with her fees waived, studying business administration.
The new president of the USA Gymnastics organization, Kerry Perry, traveled to visit and introduce herself to Biles, she said, but the United States Olympic Committee has not reached out to her to discuss her experience.

"As one of the top athletes, advocating for gymnastics and Olympics, I think it's crazy," Biles said of the organization's silence. "Hopefully they'll reach out."