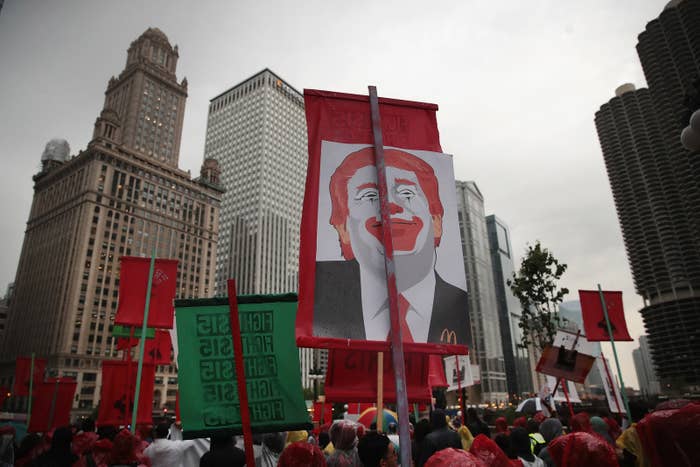 Two more top organizers have left the Service Employees International Union Thursday — one resigned, one was fired — in connection with an ongoing investigation into harassment.

The moves come after the resignation of top labor strategist Scott Courtney and the firing of a top Chicago organizer.

"As a result of information that has come to light through our ongoing internal investigation, today SEIU took action on two senior staff," union spokesperson Sahar Wali said in a statement to BuzzFeed News.
Kendall Fells, organizing director of the Fight for 15 minimum wage campaign, resigned Thursday morning, a source within the union confirmed, and Mark Raleigh, the head of the campaign's Detroit chapter, was fired. Fells and Raleigh did not immediately respond to requests for comment.
"These personnel actions are the culmination of this stage of the investigation, which brought to light the serious problems related to abusive behavior towards staff, predominantly female staff," Wali said. "We know that progress does not stop with these personnel actions alone. President Henry has taken important steps toward ensuring that our workplace environment reflects our values, and that all staff is respected, their contributions are valued, and their voices are heard."
The Fight for 15 movement for a $15 minimum hourly wage, which began with fast food workers in New York in 2012 and has since spread across industries reliant on minimum-wage work, has been the SEIU's most visible and successful campaign in recent years. Fells has been a key organizer on the ground since the beginning.

The service workers union, the nation's second largest and a major player in the progressive wing of the Democratic party, represents a majority-female workforce, largely made up of immigrant women and women of color. The union works to improve labor conditions in the service sector, including protections against workplace sexual harassment and abuse.
But more than a dozen current and former staffers interviewed by BuzzFeed News said complaints about top-level staff on the Fight for 15 were an open secret, and that complaints about abusive behavior by organizers who reported to top strategist Courtney led to no action. In October, the union suspended Courtney, following his marriage to a union employee. Sources said he also had a history of dating subordinates.

At the time, the union launched an investigation to "look into questions about potential violations of our union's anti-nepotism policy, efforts to evade our Code of Ethics and subsequent complaints related to sexual misconduct and abusive behavior towards union staff."
The union has also since also formed an external advisory group, which Wali said will bring "outside, objective perspective," and which includes Cecilia Muñoz, former White House Domestic Policy Council director; Fatima Goss Graves, president and CEO of the National Women's Law Center; and employment attorney Debra Katz, founding partner of law firm Katz Marshall & Banks.

"Our mission as an organization is to make sure working people make wages on which they can care for their families, that they are treated with respect and dignity, and that they have a voice on the job, so we're working hard to make sure all staff know they are respected and have a voice in decisions that affect their work environment," SEIU Executive Vice President Leslie Frane, who is leading the internal investigation, told BuzzFeed News.
"Open dialogue means creating a space where people can talk about their experiences, concerns, and changes they think are necessary to help ensure that we continue to fulfill our goal of having a respectful working environment," she said.

SEIU International Executive Vice President Rocio Saenz, who began at SEIU as a worker in the service sector and rose to become a senior organizer (in a campaign that later became the focus of the movie Bread and Roses), will now oversee the union's work supporting the Fight for 15 campaign, Wali said, following Courtney's departure.
"This is a movement moment — and the Fight for 15 is a key part of that," said Frane, referring to the investigation and ongoing personnel changes. "And Saenz has lived and breathed that experience."