Organizers of a national strike by prisoners say inmates in Alabama and North Carolina began striking Friday, and they expect more to join the action in the coming days.
One of the first locations was Holman prison in Alabama, according to an update by the Incarcerated Workers Organizing Committee, which said the action began Friday morning.
"All inmates at Holman Prison refused to report to their prison jobs without incident," the IWOC statement said. "With the rising of the sun came an eerie silence as the men at Holman laid on their racks reading or sleeping. Officers are performing all tasks."

Phillip Ruiz, an organizer with IWOC, told BuzzFeed News he expects more prisoners to join. "It often takes at least seven days for a strike to gather strength," he said. "Give it time to get going."
Two Florida prisons were on lockdown Friday after disturbances believed to be linked to the strike, the Miami Herald reported. Organizers have reports of workers striking in North Carolina, though no facilities there are currently on lockdown.
Robert Horton, a public information manager with the Alabama Department of Corrections, confirmed the Holman prison strike to BuzzFeed News. Horton said dozens of inmates did not report to kitchen detail Friday morning, and officers made the morning meal instead of the assigned prisoners. Others did not show up to their work details at a license plate plant.
"The state of Alabama won't be making license plates today," said Horton. "On Monday, if they refuse to report to work detail, we have a contingency plan to bring in other inmates."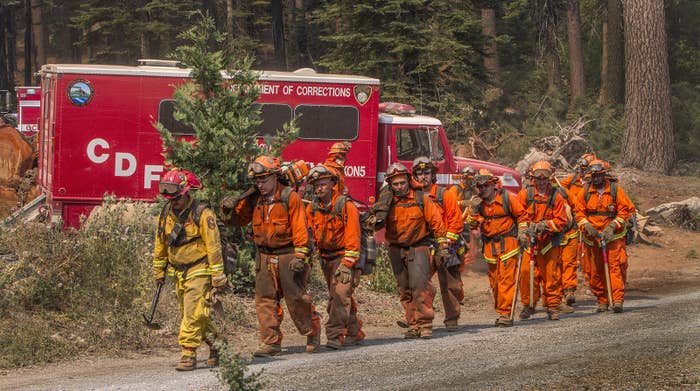 Horton said that William T. Holman is the only facility, of 28 in the state, at which prisoners are striking. He said there have been no incidents of violence or vandalism like those reported in Florida, where the Herald said a riot by 400 prisoners Wednesday night caused significant damage to the facility.
Ruiz, the IWOC organizer, said that the Florida riot was unrelated to the national action, and that IWOC advocates for a strictly non-violent approach. About 800 members of IWOC are currently inside prisons, according to Ruiz, where they have been helping to coordinate the Friday strike.
A post to the IWOC Facebook page said that "many prisoners are hitting from NC saying they did not go to work, but like most places are being drowned out by the people who are timid and did go to work." A call to the North Carolina Department of Corrections Friday went unanswered.
The prisoners also received a message of international support on Friday afternoon:
About 900,000 of America's 2.4 million prisoners work for little to no pay, both helping to run their own prisons and working as manufacturing labor for businesses. Over the past several months, prisoners and advocacy organizations, including the IWOC, coordinated the Sept. 9 strike — of indefinite length — in 24 states to protest their living conditions and forced labor.

The strike date of Sept. 9 was chosen to commemorate the 45th anniversary of the 1971 Attica prison riots in New York state, when 39 people, including 10 prison staff, died after inmates seized control of the prison.