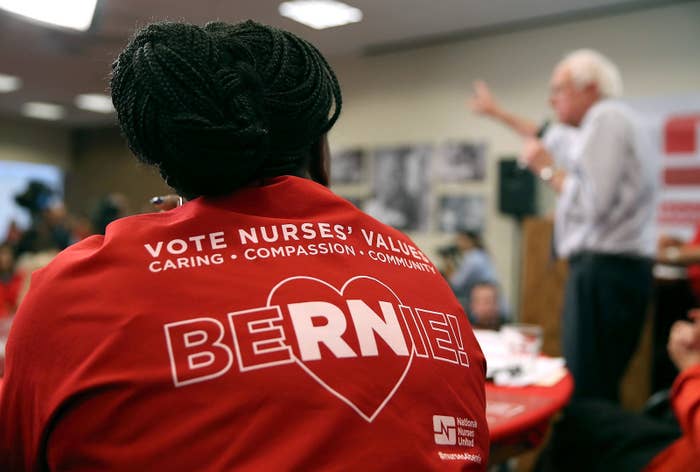 When the Working Families Party endorsed Hillary Clinton on Tuesday, it didn't just join the long list of progressive groups to line up behind the Democratic nominee. It left one radical union, the 185,000-member National Nurses United, as one of the last major members of the Bernie Sanders coalition yet to announce its support for Hillary.
It's a lonely position for the nurses, but one they embrace. At the Democratic National Convention, representatives from NNU booed, heckled, and held up signs reading "Oligarch" to express dissent for the party's nomination of Clinton; the labor movement's failure to support Sanders will be remembered as "a horrendous historical reality," NNU chief RoseAnn DeMoro told BuzzFeed News.
Other union leaders choose their words carefully when discussing the role of the nurses union. "You could always tell where they were sitting. They made themselves heard," said Randi Weingarten, president of the more than 1.5 million–member American Federation of Teachers, which endorsed Clinton in mid-2015.
Not everyone within organized labor appreciated NNU's tactics. One high-ranking public union official, who spoke on the condition of anonymity, said some within unions saw DeMoro as a "bomb thrower, not a bridge builder."
BuzzFeed News put the quote and criticisms to DeMoro for a response. Her lengthy reply began: "If you aren't a neo-liberal zombie, you're a bomb thrower."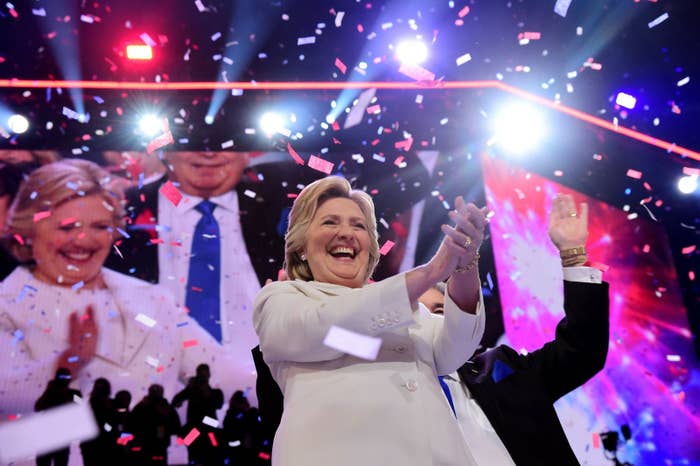 The nurses' stance sets them apart from their union colleagues — and far from the Working Families Party, a longtime bastion of Sanders support. "The change we need next year starts with electing Secretary Clinton, but it doesn't end there," said WFP National Director Dan Cantor on Tuesday. "We know we won't always agree, and we're ready to work hard to press her to deliver on the economic, environmental, and racial justice promises she made during the campaign."
Since the Democratic National Convention, nearly every labor group has fallen in line behind the party's nominee of choice. Among those who initially endorsed Sanders, the 700,000-member Communications Workers of America and the 200,000-member American Postal Workers Union both officially backed Clinton following the convention; the 190,000-member Amalgamated Transit Union will soon hold an executive board vote on an endorsement, according to union President Larry Hanley, who told BuzzFeed News it's "very likely" the union will endorse Clinton.

While the nurses union now stands virtually alone, its position was shared by many in the labor movement during the primary campaign. Former Communications Workers of America president and top Sanders adviser Larry Cohen said that media often underestimated the amount of support for Bernie within unions.

"There was gigantic labor support," he told BuzzFeed News, speaking from Vermont a few days after the convention. Cohen said exit polls in Indiana, Wisconsin, and Michigan had showed a majority of union households supporting Sanders.
In addition to endorsements from the CWA, postal workers, and the ATU, Sanders had the backing of the West Coast–based longshoremen (dock and port workers) as well as about a hundred local union chapters, many from within the International Brotherhood of Electrical Workers (IBEW). About 80,000 labor-affiliated individuals also signed up to support the candidate via a group calling itself "Labor for Bernie."
None of the national unions that endorsed Clinton held membership votes directly polling rank-and-filers on which candidate they wanted to support, Cohen said. "Of the long list of locals, most of those that did have member votes supported Sanders," he said. "I don't know of locals who supported Clinton."
Cohen is set to become the political director of Our Revolution, the successor organization to the Sanders campaign. The group plans to announce its debut on Aug. 24 with a livestream featuring Bernie Sanders; priorities for the organization will include opposing the Trans-Pacific Partnership, pushing Medicare for all, and electing progressive candidates "from the federal level to the school board."
When asked if the preparations for Our Revolution could be considered a kind of postmortem for the Sanders campaign, Cohen answered: "Only it's not dead."

One way the Sanders campaign remains alive is its massive email list of volunteers, supporters, and donors — millions of people whose small donations helped the campaign raise unprecedented amounts of money. Sanders has already used the list to raise money for Our Revolution; one unknown factor will be whether the new organization inherits the list — a "gold mine" for progressive fundraising — for good.
Our Revolution will be a set of state-based networks, according to Cohen, including full-time staff to support the volunteers and activists who had been involved in the Bernie campaign. It will be structured as a 501c4 "social welfare" organization, which, like super PACs, can accept unlimited donations from outside groups, but unlike super PACs, do not have to disclose the details of these donors.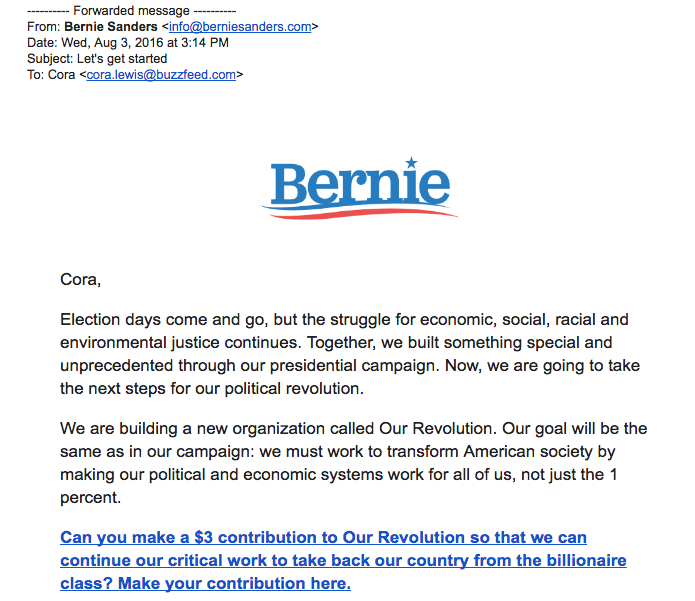 DeMoro rejects criticism of her union's refusal to endorse Clinton, saying the nurses respect their members' voices "and they were right on target in supporting Bernie." She cites the party platform adopted at the Democratic National Convention as an example of why Clinton does not deserve the union's support, though she says NNU may still hold another member vote on whether or not to endorse.
"The rejection of the Clinton's DNC on adding to the platform Medicare for all, specific opposition to the TPP (even though Clinton herself says she opposes it), and a ban on fracking (which significantly contributes to the climate crisis) among other issues was outrageous," DeMoro wrote in an email. "The Democrats should have embraced these issues. Instead, it took Bernie leveraging himself to make some breakthroughs, and those are non-binding."
While disagreements with Clinton animate DeMoro's view on the election, other union leaders are focused on her opponent. "We really are anti-fascist. It's something that's been in our bones since our folks went and died in Europe fighting fascism, and we're not going to contribute to its rise in America," said Hanley, the Amalgamated Transit Union president.
But Hanley had only good things to say about NNU and other labor groups who had backed Sanders, as his union had. "I wouldn't second-guess the nurses or RoseAnn anytime," he said "They are absolutely brilliant in the way they present the case for working people in America."
In the first week of August, the AFL-CIO, the country's largest federation of unions, held an Executive Council meeting in Washington, DC. The meeting dealt largely with post-convention election strategy.

The forthcoming new Sanders organization, Our Revolution, was not discussed at the meeting, according to Weingarten.
"Most of the people at that table, including those who felt the Bern, were all in behind Hillary," she said. "There was no dissent expressed."
NNU's DeMoro was invited, but did not attend — according to her communications director, she was on vacation. In an email to BuzzFeed News, she reflected on the gap between Sanders loyalists and the movement.
"The Democratic party has changed," wrote DeMoro. "At this moment, that is the most troubling to us. [Why] are we fighting with the Democratic Party in order to be able to guarantee humanistic policies for all?"
Others in the movement still have kind words for the nurses, but insist they're at the margins. "They're good people," said Weingarten, head of the American Federation of Teachers. "They're acting out their disappointments in a way that others have in the past — but it's isolated. It's not reflective of the rest of the labor movement."
Evan McMorris-Santoro contributed to this article.