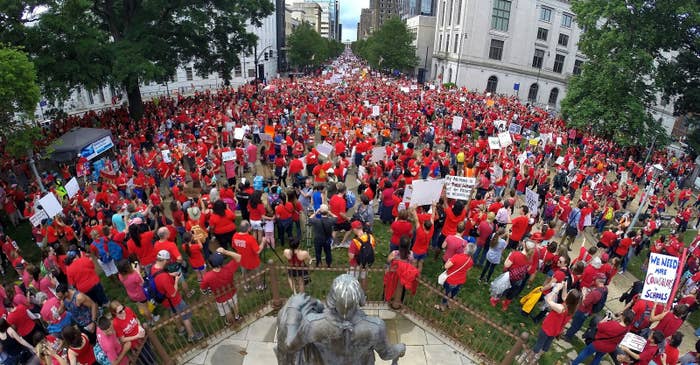 Thousands of North Carolina educators took a personal day Wednesday to walk off the job and march to the capitol building in Raleigh, to put pressure on lawmakers to increase education funding, following similar actions in West Virginia, Oklahoma, Kentucky, Arizona, and Colorado.
In North Carolina, teacher pay is approximately $9,000 below the national average, with an average teacher in the state making just $49,970. Designated yearly funding per pupil — which covers classroom supplies like textbooks — is $2,400 below average, according to the NCAE, the state's largest association of educators.
Teachers in the state have said they hope higher pay will help address staff shortages and stem an exodus of qualified educators to neighboring states. They also hope lawmakers will designate more funds to fix shoddy infrastructure and to support school counselors, nurses, social workers, and psychologists.
North Carolina Gov. Roy Cooper, a Democrat, has proposed increasing teacher pay by at least 8% and as much as nearly 15%, taking teachers' experience into account. The state's Republican-controlled General Assembly is calling for an average raise of 5% to 6%.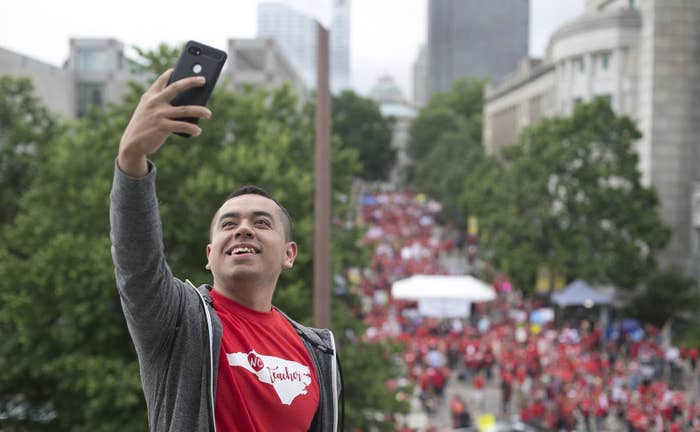 Aerial footage from local media showed educators clogging the streets surrounding the statehouse, wearing red in solidarity and holding signs reading #RedForEd and "15,000 strong can't ALL be wrong," referencing the number of teachers predicted to march.
Other signs referred to the day's forecast of rain: "Rain doesn't scare me. I work in a high school," and "Rain? My AC has been leaking for years!"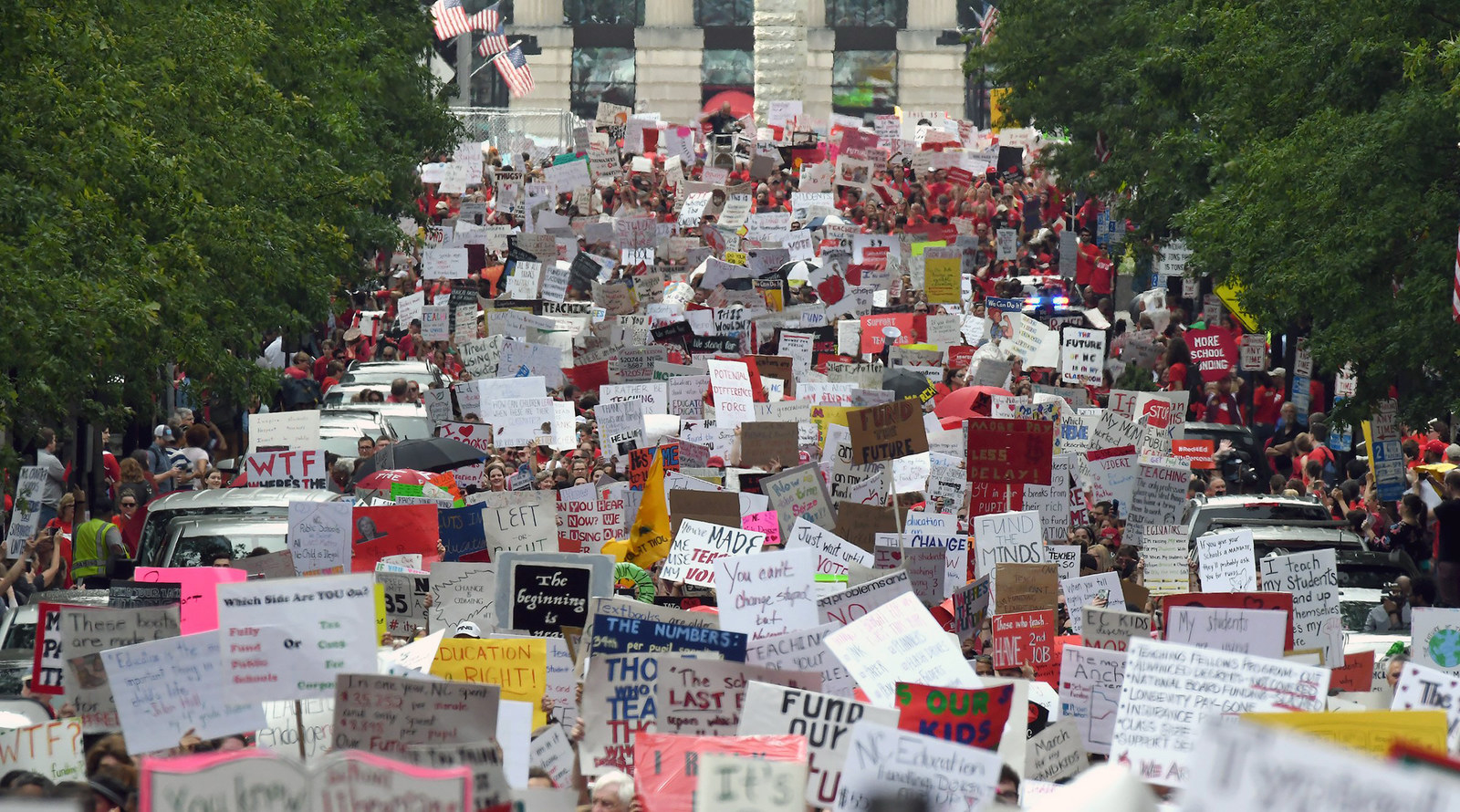 Still more called out a Republican state representative who referred to teacher unions as "thugs" in a Facebook post last week. "Thugs are here," read a cheerful sign illustrated with magic-marker apples and pencils.
"T.H.U.G.S.: Teachers, Hardworking, Underappreciated, Grossly underpaid, Sick of it. Why, yes, sir, Rep. Brody, we are!" read another.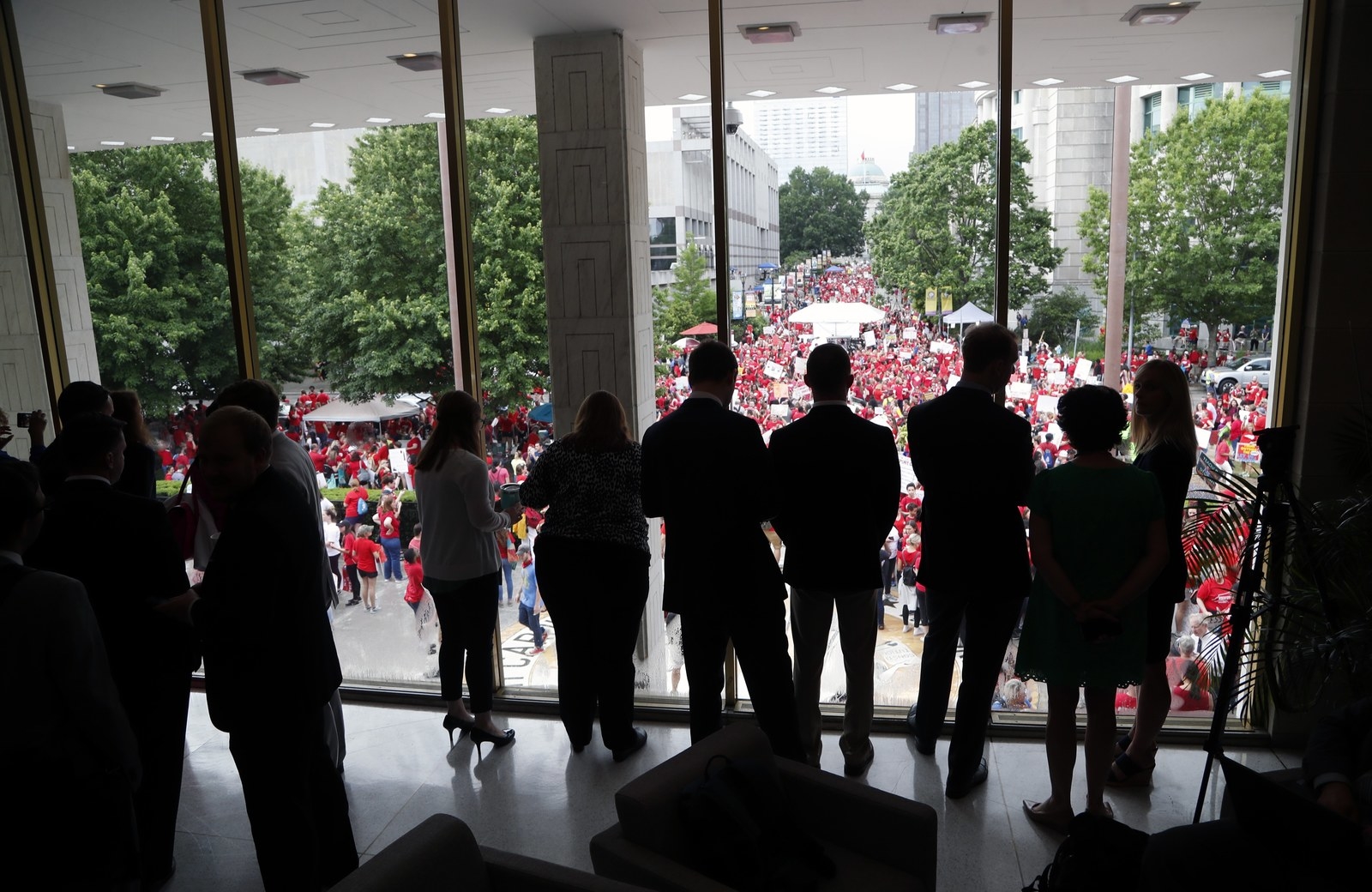 In nearly every state where teachers have staged strikes and rallies like this one since March, teachers gained raises and increased classroom spending but also fell short of their top goals. In many of these red states, teachers are now running for statehouse office, to replace the lawmakers they say failed to sufficiently prioritize education.

Mark Jewell, the president of the NCAE, said Wednesday's rally marked the start of a six-month-long strategy to do the same and elect pro-education candidates at the state level in November.
Speaking to reporters last week, the governor said that teachers "shouldn't have to take to the streets to get the respect they deserve."
"North Carolina should treat educators like the professionals they are," Cooper said.