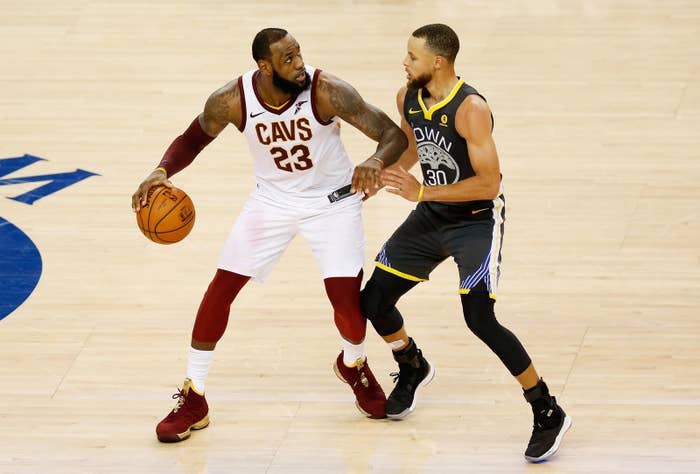 NBA stars LeBron James and Steph Curry both backed the Philadelphia Eagles in the team's decision not to visit the White House in celebration of its championship win Tuesday, adding that neither the Cleveland Cavaliers nor the Golden State Warriors — whoever wins the NBA Finals — would go to DC if invited.
James initially spoke for both teams on Tuesday, and Curry and Golden State Warriors coach Steve Kerr agreed in separate press conferences.
Trump canceled the visit Monday evening after it emerged that fewer than 10 Eagles players planned to go to the White House, though administration officials said the team pulled a bait and switch on them. Trump swapped the meeting with a concert of the national anthem and a celebration of the US flag.
"It's typical. I'm not surprised," James said of the president's decision to cancel the NFL event at the 11th hour. "I mean, I know no matter who wins the series, no one wants to go anyway. So it won't be the Cavaliers or the Warriors going."
Curry concurred.
"I hope to be in that situation where we win two more games, and I agree with 'Bron," he said in a press conference.
Last year, President Trump withdrew his invitation of the Warriors to the White House after Curry said he wouldn't be attending — leading to a famous tweet from James in support, in which he called the president a "bum."

"Pretty sure, the way we handled things last year, [we'll] kind of stay consistent with that," Curry said Tuesday. "At the end of the day, every team has the opportunity to make the decision for themselves."

Kerr also called the president's comments unsurprising.
"The president has made it pretty clear he's going to try to divide all of us in this country for political gain," he said. "We all look forward to the day we can go back to celebrating an athletic achievement."