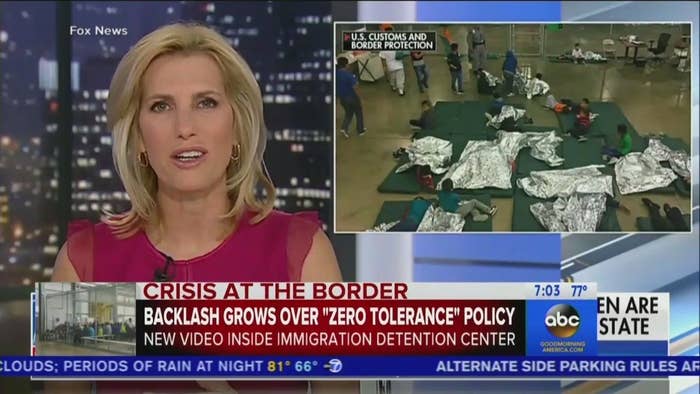 Fox News talk show host Laura Ingraham defended on Monday the Trump administration's policy of separating immigrant parents and children at the border, amid growing outcry over the "zero tolerance" approach, which includes housing minors in cage-like structures that resemble prisons.
"Since more illegal immigrants are rushing the border, more kids are being separated from their parents and being temporarily housed in what are essentially summer camps," Ingraham said on her Fox News show Monday evening. "Or, as the San Diego Union-Tribune, described them today...basically boarding schools."
The article that Ingraham references describes the Casa San Diego site for immigrant children, which includes classrooms, playrooms, and a medical center. But the article goes on to say that the facility is "surrounded by fencing that is backed by privacy netting, and a sign at the gate [that] warns visitors that it's under video surveillance 24 hours per day."
If someone opens the front door of the center without first swiping a badge, the article says that "an alarm blares through the hallway, warning of a potential escape."
Ingraham's comments come the same day that ProPublica released audio of sobbing children screaming for their parents at a detention site, as a border patrol agent jokes, "Well, we have an orchestra here. ... What's missing is a conductor."
Critics of the "zero tolerance" policy, including 113 organizations that wrote a letter to the president, say that there is no law that requires the separation of families at the border and that the Trump administration's institution of such a policy is a "needless self-made crisis."

"This policy traumatizes families, undermines our country's once honored commitment to ensuring fairness and protection for those fleeing persecution, and only exacerbates the burdens already overwhelming our immigration system," the organizations wrote.
Later on her show, Ingraham tempered her initial statements, saying, "Apparently there are a lot of people very upset because we referred to some of the detention facilities tonight as 'essentially like summer camps.'"
"The San Diego Union-Tribune today described the facilities as essentially like what you would expect at a boarding school," she continued. "So I will stick to, 'There are some...like boarding schools.'"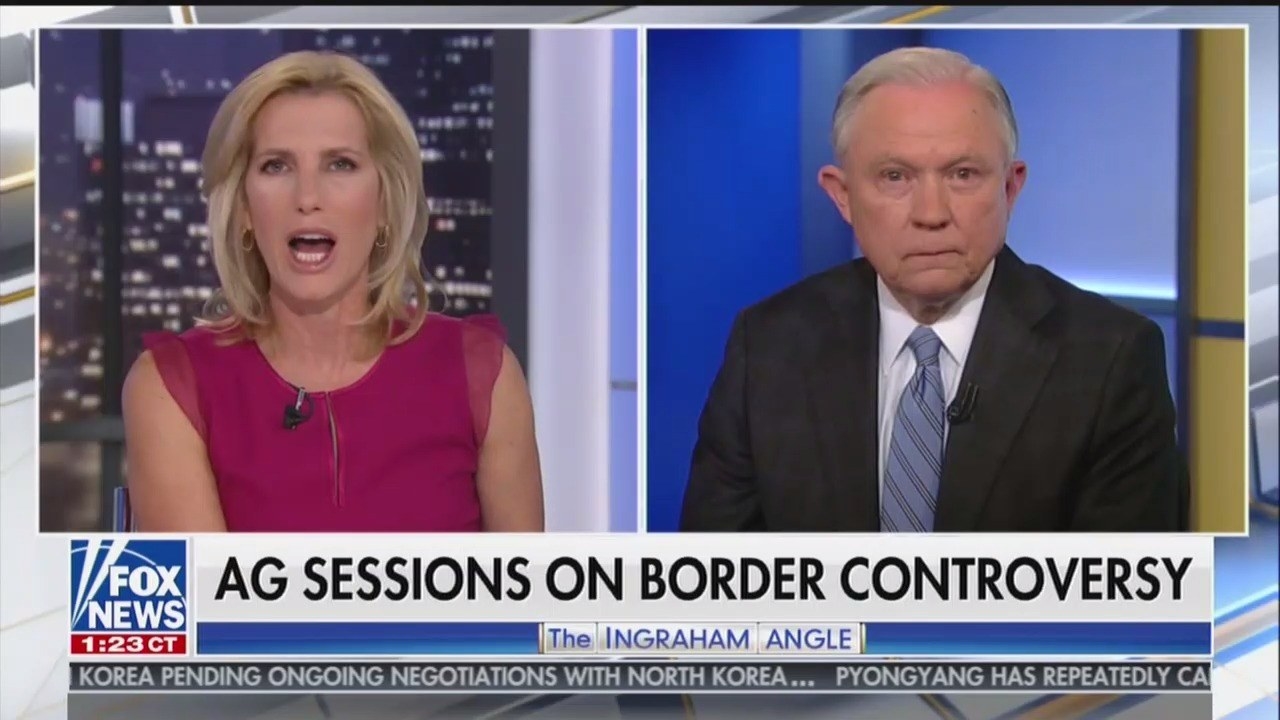 Also on Ingraham's show Monday evening, Attorney General Jeff Sessions responded to comparisons between current US immigration policy and the separation of Jewish families in Nazi Germany, calling it "a real exaggeration."
"In Nazi Germany, they were keeping the Jews from leaving the country, but this is a serious matter," he said. "We need to think it through, be rational and thoughtful about it. We want to allow asylum for people who qualify for it."