Teachers across Kentucky called out sick Friday to protest cuts to their pensions — meaning at least 22 school districts were closed for the day.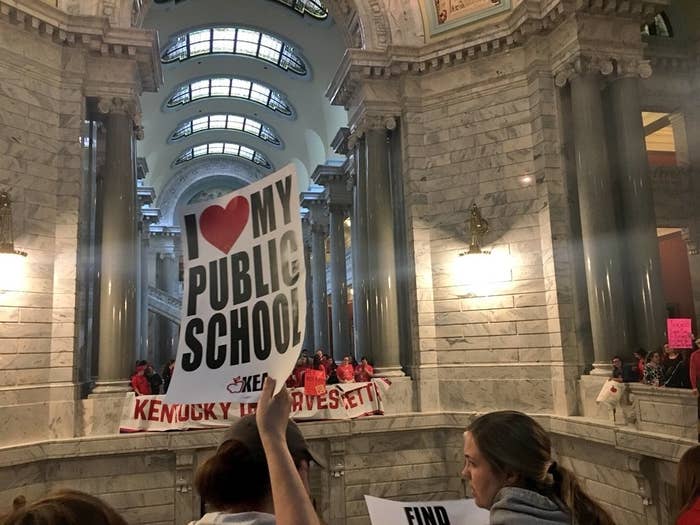 Stephanie Winkler, president of the Kentucky teachers union, said the way in which the bill was proposed and passed "showed blatant disrespect for the law and for democracy."
"What has occurred over the last 24 hours is nothing short of a bomb that has exploded on public service," Winkler told reporters Friday at the Kentucky Education Association headquarters in Frankfort. "These political shenanigans are unacceptable."
Teachers first flooded the rotunda of the state capitol in Frankfort late Thursday night to protest the pension reform measure — which was attached at the last minute to a sewage bill. The bill cleared the House in a 49–46 vote and the Senate by a 22–15 vote.
Teachers said the bill does not change annual cost of living adjustments for their pensions, that it places new financial requirements on new hires, and that it limits the number of sick days teachers can put toward their retirement.
The state's attorney general said the bill was voted on without time for public comment and without actuarial analysis.
Lawmakers said the bill would put Kentucky's pension "on a path to being fully funded," and Gov. Matt Bevin said it would stop the state from "kicking the pension problem down the road."
Bevin has yet to sign the bill. The attorney general said he'll sue if he does.
So teachers took to the state capitol Thursday night to protest.
Then teachers started calling out en masse Friday morning.
Some districts sent tweets before 6 a.m. to cancel school.
Students reacted...as expected.
They saw government in action. Sort of.
Students also attended the protests, which began again Friday morning, in solidarity with their teachers.
"Our government is sick."
Local businesses also showed their support.
At the capitol, teachers chanted "Vote them out" and "We deserve better."
And teachers spent the morning packing lunches for students who relied on meals supplied at school.
The strike is technically a "wildcat" action, which means it was not organized or sanctioned by union leadership.
Teachers used their sick days to call out of work and protest — sometimes called a "sick-out" — since strikes are technically illegal under Kentucky law.
Winkler wouldn't say if she supported the "sick-out" Friday, but she said the union supports teachers taking time off when they are ill, which, she argued, they are.

"They are sick to death," Winkler said.
On Monday, the teachers union will hold a rally on the steps of the state capitol, Winkler said.
"We will be hear watching every single move legislators make," she said.
The strike follows a similar 9-day wildcat action in West Virginia, and comes as teachers are threatening strikes in Oklahoma and Arizona.
Public school teachers have been supporting one another across state lines.
The next statewide strike is slated for Monday, April 2, in Oklahoma, where tens of thousands of teachers are expected to walk off work to protest low pay and poor working conditions.
Labor professors and others say it could be the beginning of a "labor wildfire."
Stephanie K. Baer contributed additional reporting to this story.