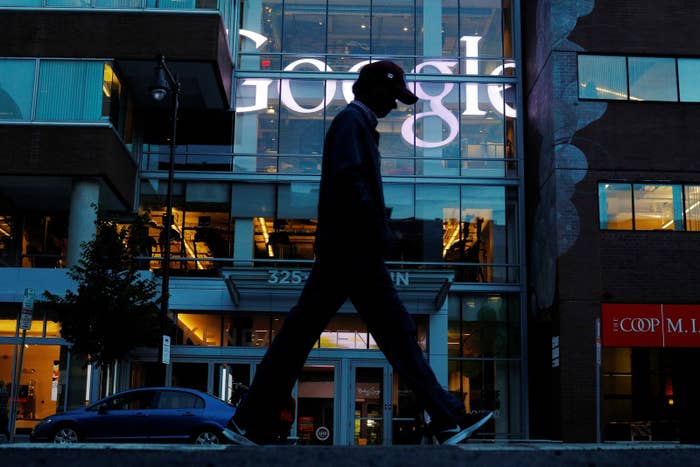 A controversial document criticizing Google's policies on diversity and written by a senior software engineer employed there went viral within the company on Saturday, according to employees.
Vice's tech vertical, Motherboard, first reported on the document, which began circulating on Friday. Gizmodo obtained and published it in full after this story went live, and Google executives responded to it later in the day, stating that the company does not "endorse, promote or encourage" the author's viewpoint.
"We need to stop assuming that gender gaps imply sexism," the author wrote at one point, and, "I'm simply stating that the distribution of preferences and abilities of men and women differ in part due to biological causes and that these differences may explain why we don't see equal representation of women in tech and leadership."
The 10-page manifesto, entitled "Google's Ideological Echo Chamber," was initially shared on an internal messaging service before spreading throughout the company, according to an employee who spoke to BuzzFeed News on condition of anonymity for fear of being fired. The memo argues in part that Google should not offer programs for racial minorities or women.
The document also claims that employees with conservative political beliefs face discrimination within Google and that programs focused on racial and gender diversity are less important than those protecting "ideological diversity."
More than eight employees tweeted about the document on Friday and Saturday before it was made public.
Software engineer Jaana Dogan tweeted that she would "consider leaving the company for the first time in five years" if Google's human resources department did not take action in response to the document.

"What a great feeling," another software engineer tweeted sarcastically, in response to the document circulating.
Andrew Bonventre, who works on Google's Go programming language, called it a "garbage fire of a document" and "trash."
Google vice president Ari Balogh, who is reportedly the author's supervisor, responded to the document in an internal memo Friday, first published by Recode.
"Questioning our assumptions and sharing different perspectives is an important part of our culture, and we want to continue fostering an environment where it's safe to engage in challenging conversations in a thoughtful way," Balough wrote. "But, in the process of doing that, we cannot allow stereotyping and harmful assumptions to play any part."

Balough added that he was particularly "troubled" by the document's statements about men and women, calling it "stereotyping" and "harmful."
The document — and resulting employee pushback — come at a time of increased scrutiny for tech companies over sexual harassment and hostility towards women in the industry.

Google is currently under investigation by the US Department of Labor for gender discrimination in the workplace. One department official testified in court that the federal agency has found "systemic compensation disparities against women pretty much across the entire workforce." Google has denied the allegations.

In June, Uber founder Travis Kalanick stepped down as CEO, months after an employee made allegations on Tumblr of rampant gender discrimination at the company. The blog post prompted an independent internal investigation into Uber's workplace culture and led to the termination of 20 executives.
As the Google employee memo started to make headlines Saturday, Google's new vice president of diversity, Danielle Brown, issued her own response, stating that the the ideas espoused in the document are "not a viewpoint that I or this company endorses, promotes or encourages."
Here's the full text of her response:
Affirming our commitment to diversity and inclusion—and healthy debate

Googlers,

I'm Danielle, Google's brand new VP of Diversity, Integrity & Governance. I started just a couple of weeks ago, and I had hoped to take another week or so to get the lay of the land before introducing myself to you all. But given the heated debate we've seen over the past few days, I feel compelled to say a few words.

Many of you have read an internal document shared by someone in our engineering organization, expressing views on the natural abilities and characteristics of different genders, as well as whether one can speak freely of these things at Google. And like many of you, I found that it advanced incorrect assumptions about gender. I'm not going to link to it here as it's not a viewpoint that I or this company endorses, promotes or encourages.

Diversity and inclusion are a fundamental part of our values and the culture we continue to cultivate. We are unequivocal in our belief that diversity and inclusion are critical to our success as a company, and we'll continue to stand for that and be committed to it for the long haul. As Ari Balogh said in his internal G+ post, "Building an open, inclusive environment is core to who we are, and the right thing to do. 'Nuff said."

Google has taken a strong stand on this issue, by releasing its demographic data and creating a company wide OKR on diversity and inclusion. Strong stands elicit strong reactions. Changing a culture is hard, and it's often uncomfortable. But I firmly believe Google is doing the right thing, and that's why I took this job.

Part of building an open, inclusive environment means fostering a culture in which those with alternative views, including different political views, feel safe sharing their opinions. But that discourse needs to work alongside the principles of equal employment found in our Code of Conduct, policies, and anti-discrimination laws.

I've been in the industry for a long time, and I can tell you that I've never worked at a company that has so many platforms for employees to express themselves — TGIF, Memegen, internal G+, thousands of discussion groups. I know this conversation doesn't end with my email today. I look forward to continuing to hear your thoughts as I settle in and meet with Googlers across the company.

Thanks,

Danielle