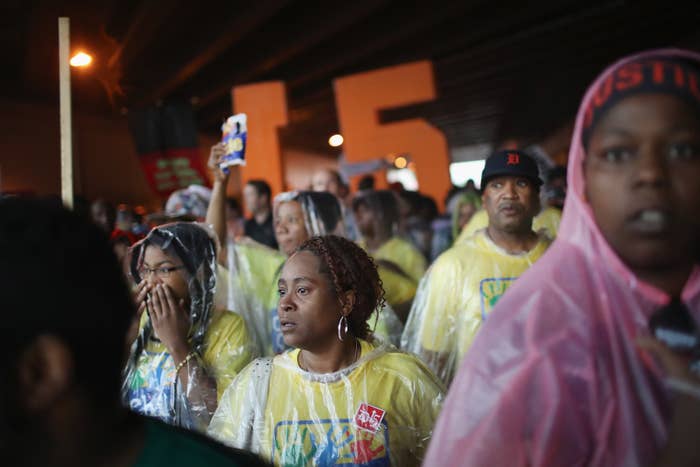 The group that has led protests by thousands of fast food workers across the country will begin a get-out-the-vote effort this month, targeting low-wage workers in a number of swing states.
The Fight for 15 minimum wage movement plans to begin canvassing voters in more than three-dozen cities, including Miami, Denver and Milwaukee. The effort will kick off on October 14th, with Fight for 15 members and supporters going door to door encouraging people making less than $15 per hour to vote.
Workers will announce the nationwide voter engagement push at a rally and strike in St. Louis Sunday outside the second presidential debate at Washington University. And on October 25, two weeks from election day, the group will hold a town hall event with low-wage workers from across the country in Kansas City, broadcast on Facebook Live with viewing events in other cities. The event will focus on first-time voters in swing states.
Fight for 15 is backed by the 2-million member Service Employees International Union. The SEIU is a key source of funding and boots on the ground for Democratic political campaigns and is a major Clinton supporter, but the Fight for 15 has not endorsed a candidate and will not canvass directly for Hillary Clinton, who has stopped short of endorsing a $15/hr minimum wage but supports raising the federal minimum to $12.
In August, Fight for 15 announced it would be shifting its focus to the South. While it is now diving into election work, Kendall Fells, organizing director for the movement, said it will continue to focus on both worker protests and pressure campaigns up to and after election day.
"Make no mistake," he said, "this is not instead of, but in addition to, strikes, protests, and more."
Terrence Wise, a 37-year old McDonald's worker in Kansas City, Missouri and a leader in the national Fight for 15 movement, has never voted. He shared a stage with President Barack Obama at a White House summit on work last year, but this election will be his first time in a polling booth.

"I never really believed candidates cared about my issues," Wise told BuzzFeed News. He's hardly alone — historically, Wise's demographic has tended to vote in low numbers, but he said he's counting on the lasting infrastructure of the Fight for 15 to change that.