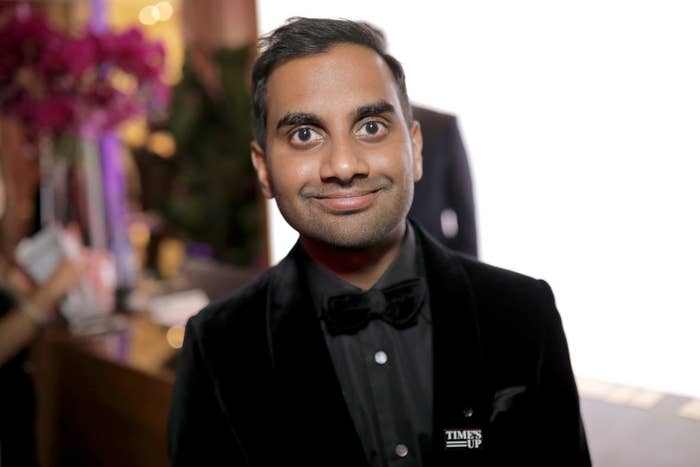 Responding to allegations of sexual misconduct Sunday, 34-year-old actor and comedian Aziz Ansari said in a statement that he was "surprised and concerned" when he learned that a 23-year-old woman with whom he had a sexual encounter had not felt it was consensual.
The woman, who has remained anonymous, spoke to news outlet Babe.net about the encounter, which she called "the worst night of her life," and shared text messages from the time, including one she sent to Ansari following the alleged incident.
"Last night might have been fun for you but it wasn't for me," she wrote in the message, which was published by Babe. "When we got back to your place, you ignored clear non-verbal cues, you kept going with advances... I want to make sure you're aware so maybe the next girl doesn't have to cry on the car ride home."
In his statement, Ansari said he "took her words to heart and responded privately after taking the time to process what she had said."
According to Ansari's statement, he met the woman in question at a party in September of last year.
"We exchanged numbers. We texted back and forth and eventually went on a date," he said in the statement. "We went out to dinner, and afterwards we ended up engaging in sexual activity, which by all indications was completely consensual."
"The next day, I got a text from her saying that although 'it may have seemed okay,' upon further reflection, she felt uncomfortable," Ansari said. "It was true that everything did seem okay to me, so when I heard that it was not the case for her, I was surprised and concerned."
In the account relayed to Babe, the woman alleges that Ansari repeatedly put his fingers down her throat and inside her vagina, put her hands on his genitals, and briefly performed and received oral sex, despite her expressing discomfort and a desire to slow things down or stop. The encounter took place following a date and Ansari confirmed the sequence of events in his statement.
According to the woman's account, at one point during the encounter Ansari stated, "It's only fun if we're both having fun," and expressed that he did not want her to feel "forced," before continuing with physical advances.
The woman claimed that Ansari responded to her text following their date, replying, "I'm so sad to hear this. All I can say is, it would never be my intention to make you or anyone feel the way you described. Clearly, I misread things in the moment and I'm truly sorry."

In his statement Sunday, Ansari said he "continue[s] to support the movement that is happening in our culture," calling it "necessary" and "long overdue." At last week's Golden Globes ceremony, during which the comedian received an award for Best Comedy Actor in a TV Series, Ansari wore a "Time's Up" pin, indicating support for a movement within the entertainment industry to help end systemic sexual violence and harassment against women.
The woman told Babe that seeing Ansari wear the pin partly motivated her to come forward.