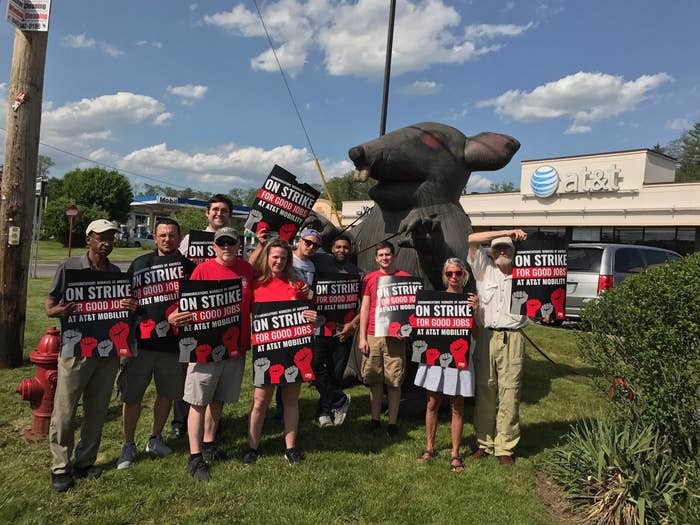 More than 35,000 AT&T employees walked off the job Friday after contract negotiations stalled with the telecom giant over issues of off-shoring, pay, and benefits.
The unionized workers are asking that AT&T commit to bargaining that covers rising healthcare costs, job security against outsourcing, and fair scheduling policies. They also object to changes to the company's commission policy that they said have reduced their pay.

Represented by the Communication Workers of America (CWA), the workers plan to strike for three days, beginning with picket lines Friday afternoon in New York, Chicago, Philadelphia, and other cities across the country.
"This is a warning to AT&T," said Dennis Trainor, Vice President of CWA District 1 in a statement. "There's only one way out of this now — a fair contract."

The employees primarily staff the company's retail stores and call centers, but include some technicians and wireless workers from DirectTV, an AT&T subsidiary. A spokesperson for AT&T, Marty Richter, said the company "is prepared, and we will continue working hard to serve our customers."
"What's most important is we're all family, whether you're a union member or not," he wrote in a statement to BuzzFeed News. "Like any family we have our disagreements but we'll sort them out."
Richter said the striking workers represent less than 14% of the company's total workforce. He wrote that "a strike is in no one's best interest" and that "it's baffling as to why union leadership would call one."
AT&T, the country's largest telecom, employs more than 200,000 workers. Richter said that some striking employees "average from $115,000 to $148,000 in total compensation" and that the company has reached 29 agreements since 2015 covering over 128,000 employees.
"We're confident we can do the same here," he wrote.
This is the largest strike since 39,000 Verizon workers, also represented by CWA, struck last year.