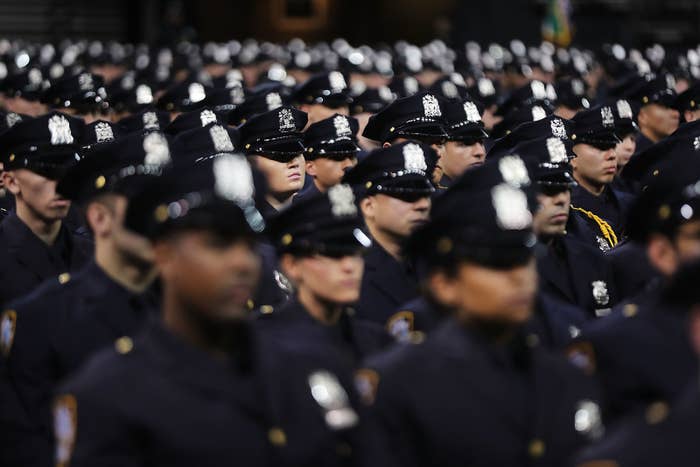 The National Fraternal Order of Police, a 330,000-member union of law enforcement officers, has endorsed Donald Trump for president.
"Our members believe he will make America safe again," FOP President Chuck Canterbury said in a statement. Trump "seriously looked at the issues facing law enforcement today" and "understands and supports our priorities."
Donald Trump met with the union in August to seek their endorsement and filled out a survey on their issues. Hillary Clinton did not seek the union's endorsement, according to the statement.
Within organized labor, two other unions have formally endorsed Donald Trump: the National Border Patrol Council, which represents 16,500 border patrol agents, and the New England Police Benevolent Association, which has 5,000 members across Massachusetts and New Hampshire. But polls and door-knocking by independent labor group Working America have pointed to broader support among rank-and-file union members, especially white men without college degrees.

In its endorsement, the border patrol agents' union cited Trump's position on immigration and the fact that he is "not a career politician," calling him "an outsider who has created thousands of jobs, pledged to bring about aggressive pro-American change, and who is completely independent of special interests." The group called him "bold," "outspoken," and "refreshing."
Jerry Flynn, executive director of the New England police officers' association supporting Trump, said the group's decision came down to "What is the next president of the United States going to do to unite this country in an effort to save police officers? Because it's open season on police officers." Flynn said election of Trump would be in the "best interest of our members."
While organized labor has generally united behind Democratic candidate Hillary Clinton, the AFL-CIO has been grappling with support for Trump within its membership and with the role of police unions more generally in working-class communities of color.